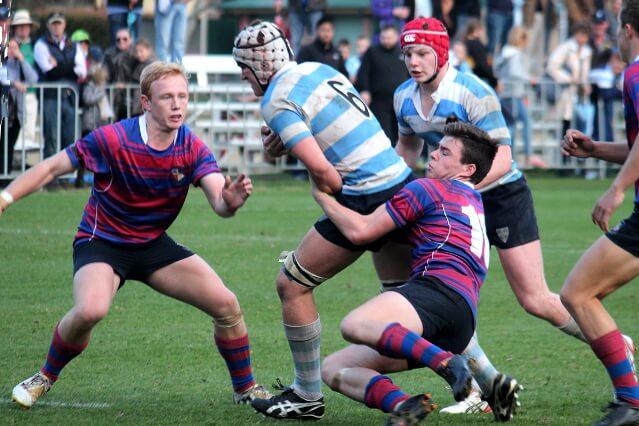 Round 9 was thought to be a weekend  of delay before the showdown at Bellevue Hill next week between Scots and Riverview for the GPS chockies; but the other schools though differently.
Shore was finishing the season with a wet sail and was not fazed by the challenge against View; underdogs Newington would use the leveling muddy conditions to challenge front-runners Scots—and Kings thought they could upset Joeys for the same reason.
Shore v Riverview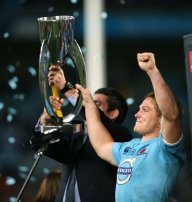 by "Tahspark"
Two teams desperate for the points for contrasting reasons. Shore, keen to give their supporters a long awaited home win after numerous close shaves and having given View an almighty scare in the first round. View, with the chance of heading to Bellevue Hill for their last game and the co-premiership.
First half
The vagaries of the weather included a cynical ray of sunshine at the start that quickly departed with no prospect of return. Scattered showers then persisted for the duration. Footwork would be tested every time the play headed for the "pig pen" aka the muddied cricket pitch.
View had the benefit of the first half breeze but after a scrappy start it was Shore who had the chance to open the scoring when #9 Harry Emery stepped up for a penalty shot. He seemed to lose his footing and the attempt was unsuccessful. However, Shore then capitalised with some width in attack for #13 Matt Dowsett to go on one of his scything runs to be Shore's first try scorer. The conversion was unsuccessful: 5-0.
View thought they had their equalizer when #10 Jack McGregor stabbed through a grubber for #13 Henry Hutchison to fly through to touch down. However, Hutchison was adjudged to have jumped the gun. No try.
Shore probably had the better of the ensuing exchanges until a ball was scooped up by McGregor who darted through the gap and drew his man to put #15 Bill Freeman in.  He improved his position to assist McGregor to add the extras. View 7-5.
With the breeze at their backs View settled into their work and probably had the better of the running in the last 15 minutes. However, Shore continued to repel every advance.
At oranges the score remained 7-5 to View. There was a sense that the breeze might be worth more than a two point advantage.
Second Half
View picked up where the first stanza ended as Freeman sidestepped his way with seeming ease early in the half. Shore resisted and then started to enjoy the breeze at their backs. A testing high kick sailed over Freeman's head and the subsequent clearing kick didn't find touch.
Shore now had the ascendancy inside the 22 and that culminated in a rolling maul that saw #8 Henry Wrench rewarded for the forwards' strong work, with a try. Emery then slotted the conversion from out wide for Shore to lead 12-5.
View was struggling to advance from its half until a piece of brilliance by Freeman who never took his eyes off the high kick and remarkably claimed the slippery Gilbert. This gave View the chance to mount some attack. After a great driving maul and a couple of penalties, Hutchison went through a hole and held up the ball just long enough for #9 Lachlan Condon to burst over. McGregor added the extras again: View 14-12.
There was then much thrust and parry with neither side looking like scoring until Dowsett seized his moment to set up #2 Oliver Stump for what looked like a certain try under the sticks only for View to, incredibly, hold him up.
Both sides must have thought: that failed chance to change the lead was a defining moment.
Having survived that scare, it was still an arduous battle for View to leave their half. Tension mounted as both teams drew deeply on their contrasting motivations for the win.
There was a final twist. In a cruel blow for arguably the best player on the field, Freeman attempted a clearing kick only for Shore to exemplify their resolve with a charge down. View was then penalised for failing to release.
The game would now be decided by whether Emery could hold his nerve and slot the kick from 30-odd metres out—from in front though with soft support for his planted foot. As a respectful hush was observed by all supporters; it was a sweet strike and delirium broke out in the Shore ranks: Shore won 15-14.
The Teams
Shore was rewarded for its doggedness and spirit to have the final say. Few would have predicted at the beginning that they could finish the season: draw, loss (very narrowly to Scots) and possibly, two wins. Riverview was equally spirited but, as events transpired, the conditions suited its game marginally less.
It will be a true test of View's mettle as they head to Bellevue Hill next week in circumstances not of their choosing.
The Players
Shore
3. Matt Dowsett (13): Given limited opportunities was dangerous and capitalised on key moments.
2. Jum Woodhill (7): One of numerous workhorses in the pack; gave another strong performance in his consistently good season.
1. Henry Wrench (8): Another who didn't shirk the hard yakka and was rewarded with Shore's second try.
Riverview
3. Bill Freeman (15): In a game heaven-made for piggies, had some flashes of brilliance and was a safe custodian.
2. Jake Meincke (6): High involvement in attack, defence and off the ball.
1. Jack McGregor (10): Steered the team well and orchestrated some excellent tactical kicking; was dangerous when given a sniff of space.
The scoring
Shore 15 (M. Dowsett, H. Wrench tries; H. Emery con, pen) def. Riverview  14 (B. Freeman, L. Condon tries; J. McGregor 2 cons).
Other results
2nd XV — Shore 29 – Riverview 5.
3rd XV — The Armidale School 47 – Riverview 0
3rd XV — Grammar 27 – Shore 7
Photos by Lee Grant
See next page for a report on Joeys v. Kings