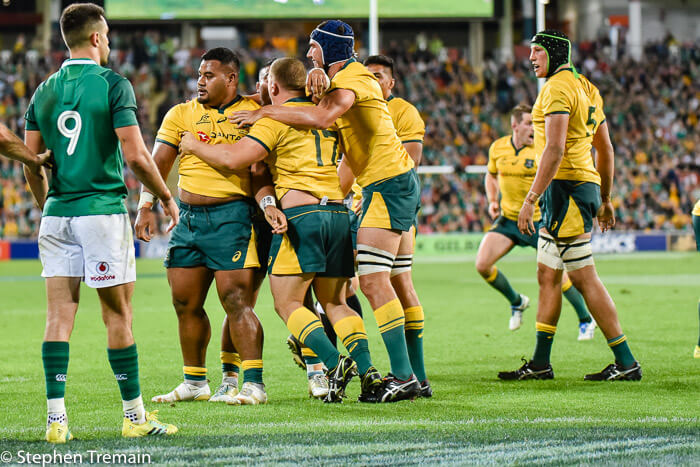 Red Wine Rugby… let it mature a bit. And it helps when you have a good cellar…
Following the first Irish test, a few fellow pundits on this noble site were effusive in their excitement over a lot of stuff; a win, quality of defence, maturity at critical moments, effectiveness of play etc. Amongst the joy was positivity around the depth off the bench and a number of players including young Tupou's performance. And I well-support the enthusiasm. I think the yungfella did well especially when considering the calibre of the talent he was scrumming against.
But the enthusiasm to see Tupou moved promptly to the starting XV pinched a nerve in me I've never understood about Australian rugby and that is the almost frenetic desire to expose talent way too young and well before it's ready for the pressures that accompany it.
In a nutshell I am tired of seeing young talent over-exposed too early and thus wasted. I'm tired of it for both them and for us Punters. Australian rugby has a tragic record for premature promotion of promising young kids before they have learnt appreciation for their position, respect for the jersey nor ensured we had protected their emotional or physical development. We have a record for exposing them to cash, physical load and emotional pressure they simply couldn't yet handle and as such we waste them.
The most glaring example to me were the 3 Amigos who were allowed to be way too busy Twitting prior to tests, missing photoshoots with sponsors, being where they shouldn't be & doing what they knew they shouldn't do, getting way out of line on planes, accusing everyone else of being 'toxic' etc etc etc plus all the stuff I'm not supposed to talk about and all the while taking selfies of it.
Looking back I can't believe we put a whole Lions series in their hands. How did that work out? Now seriously, have any of those guys achieved what they could/would/should have? Two of them will never wear gold again and the one that does will forever be short of what he could have achieved. All of them are dead-set wastes of all the investment poured into them in my opinion. And it was wasted in-part by over-exposure and too-much too-soon at an immature point in both physical and emotional development.
Looking further I can't help but think of James Slipper's early days. A solid, promising up and comer who a few folk over-invested their selection currency into and he was dished up to Martin Castrogiovanni in his first test. Fed to Martin Castrogiovanni in his first fkn test? The poor bugger was jammed arse-first into a coke can and folk wonder why he spent the next few years doing his own version of Eat Sleep Rave Repeat to that thump thump music and so seemed continually injured and he's now a walking bag of busted joints?
Look at what is happening to Ned Hannigan and Tom Staniforth now. They are getting used as crowbars when the lads still have bum-fluff on their faces. How's the physical form of those 2 lads already? Jaysus if I was their managers I would be prepping my civil suit citing willful & reckless destruction of asset (but manager's value-add is a different matter altogether).
One of the great advantages I've always admired of NPC and Currie Cup is that the extra tier lets a player mature both physically and emotionally. Fringe players aren't sitting in the stands in their No1's watching games. They aren't measuring their lives in gym sessions. They are out playing at a development level they can handle, getting their 'rugby callouses' and learning their profession. They get a chance to learn to be professional men whilst racking up minutes and furthermore it keeps good men playing rugby at a good level.
Remember 2mths ago I think it was the Highlanders vs Donkeys in sunny Canberra and the Otago lads were down to their 3rd or 4th fly-half and they rolled out some fella who had been playing NPC since 2004 FFS. Near 15yrs as a fringe pro-player with 2 Super games to his name just warehoused and waiting, all the while mentoring the next guys coming through just by being there and adding to the quality of the competition that developed them. And he shone! There is no way between heaven and hell that would be replicated from a 15yr Shute Shield or Brisbane's Premier Rugby player stepping into Super like that.
Whereas in this country the only alternative for so long was to be either good enough to make the Wobbly squad straight ex Schoolies week or be lost to the Mungo Toyota Cup (or whatever it is now) or go to the frozen North and join the Black Watch (the +100 odd Ockers now plying their trade in EU/UK/IR) and this loss is probably best exemplified by the loss of talent like Brock James. Now don't get me wrong, I actually am a Foley supporter. But if there is one commodity we really lack in Oz right now it's options at 10 and yet there Brock is…not here… and plenty others like him who just needed an opportunity to develop a wee bit.
And now, FINALLY, we have an NRC. It's just starting to bring through and unearth some real talent. It is showing it can be used to mature players, unearth late developers, lift the general standards and bugger me actually provide a legit pathway for new-comers, Fringers and for those not identified for glory since 13yrs old and going to the right schools etc. It's gold. It is good footy and it serves a real purpose.
And what does our beloved administration let happen to it? Already shrinking its way to new glory…
In terms of Qld there should be a North & South Brisbane side plus Country. In NSW there should be 3 NRC teams in Sydney: North, South and West. They should be tied to specific Clubs (no cross-town poaching). West should be exclusively Pirates and Parra and SOMETHING for Penrith (or at least the +2m people out there). North is Manly, Rats, Gordon, Norths and Eastwood. South is Uni, Wicks, Southo's and Beasts. Plus NSW Country. ACT, Melbourne & Perth make a neat 10 team competition. I would consider outsiders (like the Drua and a Polynesian Barbarians or similar) but the core Australian 10 sides should have primacy.
This is the pathway everyone keeps looking for. This links Club to Super and Tests with a sustainable pathway for kids to grow to men and expose them higher as & when they are actually proven ready whilst also keeping older guys suitably challenged and on-ice to bolster the group average of rugby stock both up into Super and down into Club land.
As part of a larger plan, in the Republic Of Nutta, Super 12 (4 Ozzies, 5 Kiwi's, Pingers, Jags and a Wildcard) would end in-time for June Tests, then after the Tests comes NRC through to end-September based on a randomly drawn 2-Conference approach with the best 2 teams per Conf going into a 4-way semi finals. Post June Tests the Wobbly's go to NRC as well. Then all is ready for late October preparation for November Tests. Simples.
This is all been said before. This has all been written before. I find this so maddeningly frustrating. It would be so bloody easy to get this right. Or am I the only person who sees it like this – am I the idiot in the room?