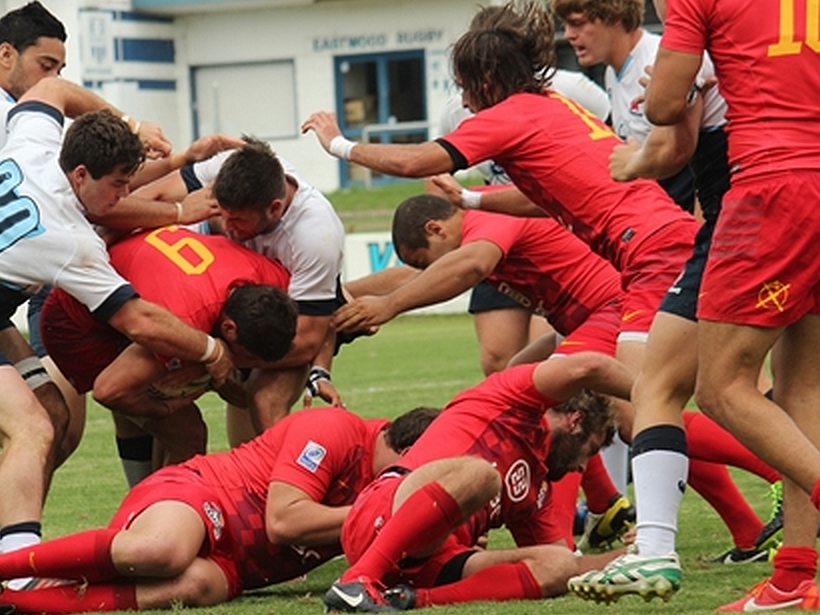 The final of the 2014 Pacific Rugby Cup will be played in Sydney today between Queensland Reds A and the Argentina Pampas XV.
This Sunday afternoon match, to kick-off at 3 pm on Eastwood Rugby Club's TG Millner Field, will be the culmination of an IRB tournament for the best locally-based players from development squads in Fiji, Samoa, Tonga, Japan, Argentina and Australia.
Fiji Warriors will play Tonga A in the curtain raiser at 1 pm to determine who finishes third.
Pampas XV
Los Pampas, coached by former test players Martin Gaitan and Raúl Pérez, have a strong starting line-up for the final. The squad does not include Argentina's players based in Europe but still has appreciable test experience with eleven Pumas named in the first fifteen for this match.
Three test-capped players have been brought into the side that beat Tonga A on Wednesday. Pampas XV captain Martín Landajo resumes the scrum-half duties from Tomás Cubelli after being given a spell on the bench. Ramiro Moyano comes into the back-three for Matías Orlando, and backrower Antonio Ahualli de Chazal replaces Facundo Isa at No. 8.
The tight five has been most impressive for the Argentinians. Props Lucas Noguera Paz and Bruno Postiglioni, together with former Gloucester hooker Matías Cortese are rock solid in the front row. Cortese's standout performance at hooker has been encouraging given recent concerns about Argentina's depth in that position. The two 22-year-olds in the second row, Matías Alemanno and Tomas Lavanini, are a physically imposing combination, and both are likely to receive game time for Los Pumas this year.
The Pampas XV offence has been very effective throughout the tournament, but occasional disorganisation and a lack of intensity in defence has also been shown in some of their matches. This might be due, in part, to the increased speed of play of their opposition. The captain Martín Landajo has described the style of rugby they have encountered as quicker than in Argentina or in the Vodacom Cup in South Africa, but not as physical.
Reds A
The selection of the Reds A side for the final was a complicated process for head coach Peter Wilkins. With most of the Reds away in South Africa and the National Under-20s Championships also being played this weekend, only 13 players were still available from his squad. Ten new players were added to the match-day line-up.
Curtis Browning has been named as captain, with Marco Kotze (GPS) and Luke Beauchamp (Brothers) joining the starting eight. In the backs, Nigel Genia returns to the scrum-half position, and Jamie-Jerry Taulagi will move from fullback to flyhalf. Varesa Mataitini, Queensland Premier Rugby's leading try scorer for the past two seasons, will start on the wing.
On the bench, Wilkins has selected half-back Sam Grasso (GPS) and loose forward Jono Ellis (GPS), both of whom played for the Reds College XV in 2013. Haydn Hirsimaki (Sunnybank), who started at loosehead prop for Combined Country against the British & Irish Lions, is brought in with No. 8 James Turner (Souths) and winger Todd Winkley (GPS). From the 2013 Queensland Premier Rugby championship-winning team, props Kirwan Sanday (Easts), Jack Kimmince (Easts), and centre Toby White (Easts) are also included.
The more experienced Pampas XV pack is expected to be physically stronger overall and will present a difficult challenge for the Reds A side. They will want to keep the tempo of the match as fast as possible and secure quick ball from the breakdown to run the opposition off their feet. Key players needed to achieve it will be the backrow leaders Curtis Browning and Tim Buchanan, together with the play-making combination of Nigel Genia and JJ Taulagi.
The Tip
The in-form Argies are unbeaten in a settled team with match-hardened test players. Pampas by 14.
Line-ups
Queensland Reds A

Argentina Pampas XV

1.
Pettowa Paraka
1.
Lucas Noguera Paz
2.
Andrew Ready
2.
Matías Cortese †
3.
Sef Fa'agase
3.
Bruno Postiglioni †
4.
Marco Kotze
4.
Matías Alemanno
5.
Blake Enever *
5.
Tomás Lavanini †
6.
Curtis Browning (c) *
6.
Rodrigo Báez †
7.
Luke Beauchamp
7.
Tomás de la Vega †
8.
Tim Buchanan
8.
Antonio Ahualli de Chazal †
9.
Nigel Genia
9.
Martín Landajo (c) †
10.
JJ Taulagi *
10.
Patricio Fernández †
11.
Veresa Mataitini
11.
Manuel Montero †
12.
Sam Johnson
12.
Jerónimo de la Fuente
13.
Chris Kuridrani *
13.
Matías Moroni
14.
Nigel Ah Wong
14.
Ramiro Moyano †
15.
Kimami Sitauti
15.
Román Miralles †
Reserves:
Reserves:
16.
Haydn Hirsimaki
 16.
Santiago Iglesias Valdez †
17.
Jack Kimmince
 17.
Julián Montoya
18.
Kirwan Sanday
 18.
Ramiro Herrera
19.
James Turner
 19.
Lucas Ponce
20.
Jono Ellis
 20.
Javier Ortega Desio †
21.
Sam Grasso
 21.
Tomás Cubelli †
22.
Toby White
 22.
Santiago Gonzalez Iglesias †
23.
Todd Winkley
 23.
Javier Rojas †
| | |
| --- | --- |
| * Reds squad (incl. EPS) | † Pumas test-capped |
Pacific Rugby Cup Final
Sunday, 23 March 2014 (3:00 pm)
T.G. Millner Field—Eastwood Rugby Club
---
Click on right arrow for Page 2—Path to the final, tournament standings, and match results.
Pages: 1 2