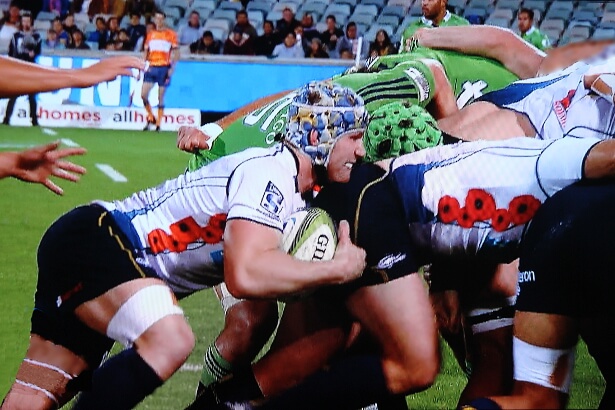 Instead of the usual preview format I'm going to give the Brumbies fans something to get behind in what has been a dire week for the club. We still have boardroom shenanigans ongoing, injuries to key players and we've just been walloped consecutively in Canberra by visiting kiwi teams. Regardless, here are five reasons why the boys from the nation's capital will get up on Saturday.
1. Historical Advantage
The Highlanders and Brumbies have played 19 times in competition history, the Brumbies have only lost seven of those encounters. More recently, the Highlanders have lost seven of their last eight matches against the Brumbies, including the last three. The Highlanders have conceded 94 points against the Brumbies across their last three encounters, 68 of which were scored in the first half. The Brumbies have earned a win in three of their last away games against Highlanders and they still managed a losing bonus point loss in 2011.
2. Pocock is back
He's not returning from injury, he's had three weekends of no games. That's three weeks for him to increase the resistance of the gravity chamber he works out in, I think he's up to 50 gees or 490m/s2. There wont be any cobwebs to blow out, he'll be fresh as a daisy and ready to dominate the breakdown. He's one of the most influential player on results: the Wallabies winning percentage goes up 15% when Pocock is included in the team. Highlanders be warned if you are over the ball and DP is anywhere nearby, then get the ruck out of there… or strap yourself in, BAM BAM!
Highlights of the Brumbies last game against the Highlanders (Pocock Hat-Trick):

3. Beating the defending champs
There's always that extra motivation to bring it to the defending champs. The Brumbies managed to last year as shown in the video above, albeit before the Highlanders were actually crowned that year.  But if you want to be the best, you have the beat the best and the Brumbies have a chance to put their woeful displays against New Zealand teams this year behind them and show they're trending upwards at the correct time, even if they're missing Moore and Tomane (two of their better players this year).
4. Leapfrogging into our own destiny
At just past halfway of the regular season wild-card spots and top of the Aussie conference are still within arms reach for the Brumbies [21]. They trail the automatic qualifying spot by one competition point (currently held by the Rebels [22]). They are also in a battle for the remaining wild-card spot with the Highlanders [24]. Being only three competition points behind the Highlanders, they have a chance to leapfrog the defending champs regardless of other results. With the forward heavy make-up of the Brumbies bench I'm expecting a tight game plan, to limit the bouncing ball rugby that the Smith brothers tend to thrive on.
5. 5% Better
It doesn't sound like much but that's the difference between the goal kicking stats of Sopoaga (77%) and Lealiifano (82%). Big deal right? Well not for the Brumbies as when we've lost we've made it count, the Highlanders, on the other hand have lost their last two matches by a single point (although Lima kicked at 100% in his teams loss to the Reds). The Highlanders have been in a game decided by one point 24 times in competition history (three times already this year), the most by far. No team has ever managed to lose by one three times in a row though, but I'm not putting it past those bonus point lovers across the ditch, That's why I'm tipping the Brumbies by 1.
Highlanders
1. Daniel Lienert-Brown , 2. Ash Dixon , 3. Josh Hohneck , 4. Alex Ainley , 5. Tom Franklin , 6. Elliot Dixon , 7. Shane Christie (cc) , 8. Liam Squire , 9. Aaron Smith , 10. Lima Sopoaga , 11. Patrick Osborne , 12. Rob Thompson , 13. Malakai Fekitoa , 14. Jack Wilson , 15. Ben Smith (cc)
Replacements : 16. Greg Pleasants-Tate , 17. Craig Millar , 18. Siosiua Halanukonuka , 19. Joe Wheeler , 20. Dan Pryor , 21. Fumiaki Tanaka , 22. Hayden Parker , 23. Matt Faddes
Brumbies
1.Allan Alaalatoa , 2.Josh Mann-Rea , 3.Ruan Smith , 4.Tom Staniforth , 5.Sam Carter , 6.Scott Fardy , 7.David Pocock , 8.Jarrad Butler , 9.Tomás Cubelli , 10.Christian Lealiifano (c) , 11.Robbie Coleman , 12.Matt Toomua , 13.Tevita Kuridrani , 14.Nigel Ah Wong , 15.Aidan Toua
Replacements : 16.Robbie Abel , 17.Scott Sio , 18.Leslie Leulua'iali'i-Makin , 19.Rory Arnold , 20.Blake Enever , 21.Jordan Smiler , 22.Joe Powell , 23.James Dargaville
Date : Saturday 30 April 2016
Venue : Rugby Park, Invercargill
Kick Off local: 19:35 local
Referee: Nick Briant
Assistant Ref 1:Brendon Pickerill
Assistant Ref 2:Kane McBride
TMO : Aaron Paterson
Most statistical information in the article was kindly provided by Opta Sports.