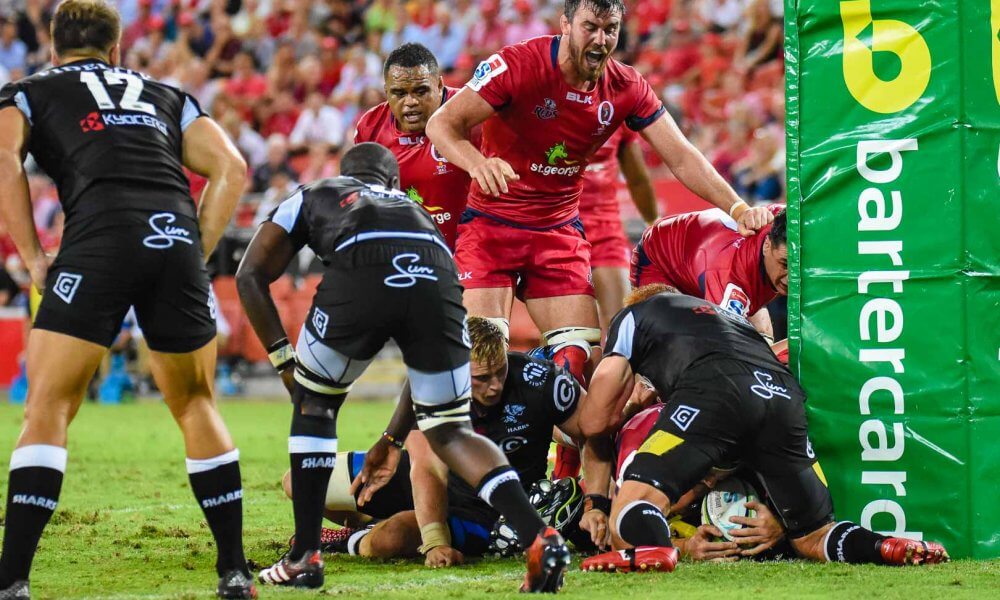 I'm not going to lie to you, I tried to get out of this. We are in the middle of the biggest storm of the season and my internet's been down for twelve hours. But that's not my biggest issue. My biggest hurdle is talking up the stuttering Reds against the well oiled machine they call the Hurricanes. The boys and girls in the match thread lost the plot and have been cracking 'Reds under the bed' jokes for days. The job is daunting so I put the word out about my predicament  and… nothing. So here I am with a jerry rigged hotspot trying to think of something to say…

So here then, are the key matchups.
No bullshit: Beauden Barrett v ANYONE
Jake McIntyre gets the job opposite Barrett this week. That won't inspire confidence in Reds fans, his game time since Quade Coopers suspension has been barely passable. Barrett on the other hand is probably the worlds best flyhalf at the moment. Here's what Reds coach Nick Stiles had to say, "He's a dual threat … that speed, his pass, his short kicking and his ability to just read the play makes him so dangerous." That's two… or more… than the Reds ten can claim.
---
The battle of the breakdown
Korczyk, Smith and Higgers v Shields, Gibbins and Savea
Just let these names sink in. It's juicy isn't it. The battle of the backrows is going to be one of the few delights of this game. Brad Shields is in stinking hot form and Savea is just a menace. Higginbotham has looked impressive in the struggling Reds and the aging warrior George Smith is ken to show he still has the goods.
---
How's my hair: The back lines
One of the few good things the Reds have managed this year is pick a relatively unchanged backline. Except for old high shot Cooper of course. But slowly, ever so bloody slowly, the give it to Samu strategy is being replaced with a more balance look. Don't get me wrng I think Samu is awesome but he can't carry everyone. The Hurricanes backs are no slouches either and Beaudens little bro looks like a star in the making. The Canes will have the upper hand here but the Reds can do some damage.
---
The Fearless Prediction
Usually here I boldly predict the Reds no matter what the odds but I just can't bring myself to bullshit that much. The reds forwards just aren't doing enough to compete with a top flight team. The Reds are leaking penalties and cards like no other team in the comp and their rookie halves especially at 10 just aren't bossing the game. The Reds won't win, they can't win. In fact a win will be to stay in touch.
Hurricanes by 25
Queensland Reds
1. Markus Vanzati – Souths
2. Stephen Moore (C) – University of Queensland
3. Sam Talakai – Brothers
4. Rob Simmons – Sunnybank
5. Kane Douglas – Norths
6. Adam Korczyk – University of Queensland
7. George Smith – Brothers
8. Scott Higginbotham – Wests
9. James Tuttle – GPS
10. Jake McIntyre – Sunnybank
11. Eto Nabuli – GPS
12. Duncan Paia'aua – Norths
13. Samu Kerevi – Souths
14. Chris Kuridrani – GPS
15. Karmichael Hunt – Norths
16. Andrew Ready – Easts
17. Kirwan Sanday – Easts
18. Taniela Tupou – Brothers
19. Lukhan Tui – Souths
20. Hendrik Tui – Norths
21. Nick Frisby – GPS
22. Hamish Stewart – Bond University
23. Izaia Perese – Easts
The Hurricanes
1     Chris Eves
2     Ricky Riccitelli
3     Jeffery To'omago-Allen
4     Mark Abbott
5     Michael Fatialofa
6     Brad Shields
7     Callum Gibbins
8     Ardie Savea
9     TJ Perenara
10     Beauden Barrett
11     Julian Savea
12     Ngani Laumape
13     Matt Proctor
14     Vince Aso
15    Jordie Barrett
16    Leni Apisai
17     Ben May
18     Mike Kainga
19     Sam Lousi
20     Reed Prinsep
21     Te Toiroa Tahuriorangi
22     Otere Black
23     Pita Ahki