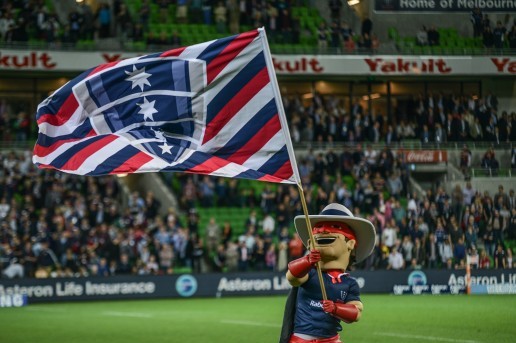 The Sunwolves host in the Melbourne Rebels in Tokyo this Saturday, in what's shaping as a crucial match.
With four more weeks to go, four teams are still in with a chance to top the Australian conference.  After losing to the Bulls, the Rebels must secure a bonus-point win, if they want a chance to secure a home final.  They must rely on other results going their way.
Languishing at the bottom of the table is the Sunwolves; a team that shows flashes of brilliance, but just can't seem to show and consistency.  They have never defeated the Rebels, but with nothing to lose, they could easily surprise their more fancied rivals.
Form
The Rebels have had mixed results over the last few weeks.  A solid win against the Queensland Reds 30-24, followed by a frustrating loss to the Bulls 32-17.  The loss was all déjà vu; the Rebels played a flat attacking game, only for the Bulls rush defence to shut down most of the attacking plays.  When they couldn't break the line, out came the box kicks, gifting the ball to Pollard and Specman.  The Rebels need to work out a plan B, and put it into action!
Nothing was easy for the Rebels against the Bulls
It's really hard to describe the Sunwolves form; some weeks they can string together an upset win (Waratahs anyone), but other weeks it's like they are just training cones (Highlanders, at home).  In their last game, they suffered a thumping loss to the Brumbies 330-0 in Canberra, but managed to fight it out for a 0-0 draw against the bye last weekend.  I can't imagine it's an easy job for Tony Brown to motivate a team when they've been told they are out at the end of next season.  Still, they push on.
Teams
The Sunwolves have picked controversial Number 8 Amanaka Mafi to start against his old side.  Mafi won a lot of admirers in Melbourne with his freakish ability to break lines and put players into space.  However an incident in Dunedin last year, where he's alleged to have assaulted former teammate Lopeti Timani, now makes him a marked man.
Jordan Uelese – no more team rehab and ladder moving for you mate.
The Rebels welcome back Adam Coleman, slotting straight into Lock.  Tom English returns to the side on the bench, with Reece Hodge retaining his spot at outside centre.  After nearly a year in team rehab, Victorian product Jordan Uelese returns to the side on the bench.  Richard Hardwick starts at Number 8, with Ross Haylett-Petty at blindside.
SUNWOLVES (15-1):
Jason Emery, Gerhard van den Heever, Josh Timu, Phil Burleigh, Semisi Masirewa, Hayden Parker, Keito Shigeno, Amanaki Mafi, Dan Pryor, Rahboni Warren-Vosayaco, Luke Thompson, Mark Abbott, Hiroshi Yamashita, Nathan Vella, Masataka Mikami
Reserves: Jaba Bregvadze, Conan O'Donnell, Takuma Asahara, Yoshitaka Tokunaga, Hendrik Tui, Jamie Booth, Hosea Saumaki, Takuya Yamasawa
REBELS (15-1):
Dane Haylett-Petty (c), Jack Maddocks, Reece Hodge, Billy Meakes, Marika Koroibete, Quade Cooper, Will Genia, Richard Hardwick, Angus Cottrell, Ross Haylett-Petty, Adam Coleman, Matt Philip, Sam Talakai, Hugh Roach, Matt Gibbon
Reserves: Jordan Uelese, Tetera Faulkner, Jermaine Ainsley, Sam Jeffries, Rob Leota, Michael Ruru, Matt Toomua, Tom English
Key Match-Ups
Who should we keep our eye on this week?
Cooper v Parker
Parker is by far the standout player for the Sunwolves.  I really feel they wouldn't have won any games without him on the field this year.  His real strength is his kicking game; from the short kicking, pinpoint kick to a running Masirewa, and the freakish ability to kick nearly everything off the tee.  Who can forget that absolute bender in Newcastle to sink the Waratahs?
Quade Cooper – got that winning feeling.
Cooper started the season in fine form but has gone a little quiet over the last few weeks.  He was given no space by the Bulls and found it hard to work his magic.  All is not lost; when given space, he had some nice touches last week, but we need more.  He's had little rest time this season, so I'd like to see a tactical sub for Toomua early in the second half.
Mafi vs the Rebels pack
There will be no love lost here.  Despite all of Mafi's talents and service to the five stars, he left in disgrace after the Dunedin incident.  While I think the Rebels will focus on the win, they'll love to lay a few bruising tackles.
It's hard to gauge Mafi's form as he hasn't played outside of Japan this year, on account of his pending legal action.  The Rebels loosies will look to shut his running game down, perhaps pushing the offside line to get an early hit.  With Mafi shut down, Parker will be starved of possession and forced to work with the scrappy ball.
Mafi – Marked man
Even with Luke and Isi in rehab, the Rebels have picked a strong back row.  RHP is great at the lineout and handy in open play.  Cottrell is a no-nonsense openside who will tackle all day.  Hardwick is a livewire flank and will use this rare starting spot to show his versatility across the backrow.  It a nicely balanced backrow, and they should dominate against Mafi, the evergreen Dan Pryor, and  Rahboni Warren-Vosayaco.
Fearless prediction
I think the Rebels will bounce back from some recent patchy form and fire again in the backline.  The addition of Coleman will add some real starch to the contact zone, and you will see a lot more forward momentum.
The key this week is blowing the Sunwolves away in the first 20min, and repeat for the next 60min.  Yes, you heard it first; an 80 min effort!  We not only need it to get competition points, but also to beat the big teams come finals time.  Even if we're in a dominating position, I want to see us mix up our game plans; try the plan A and B, just like we did against the Hurricanes.  We proved then we can switch and turn the game
Rebels by 12.
Match Details
Sunwolves V Rebels
Saturday 25 May at 3:15 AEST
Referee: Nick Briant (NZ)
AR1: Federico Anselmi
AR 2: Shuhei Kubo
TMO: Minoru Fuji