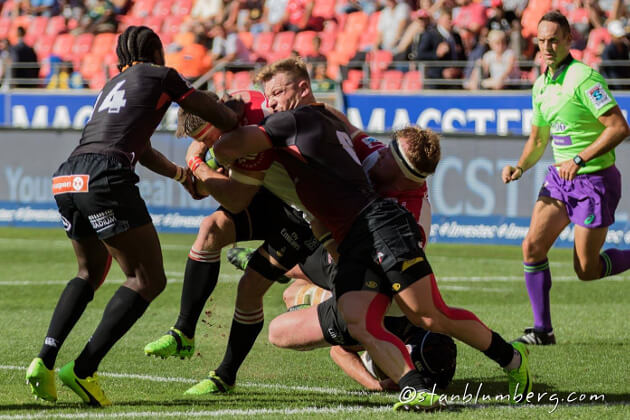 Looking at the data alone it would be easy to assume this should be a close match.*
Both teams are loitering at the bottom of the table (whichever table you choose to view) and have a negative points differential as close as it gets without being identical. They've played the same number of matches, and have similar stories in attack and defence.
So why then do we see the bookies saying the Tahs are screaming favourites? How can this be?
The Teams
Waratahs
It's all about perspective. The Waratahs have played some good rugby, in between complete lapses of concentration, especially in defence. At various times, they've made a game of it against some of the top teams such as the Crusaders and the Hurricanes and pulled one out of the fire against the Rebels.
So, somewhere buried deep within their psyche, there is a good rugby team. Given they can only do it in fits and bursts, perhaps only a part time rugby team.
Kings
On the other hand, the Kings are dead men walking, which in many ways is sad, as the team is a young one, and reminds me of a good Colts cohort that has done well in the age ranks and then steps up to grade as a group, and takes a couple of years to find their way.
The Kings look fit, fast and enthusiastic, but lack leadership and good decision making, things which only the currency of time can buy. Sadly, a currency which they have spent—or more accurately—others have spent for them.
The Tahs still have a chance to make a season of it, the Kings, not so much. The Tahs have great expectations, the Kings missed out on the inheritance.
The Kings will have a good game plan – let them kick it back to us
Game plans
The Tahs will see this as an opportunity to put into practice in a match scenario the learnings from the first few rounds, with the bye week providing extra time for fine tuning and navel contemplation.
The Kings are probably the ideal type of opponent to play in such a circumstance, although I suspect the Tahs will still struggle to maintain their intensity for the full 80.
As for the Kings – I suspect they're playing for fun, each other, and to enjoy what remains of their Super rugby experience, all of which makes them dangerous. Very dangerous….
They will pounce when they see the Waratahs with no tackle line set whether it be from the home team ambling after kicking the ball to the visitors, or from turnover ball with too many Tahs around the ruck they just lost.
Malcolm Jaer – hat-trick scorer against the Force is still injured
The teams

The Kings struggled at the set piece against the Reds, who themselves are relatively weak.
The Tahs should dominate both scrum and lineout, having superior success in both (scrum 91% v 80%, lineout 89% v 82%)*.  This balance may change slightly due to Kepu missing the match due to suspension.
The Kings' scrum should improve also with the return of 34 year-old tight head prop Ross Geldenhuys, who has played at more clubs than Slim Dusty, including the Highlanders.  His back spasms are gone; so the versatile Justin Forwood moves over to the loose head side.
Lock Irne Herbst also returns to the starting XV, but two of their brightest try-scoring machines will miss the match.  Fullback Malcolm Jaer, who scored a hat-trick against the Force, missed the Reds match and his knee is still not right; Winger Yaw Penxe, who scored 22 seconds after the break in Perth, has concussion issues.
Dave McDuling tackles Thomas du Toit in Durban – will have his first start for the Tahs
Lock Dave McDuling has his debut start for the Tahs as Dean Mumm is rested, and  Tomas Robertson replaces suspended Sekope Kepu at tight head prop.  Rob Horne has recovered from hamstring issues and plays outside centre as Israel Folau moves to fullback.
There is a bit of bench movement too as Angus Ta'avao, who played in 15 games in 2016, makes his return from injury for his first run this season.  Harry Jones could make his Tahs' debut after Andrew Kellaway injured the hyoid bone in his neck playing for Randwick last weekend.
Head Coach Gibson has said he's trying to put his best seven backs on the paddock, and then find a place for them, which partly explains the recent regular changes to the backs—plus trying to work out the optimal position for Folau: a solution which lacks unanimity across the Australian rugby landscape.
Harry Jones – could have his debut against the Kings
Why should I bother?
The Tahs are making noises that they will put a away the box kick.  The Kings are gamblers and will try anything if they have a sniff.
What does this all mean? It should make for great entertainment. Be there.
We all know where we were for truly historical events – when JFK was shot, when Princess Diana died, or when Richie McCaw was penalised for being offside at a ruck.
This is such a moment – a unique event in rugby history. The Kings are simultaneously making their debut and their curtain call at the SFS – how special is that? Prepare yourself to be part of trivia history, all the while being able to watch a game of footy.
Richie McCaw – offside in 2001
Key matchups
The breakdown – this battle will be fierce.  The Kings have a genuine fetcher in Chris Cloete, and he will go head to head with Tolu Latu, and occasionally Michael Hooper.  He is fast, strong, and ferocious in all his play.
Latu has been the Tahs' dominant jackal.  With a rear-end diff that wouldn't look out of place on a Pilbara dump truck, and a subterranean centre of gravity, he is hard to budge.  I can't recall seeing a stronger player over the ball this season.
The Hoff has the whistle, along with an all-Australian support team (Murphy/Leckie/Smith), and they will have a better understanding of Latu's capabilities than have recent referees, especially Marius van der Westhuizen, who controlled the Crusaders match. Which way the whistled arm points could prove crucial in this battle.
The battle of the 10s will also be critical. Any South African team led around the park by a Cronje is worth a punt, but Foley, when he has played, has shown that his class, skill, leadership and decision making, is world class.
Cronje, despite some good stats, still lacks plenty. His defence is Cooper-esque, and he goes missing too often and despite being captain, his leadership and decision making still need plenty of work.
As a sideshow, the scrumhalf battle should be a ripper too, with both Gordon and Schreuder having similar games butting heads. A Joost type against, well, a Joost type.
Jake Gordon – should have a good battle against Schreuder
Prediction
These teams have met only once previously, and the Tahs could have declared at half time and enforced the follow-on – and that was in Africa. It won't be quite that nasty this time, and the raw enthusiasm of the Kings' youth will see them sneak some surprise tries.
However, the Tahs have some real skin in this game – they need to win, they need the bonus point, they need to improve points differential and they need to play for 80.
Plus they're at home and it should be dry, so I'd be disappointed if the Tahs didn't win by 40. But I have spent the season being more disappointed than not; so…..
Waratahs by 20
Chris Cloete – live wire fetcher for the Kings
Waratahs

1. Paddy Ryan
2. Tolu Latu
3. Tom Robertson
4. Dave McDuling
5. Will Skelton
6. Ned Hanigan
7. Michael Hooper (c)
8. Michael Wells
9. Jake Gordon
10. Bernard Foley
11. Cam Clark
12. David Horwitz
13. Rob Horne
14. Taqele Naiyaravoro
15. Israel Folau

Reserves:
16. Hugh Roach
17. Angus Ta'avao
18. Davis Lolohea
19. Dean Mumm
20. Jed Holloway
21. Nick Phipps
22. Bryce Hegarty
23. Harry Jones
Kings

1. Justin Forwood
2. Michael Willemse
3. Ross Geldenhuys
4. Irne Herbst
5. Wilhelm van der Sluys
6. Chris Cloete
7. Tyler Paul
8. Andisa Ntsila
9. Louis Schreuder
10. Lionel Cronje (c)
11. Makazole Mapimpi
12. Luzuko Vulindlu
13. Berton Klaasen
14. Wandile Wjekevu
15. Masixole Banda

Reserves:
16. Kurt Haupt
17. Schalk van der Merwe
18. Dayan van der Westhuizen
19. Mzwanele Zito
20. R. Lerm/M. Bezuidenhout
21. Johan Steyn
22. Stokkies Hanekom
23. Pieter-Steyn de Wet
Match Details
Date: Friday, 21 April 2017
Venue: Allianz Stadium, Sydney
Kick-off: 7:45 pm AEST
Referee: Rohann Hoffman (Aus)
Assistant referees:
Damon Murphy (Aus), James Leckie (Aus)
TMO: Ian Smith (Aus)
* Data used courtesy of Opta Sports