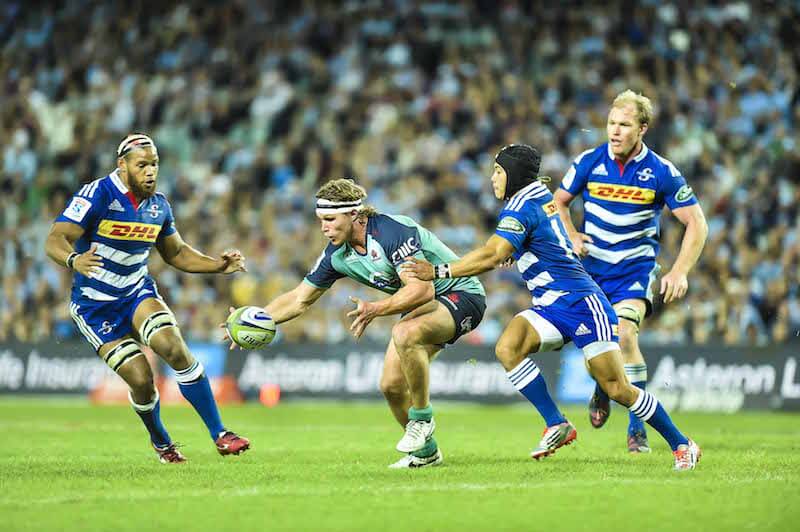 At the start of the season its very hard to say much about the teams because we haven't seen much of them. The Stormers got their first round away last week, with a win against the Jaguares, but they didn't look that swish. Carefully analysing the last trial, the Waratahs didn't look that swish either, despite their big win over the Rebels.
WEATHER:
This is the Waratahs, so its really important because at the first sign of rain or humidity the Waratahs are infected by knock-on syndrome. That means a Stormers scrum with the feed and that's likely to generate a three point deluge. The forecast is iffy – 50% chance of rain, but only 1-5mm. A light noreaster blowing and night time humidity forecast to be 53%, so maybe the rain will be gone by 7:40 pm.

TEAM NEWS:
Waratahs:
Gibson has made some left-field selections for this game against a big Stormers pack, where one would think the most powerful pack available would be selected.
Paddy Ryan is at tight head and Tom Robertson at loose head. This does not bode well for the scrum. Kepu is back next week.
Damian Fitzpatrick has been chosen at hooker with Hugh Roach on the bench. Tolu Latu is out of the 23.
Simmons and Staniforth are the first choice locks, but Palmer has come from nowhere to take the bench and will debut if he gets on.
Ned Hanigan and Michael Wells join Michael Hooper in a very lightweight backrow.
Phipps is still out with a calf injury, so Gordon will start with Short to come off the bench for his debut.
Lalaki Foketi makes his Waratah debut at 13 after good form in the trials, pushing Curtis Rona to the wing. Both are Waratah debutants.
Very surprisingly Kellaway makes the other wing with Newsome on the bench. Naiyaravoro is out of the 23 despite his outstanding trials form. Maybe he hasn't lost the last 3kg Gibson wanted him to.
Stormers:
The front row of Louw, Samuels and Kitshoff looks ominous.
Pieter-Steph du Toit is back from injury and will start at lock. Kobus van Dyk drops back to 6, with Notshe on the bench.
Whiz kid Damian Willemse has his second start at 10. He played very well in the open last week and kicked well from the tee.
SP Marais goes to 15, with Leyds going to the wing. Their back three will present a threat.
Fortunately for the Waratahs, Seabelo Senatla is being rested because of his workload in the sevens. He is lightening quick and would make 10 metres on Kellaway over 50.
ANALYSIS:
The Stormers will aim to do three things: Destroy the scrum, hit as hard as they can on offense and defence, and keep a very good defensive structure across the park.
The Waratahs will have to aim to break even in the forwards and unleash their backs at every opportunity. They will have to win with guile, they can't overpower their opposition.
We've got a really good referee in Angus Gardner first up. I don't think either side will be too fussed with adjudication issues.
PREDICTION:
This is not a game to bet your house on. The weather, Stormers defensive abilities, Waratahs first game of the season all combine to make it a really hard pick from this week's matches. I'm going to stick my neck out and forecast Stormers by 7, but there's such a high level of risk with that, it could blow out either way by 20.
TEAMS:
WARATAHS
1. Tom Robertson
2. Damian Fitzpatrick
3. Paddy Ryan
4. Tom Staniforth
5. Rob Simmons
6. Ned Hanigan
7. Michael Hooper (c)
8. Michael Wells
9. Jake Gordon
10. Bernard Foley
11. Curtis Rona
12 Kurtley Beale
13. Lalaki Foketi
14. Andrew Kellaway
15. Israel Folau
16. Hugh Roach
17. Harry Johnson-Holmes
18. Shambeckler Vui
19. Nick Palmer
20. Jed Holloway
21. Mitch Short
22. Bryce Hegarty
23. Alex Newsome
STORMERS
1. Steven Kitshoff
2. Ramone Samuels
3. Wilco Louw
4. JD Schickerling
5. Pieter-Steph du Toit
6. Siya Kolisi (c)
7. Kobus van Dyke
8. Nizaam Carr
9. Dewaldt Duvenage
10. Damien Willemse
11. Raymond Rhule
12. Damien de Allende
13. JJ Englebrecht
14. Dillyn Leyds
15. SP Marais
16. Dean Muir
17. Janse van Rensburg
18. Carlu Sadie
19. Chris van Zyl
20. Sikhumbuzo Notshe
21. Justin Phillips
22. George Whitehead
23. EW Viljoen
DETAILS:
Match : Waratahs vs Stormers
Date : Saturday 24th February, 2018
Venue : Allianz Stadium, Sydney
Kick Off: 1940 AEDT
Referee: Angus Gardiner