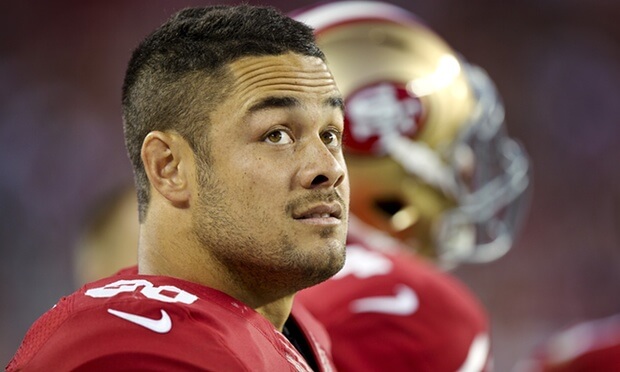 This is slightly different to the usual Green & Gold Rugby blog post. Instead of writing about Australian rugby, we're going to try to do something to help promote it.The Wallabies play the USA Eagles at Soldier Field in Chicago on September 5. As well as being a fully capped test match, with all that means for our players, it's a pivotal event for the commercial fortunes of both unions. A sellout crowd is reputedly worth $1m to the cash-strapped ARU.And yet the game hasn't been energetically promoted.We believe this is due to cost. The kind of campaign that AIG mounted for the sold-out All Blacks test at the same venue last year is simply out of reach of USA Rugby.No bucks, no Buck Rogers.But marketing doesn't need to cost a fortune in the new age of Facebook and Twitter. All we need is some virality.

We have a leftfield idea.

Who is the Aussie sporting name on every American sports fans lips right now?

Jarryd Hayne.

Hayne has made a real splash in the NFL pre-season so far. Many journalists are calling him "the story of the pre-season". If he has another game of similar quality as his first two pre-season games then he'll become a sensation over there.

His highlights reel is already viral amongst American gridiron fans, and is being repeatedly posted on frontline sports websites, including the main network sites.

Every Aussie sports fan must be wishing him the best. I know I am. I hope he tears it up!

League may not be our code of rugby, but Americans don't care about that. To them it's the same, fast-paced, brutal game. And if we can put our sportisan rivalries behind us, it is the same game. There are far more similarities than differences, compared to any other form of football.

So, how do we cross-promote Hayne?

Shamelessly.

A group of us is putting together a collection of press releases, Tweets and Facebook posts that we'll send out to our networks as Green and Gold Rugby over the coming week.

Our first press release goes something like this:
Like Jarryd Hayne?
How about 30 Jarryd Haynes?
The USA Eagles are playing Australia in rugby at Soldier Field in Chicago on Saturday 5 September.
Both teams are preparing to play in the Rugby World Cup in England in September and October.
Australia is ranked 3rd in the world, after New Zealand and Ireland.
This isn't the same form of rugby that Hayne played. That's rugby league. This is the original, more brutal version.
Australia's best player, Israel Folau, is a rugby league convert. Check out Izzy's highlights here.
Last year's game at Soldier Field against New Zealand was a sellout. Help us make this game a sellout too.
This is a message from real sports fans. We have no commercial interest in the game.
Everyone on G&GR is welcome to contribute in any way they can. In fact we're relying on you to push the message out on your own networks. As a community, I bet we're only a click or three away from every NFL fan in the United States of America.
Then we'll hit Twitter and Facebook. A single viral Tweet can reach more American sports fans in an hour than all AIG's advertising did last year.
Here are some potential Twitter hashtags:
#FillSoldierField
#ThirtyJarrydHaynes
Our second press release will contain rich content for journalists to use. The kind of stuff you see on a G&GR game preview.
Then we'll get one of our tame Americans to personally call the editors of the major sports papers in Chicago, and politely ask them to prominently cover the game.
We'll co-ordinate it from right here, on the front page of G&GR.
It'll undoubtedly be controversial amongst both rugby and rugby league fans. There will be blood. Excellent!
We have ten days. It'll be a fun project.
We may not fill Soldier Field, but I bet we raise the profile of the game.