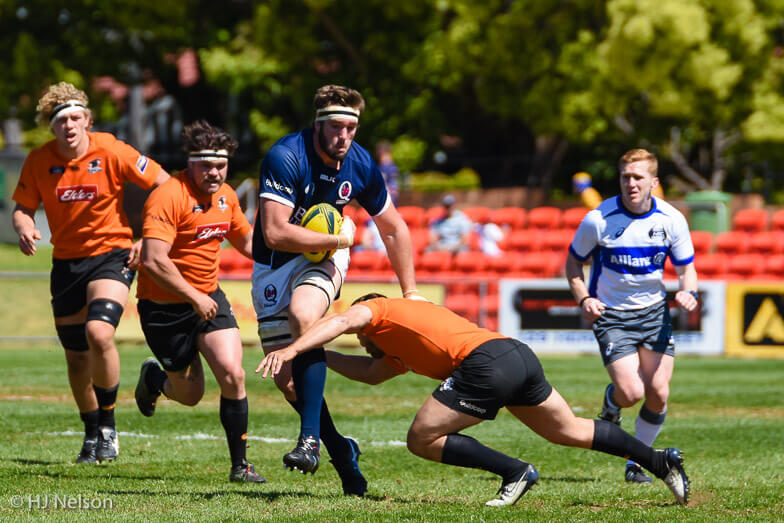 Saturday afternoon sees us in Toowoomba for the Outback Battle…… Rugby's "Place of Origin" (thanks Reg)….. or just some bloody good footy on a beautiful day.
For a side that leads the competition stats in clean breaks, defenders beaten, line out catches and meters QLD Country has, let's not beat around the bush, a pretty poor record. While NSW Country don't appear on the stats leader boards as a team or individually they did come into the game unbeaten. Sorta kinda matters that….
Things started well for QLD country with Alex Casey making a sprint down field after intercepting a NSW pass. From this a few quick phases saw Angus Scott-Young over in the 2nd minute.
After 12 minutes NSW got their name on the score board following a break by Reece Robinson with him, Kyle Godwin and Tom Hill having some passing practice on the way to putting Hill over for NSW's first try. Tom owes Charlie Clifton a few beers since the only reason he was on the field this early was that Charlie encountered the wrecking ball that is the Tongan Thor and was subbed during the first minute.To Hill's credit though he was in everything for most of the time he was on the field.
The Eagles were rapidly in again courtesy of a length of the field team effort putting Christan Kagiassis across the line. It was starting to look like it was going to be a long afternoon for QLD Country fans.
QLD fought back however and with tries to Ted Postal and Alex Casey entered the half time break leading 20 -14.
Within 10 mins of the half time break QLD was over the line again twice thanks to some nice running from Duncan Paia'Aua.
After a shocking first half in the lineout NSW Country managed to tidy them up and that helped out with possession. They hit back through Luke Holmes in the 53rd minute when they just plain had to many players stacked up on the right wing.
When Benny Daley dropped the ball and it was regathered by the Eagles, Kyle Godwin was away. Although he looked like he was running through treacle he did eventually make it across the line to bring the margin back to 4 points. Tries were then traded with Richie Asiata crossing for QLD and Tom Hill picking up a second as the game entered the last 7 minutes. With the score at 40 – 38 in QLD's favour this was nail biting, and exciting, stuff!
The last play of the game – NSW have a lineout about 10 meters out from an off side penalty. The ball carrier is forced over the sideline giving QLD a line out 5 meters out from their own line. The resultant unplayable maul gives NSW a feed into a scrum – still 5 meters out. QLD Country pack did what they have been doing all year and forced a penalty. QLD COUNTRY WINS 40 – 38. Phew.
Some other random thoughts:
Taniela Tupou made some impression on the locals with his apparent disregard for his own safety and some bone rattling hits in the first half. "That bloke is fearless" was the exact quote. He might be but I can't help being a little concerned that he will do himself an injury.
Rowan Perry, Eagles Openside flanker, is a brave brave boy. He thought it would be fun to have a discussion with one Mr Brad Thorn. Thorn freeing himself from the talons of an Eagle was like watching Godzilla swat a fly. Another quote from the spectators – "Don't fight Brad Thorn mate. You are going to lose."
Kicking still seems to be a problem skill for some of our guys. Although Mack Mason did a pretty good job from hand in play he was only 2/5 off the tee. Andrew Deegan did have a better day for NSW with 4/5.
---
The Game Changer
Not sure there really was a game changer. It was pretty close all game. The attitude that Thorn was able to instill in the young players might just have been the edge. I am also wondering if  NSW will be ruing resting some of their more experienced players.
The G&GR MOTM
Has to be Duncan Paia'Aua. He scored two tries, had a hand in at least one of the others, made some very good breaks and fronted up in defense. All round a very good game.  Honorable mentions to Tom Hill, for scoring two tries despite starting out on the bench, and Alex Casey, for making a flying break and scoring a try. Always a good combination from a hooker.
Oz Baabaa Watch
How many times do we have to mention Ned Hanigan before one of the Super sides pick him up? Although I did not mention him in the match report I do have a comment in my notes at about 15 minutes to go that he had played himself to a stand still. He was in every other ruck the whole game, both attack and defense. Is Tom Hill signed with anyone? On the field very early due to injury he had a great game. Scored two tries, ran support all afternoon, and made a few breaks. 
---
The Details
Qld Country: 40

Tries: 6
Paia'aua (2) 44', 49'
Scott-Young 4'
Postal 25'
Casey 38'
Asiata 70'

Conv: 2
Mason (2/5) 26', 45'
Third (0/1)

Cards:
n/a

NSW Country: 38

Tries: 5
Hill (2) 15', 73'
Kagiassis 17'
L. Holmes 54'
Godwin 59'


Conv: 4
Deegan (4/5) 17', 55', 60', 74'


Cards:
n/a
Referee: Damon Murphy

Attendance: tbc
Queensland Country: 1. Ben Daley, 2. Alex Casey, 3. Taniela Tupou, 4. Izack Rodda, 5. Brad Thorn, 6.Ted Postal, 7. Maclean Jones, 8. Angus Scott-Young; 9. James Tuttle (c), 10. Mack Mason, 11. Liam McNamara, 12. Duncan Paia'aua, 13. Tyrone Lefau, 14. Liam Jurd, 15. Tom Banks. Reserves: 16. Feleti Kaitu'u, 17. Richie Asiata, 18. Sef Fa'agase, 19. Tyrell Barker, 20. Liam Wright, 21. Scott Malolua, 22. Mitch Third, 23. Matt Gordon. Coach: Toutai Kefu.

New South Wales Country Eagles: 1. Sonny Satuala, 2. Clarrie Moore, 3. Paddy Ryan (c), 4.* Ned Hanigan, 5. Ryan McCauley, 6. Sam Figg, 7. Rowan Perry, 8. Mark Baldwin; 9. Mitch Short, 10. Andrew Deegan, 11. Christian Kagiassis, 12. Kyle Godwin, 13. David Horwitz, 14. Charlie Clifton, 15. Reece Robinson. Reserves: 16. Luke Holmes, 17. Jed Gillespie, 18. Cam Beetham, 19. Rohan O'Regan, 20. Tom Cusack, 21. Sam Ward, 22. Tayler Adams, 23. Tom Hill. Coach: Darren Coleman.