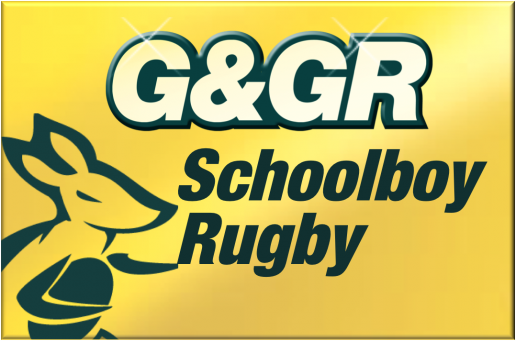 AIC 1 again showed the continuing improvement in the standard of Queensland schoolboy rugby with a fantastic performance against GPS 1 on Friday night, only to go down as eventual 12-19 losers to a GPS side that will be counting their lucky stars. 
A large crowd gathered at Ballymore for what could only be described as a game that could have gone either way, despite AIC's being written off as easy-eats following their loss at the hands of GPS 2. With cold and dry conditions set for the night, running rugby was the theme with both sides showing from the opening kick that they were there to show the Queensland selectors what they were capable of.
The game began with GPS on the attack, punching at the AIC goal-line only to knock the ball on after a number of phases — a theme that GPS maintained for the rest of the night. After a nervous start from both sides a brilliant chip kick from AIC No. 10 Tkatchenko (SPLC) put No. 13 Humphries (SEC) through for a fantastic try, with Humphries showing a great pair of hands to regather the kick and finish with style.
Throughout the first half, GPS really struggled in communication and cohesion with many a pass going to ground. No. 10 Darcy Eason (ACGS) battled to get anything out of his backline, with the AIC defence closing down on any sniff of an opportunity. The AIC pack led the way and seemingly got the better of the GPS boys who looked as though they didn't want to be there, caught off-guard by the fire that AIC directed at them.
With four minutes remaining in the first half, GPS found some form and rolled forward with some strong runs from their forwards, which really put the AIC goal-line under pressure. After numerous phases, No. 3 Sikimeti (NC) barged over for GPS's first points. GPS went into the break 7-5 up, despite AIC arguably having had the dominant half.
The second half picked up where the first half began with AIC forwards Manu (SEC) and Perese (SEC) showing brute strength with some big barging runs up the middle of the field. GPS defended well, however, and AIC turned the ball over after a number of phases on the GPS goal-line. GPS lacked direction from Eason (ACGS) all game and failed to sufficiently use the size advantage that they had in the backline. This showed when a lack of communication from the GPS backline led to an overlap 50 metres out, with big AIC winger Duma (SPLC) barging down the sideline to score the try of the game, capped off by a fantastic swan dive and a salute to his supporters up on the hill.
Following the kick-off, GPS regained the ball immediately and had 10-plus phases on the AIC goal-line, with No. 7 Hood (BBC) and No. 2 Postale (NC) showing some great heart with a number of quality runs through the heart of the AIC defence. Finally, GPS fell over the line following some soft defence from the AIC forward pack. Eason (ACGS) converted and with 12 minutes remaining GPS 1 led 14-12.
In what was a very even second half, AIC looked to want it more than the GPS boys but it came down to the extra class that GPS showed, staying cool and calm in a pressure situation which eventually led to the final try off the back of a rolling maul with only two minutes remaining. Eason missed the conversion and the final score remained GPS 1 19 – AIC 1 12.
Standouts from GPS 1: 2. Postale (NC), 3. Sikimeti (NC), 6. Gunn (ACGS), 7. Hood (BBC) 9. Deck (TGS).
Standouts from AIC 1: 2. Manu (SEC), 8. Perese (SEC), 9. Briskie (PAD), 13. Humphries (SEC).
The Queensland Schoolboys selectors have named the following teams for the coming National Championships to be played in Sydney: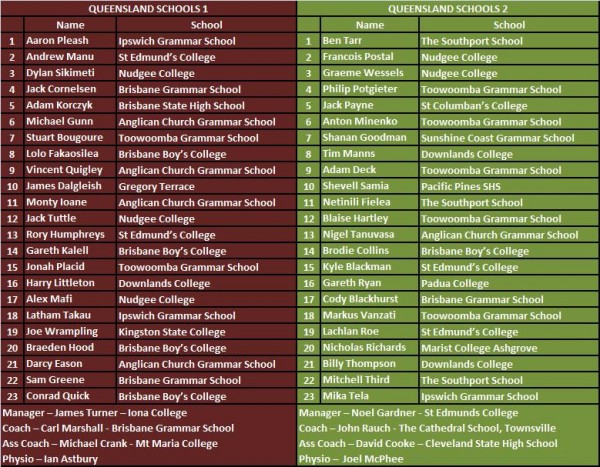 __________________________________________________________________________________
In a sense it was a pity not to have the Championship decided in the last week, though Scot's fans wouldn't agree.
But Round 10 had some interest: it produced a miracle comeback that had spectators of either side at Stanmore wondering "how on earth did they do that?"
.


.
Newington
v Joeys
I am not sure if I witnessed one of the best displays of attacking Rugby or one of the worst displays of defence. What I do know is that I witnessed one of the greatest finishes to a GPS match I have had the privilege to see.
But to the beginning…
First half
Three minutes in, Newington mauled the ball over the line with #2 Isi Halaufia scoring.
Joeys' #7 Paddy Dalton replied quickly spotting a gap from the back of the ruck, ran hard down the blind to catch the New defence napping to secure Joeys' first try. #11 Lachlan Day converted. 7-5 Joeys.
New #10 Bayley Kuenzle slotted two penalties after persistent ruck infringements from Joeys. Then from a 5-metres scrum #8 Nathan Lawson caught the Joeys defence asleep, even though were cries to "watch the 8". He crashed over to score and with extras Newington led 18-7 at 17 minutes.
Joeys' game plan was to attack Newington's right wing. #13 Jaffer-Williams tip-toed down that touchline to off load to #12 Triston Reilly who found #9 Dylan Dowling inside keen for the pass to score. Day slotted the conversion from the sideline to keep Joeys in the game, 14-18.
Two quick tries to Kuenzle and # 11 Adam Miller had the scoreboard busy. Kuenzle uncharacteristically missed the conversion in front but bagged the one from the sideline. Newington led 30-14.
From the restart Joeys spun the ball wide finding space and time on their left wing. #15 Matt McTaggart touched down. Day converted to keep Joeys in the game.
51 points in 35 minutes !! Lapses in defence were costing both teams dearly.
Half-time score: Newington 30 – Joeys 21.
Second half
Newington reverted to the pick and drive method early in the second half to cries of coach Egerton to "Play our game". With growing momentum, Kuenzle threw a quick cut-out pass to his outside backs and #12 Hamish Duvall was over for New.  35 – 21.
Not five minutes later Joeys hit back from a scrum win and after a good run and quick hands by Reillym Day scored in the corner. Newington 35 – 26.
From a scrum to Newington on the Joeys 10-metre line, #9 Isaac Lewis fired a bullet pass on the open to #13 James Turner who scored just outside the uprights. Kuenzle converted. Newington 42 – 26.
With Joeys 16 points down and only eight minutes left on the clock, Reilly backed himself one-on-one to score in the corner. Day converted from out wide (yet again) Newington 42- Joeys 33.
Four minutes remaining and Reilly attacks the same left wing offloading to Day who scores in the same place. No conversion: Newington 42 – Joeys 38.
Two minutes left a turnover at the ruck on halfway saw Newington #15 Sam Gilfedder pilfer the ball, beat two tackles to score. Newington led 47-38.
One minute remaining, trailing by 9, Joeys secured the ball off their own kick off. #6 James Ashurst burst from the ruck with the Newington backline not set, offloaded to #9 Dowling to score under the posts. Day converted quickly. Newington 47 – Joeys 45.
There was one play left in the match with the try scored before the bell so the kick-off was required. A ruck ensued midpoint 37 metres out from the Joeys' line. A penalty to Joeys for a ruck infringement was compounded with a 10-metre march for Newington for throwing the ball away.
Not for the first time this year, Day marched up electing to kick at goal….. 53 metres out. The crowd was silent. The silence was broken by Days' woops of delight as the ball left his boot. It sailed high and long. Flags raised.
Final score: Joeys 48 – Newington 47.
Congratulations to both teams on a fantastic game played in good spirits.
The players
Joeys
3 points – Lachlan Day. What a way to finish your schoolboy rugby. Deservedly chaired off the field to the roar of "subtum".
2 points -#12 Triston Reilly is the apprentice in the wings. One to watch next year.
1 point – Fullback Matt McTaggart – was either making breaks or attracting defenders for others to benefit.
Newington
3 points – Bayley Kuenzle's kicking and attacking play was outstanding.
2 points – #8 Nathan Lawson was strong in attack.
1 point – THP Opeti Helu provided a mountain of work in defence.
Other results
2nd XV – Joeys 19 – Newington 14
3rd XV – Joeys 45 Newington 0
16As – Newington 28 – Joeys 28
---
Kings
v Shore
by "OUAI"
A great day, a superb playing surface and a carnival crowd pumped up with "Old Boy" reunions expecting a good close game for Kings against a Shore team showing some good late season form.
First half
Because of injuries big Papa #3 (Papantoniou) and Loh #2 started, which meant that Kings had an all-Yr11 front row.
First half
Shore looked good in the opening exchanges, dominating the play, while Kings showed a bit of the mixed form that has seen their title chances fade after Week 6.
Then things changed dramatically. A forced turnover close to Kings' line result in a nice exchange of passes between Will Douglass #11 and Dylan Peitsch #8 for Douglass to run 70 metres to score after ten minutes.
For the balance of the first half there was a procession of Kings' tries.
Nick Brown #6, with the go forward and a following quick recycle, had Miller running a good line and put through the hole to beat the cover from about 20 metres out. Kings 14-0 after 15 minutes. N. Brown was taking full advantage of the freedom being offered by Shore and his good work led to a try to flyhalf Charlie Steele-Park, who was also enjoying the extra time and space on offer.
Matt Orpen #12 and fullback Luke Osborne were also prominent in the first half. The local crowd is always excited when the big #15 takes on the defence, but this time it was a neat inside ball that benefitted him – to bag a try from about 15 metres out.
Shore had a positive period just before the break but their poor handling and ball security in the first half, meant that the ball was turned over repeatedly to Kings.
Half-time score: Kings 28 – Shore 0.
Second half
It was a similar story with the second half—Shore starting in positive fashion but Kings remaining confident and playing with a bit of passion, then putting the hammer down.
Peitsch, always one to sniff opportunities, took one to score after Kings had made their way into the Shore quarter. Another try shortly after, with good lead up work again by N. Brown, blew the score out to 38-0.
It was Peitsch again in the action when he was put into space from 30 metres out. Although he only just failed to regather his chip to score, he was not to be denied and he went over out wide soon after. Kings 45-0.
Kings took the opportunity to reward a couple of their seconds with time in the firsts; in particular Jack Mann, whose cruel luck with injury had curtailed his chances to play First XV rugby.
School captain Jack Mackenzie-Wood, was rewarded for some strong performances and great leadership of the Kings seconds, many believing he had claims for a starting First's spot, on the day.
All credit to Shore who regathered their focus to dominate the last minutes. Ed Gregory at #15 for this game, took the space offered and did well to beat Osborne, no defensive slouch, to the tryline to score out wide.
After the kick-off Shore continued to press Kings' line, retaining ball through phases, and when Baveystock #14 popped up in midfield he left the Kings' defence flat-footed to score on the bell.
Full-time score: Kings 45 – Shore 10.
The players
Kings – It was their bigger names that stood out: Nick Brown's last game for TKS was a memorable one. Matt Orpen, Luke Osborne and Dylan Peitsch, were other strong contributors, and there were solid contributions by Miller and Steele-Park.
The good news for TKS is that they had five Year 11 boys in the scrum for this game. They all have some size and showed enough this season to indicate that Kings will have a strong pack for next year's campaign.
Shore – It is hard to find enough praise, but versatile Ed Gregory never plays without having a real good go. Scrumhalf Will Haskins kept on trying right to the end and challenging his team all the way.
---
GPS 3rd XV Competition Round 5

by "Huly"
Etc Etc
Ladder points: TAS 10, St Josephs 8, Grammar 6, Scots 4, Kings 2*, Newington 2, Riverview 2, Shore 2, High 0*