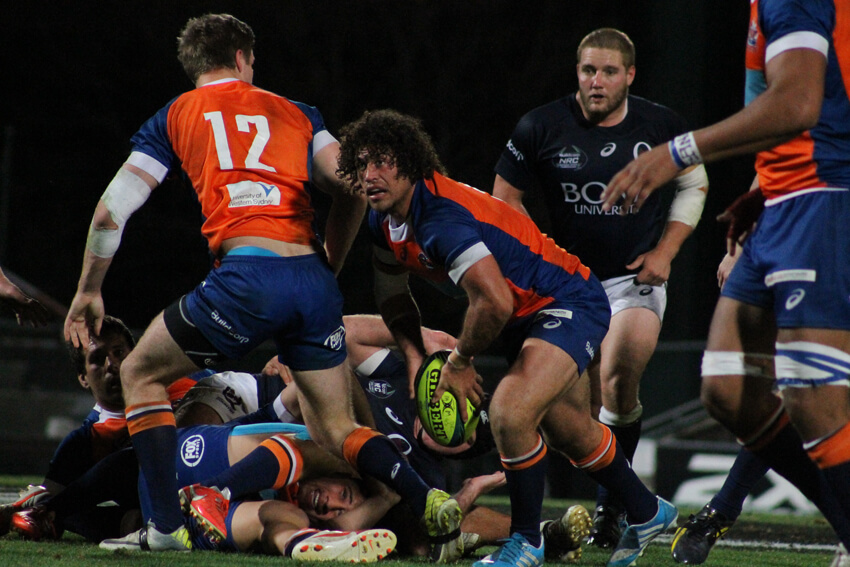 Queensland Country have had five days to prepare for this NRC match against the Greater Sydney Rams after narrowly going down last weekend.  On a lovely evening at Ballymore (I do love a night match here), Country could record their first win of the NRC competition or the Rams could find themselves inside the top four, chasing their third win in a row.
First Half
In a refreshing change for the NRC, neither Queensland Country or the Sydney Rams were wearing yellow.  Instead it was only the ball and Rohan Hoffman as referee sporting that ubiquitous colour.
Scrums certainly dominated the set pieces throughout this match, and Queensland Country stamped their authority on this area of the match from start.  After a short lineout from Queensland Country, Campbell Magnay went to ground with scrumhalf Sam Grasso dummying beautifully and crossing under the posts while the Rams were still getting their defensive line ready.  The conversion was slotted easily by flyhalf Matt Brandon.
Queensland Country started strongly with their forwards working hard to get over the advantage line, but some scrappy play followed and the Greater Sydney Rams earned a penalty only 7m from their own line to relieve the pressure.  The Rams didn't make the most of this opportunity and Country continued to starve them of possession with the Rams struggling for continuity.
I see that I have a note about the Hoff playing advantage nicely and allowing the game to flow – I wish that had been a prophecy, but I suspect it was more of a hex (sorry everyone).  Rohan Hoffman from about 15 minutes in really stamped his whistle upon the game.  He binned two Queensland Country players inside 10 minutes – first JJ Taulagi for taking out Dane Chisholm and then Anthony Fainga'a for spoiling play on the tryline.
With Queensland Country down to 13 men, Greater Sydney Rams crossed the line, the result of a beautiful inside pass from Michael McDougall to Jarome MacKenzie. Ben Volavola kicked the conversion.
Volavola controlled play well throughout the match – he has a massive boot and executed some beautiful clearing kicks.  The second try for the Greater Sydney Rams came through some quick passing from Swanepoel and acceleration from Dane Chisholm, who crossed near the sideline after fending off Fainga'a.  Chisholm looked dangerous the whole match – making some fantastic breaks and busting a few tackles.
Neither side went to the sheds at half time the clear winner.  Queensland Country edged out the Rams at the scrum, but neither lineout was convincing and both teams blew opportunities with sloppy passing.
Second Half
The second half was impacted by The Hoff's whistle as scrum after scrum was reset and several times he had a chat to both front rows , counselling them on god knows what.  It didn't help as he continued to blow it up with a reset of a reset.  Both teams had attacking opportunities, but the Greater Sydney Rams fell victim to Yellow Card Fever with Hugh Perrett binned in the 51st minute for collapsing a Queensland Country maul.  A tough call perhaps, but Country put the pressure on and the Rams yielded.
Hoffman lost patience with the scrums, awarding a penalty try to Queensland Country  and Brandon converted.
The pattern continued into the last twenty minutes of the second half with scrums being the source of frustration for Hoffman and the Ballymore crowd.  Queensland Country set a scrum with the Rams defending their line and in the course of the setting and resetting replacement prop Dave Lolahea was sent to the bin for 10 minutes.  To contest the scrums the  Greater Sydney Rams decided to take off flanker Chris Alcock and bring Jed Gillespie back on.  Queensland Country spent six minutes camped on the Rams tryline but came away without points after the Rams forced a penalty.  This passage of play, perhaps more than the earlier was the one that deserved a penalty try.
Queensland Country sealed their first win of the NRC competition with a try to JJ Taulagi, redeeming himself for his earlier yellow.  A beautiful flick pass from Giles Beveridge sent him along the sideline to score,  fending off McDougall; Brandon kicked a cracking conversion from the sideline.  Final score 24-13.
Country's scrums were dominant throughout the match, but their backs and their attack were a bit ordinary  – they probably should have another 2 tries to their name.  Several opportunities were wasted with knock-ons and sloppy passing.  The Rams lacked the consistency they had shown in their previous two matches and I think they missed the power and big stepping of Tagele Naiyaravaro who was ruled out through injury.
---
The Game Changer
Rohan Hoffman.  At various times it felt like he was an extra player for each team, and he used his whistle frequently.  Very frequently.  And I am now confused about scrums (or his interpretation of them).

The G&GR MOTM
I am not sure anyone had a letter-home-to-mum-ball-tearer, but Haydn Hirsimaki for Queensland Country was solid. JJ Taulagi had a better match than his last few, but with a yellow against his name, I can't fling him MOTM.

Players to watch
Ben Volavola – what a boot!
Dane Chisholm – dangerous runner.

---
The Details
Crowd: 2000
Score & Scorers
Queensland Country: 24
Tries:
Ben Grasso 3′
Jamie-Jerry Taulagi 73′
Penaltry try 53′
Conversions:
Matt Brandon (3/3) 4′, 54′, 74′
Greater Sydney Rams: 13
Tries:
Jarome Mackenzie 23′
Dane Chisholm 38′
Conversions:
Ben Volavola (1/2) 24′
Cards & citings
Yellow: JJ Taulagi, Anthony Fainga'a
Yellow: Hugh Perrett, Apolosi Latunipulu