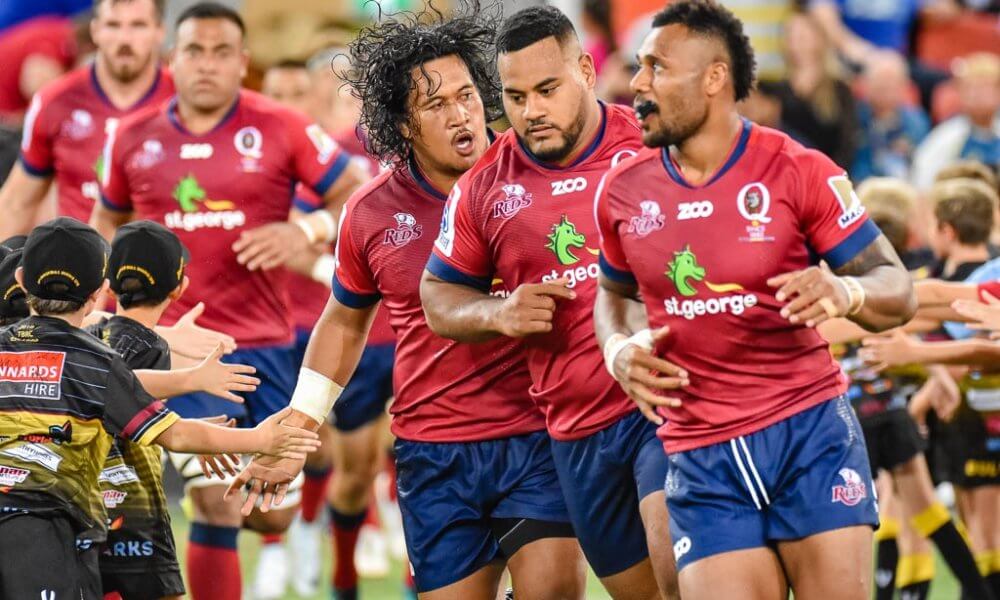 Once again the Reds season is over too early, but unexpectedly so.  But what do we make of this year of Super Rugby from a fan's perspective? We've had yet another new coach, off-field dramas, upset wins, upset losses, curious selections, snubbings, rookies, ill-disciple and superb discipline. The team copped flack for their attacking shortcomings yet scored more tries in a regular season than any year since 2011.  They were flaunted as having a defensive edge yet leaked points faster than we could score them. It's all a little confusing and I'm struggling to get my head around it.
So I've brought in support.  Just like last year, GAGR's brightest minds (or Reddest fans) have got together to dissect the season that was.  Joining me will, again, be Shane "Sully" Sullivan, Kate Elizabeth and Sucker For Red (SFR) while Ben Marczyk joins us for the first time. Let's get to it!
SEASON RATING:
Sully: C this was a season that held a lot of promise for the Reds, not the least being a change of culture. But the culture instilled by Brad Thorn is toxic, inflexible and unforgiving. The clubs greatest ever points scorer sent to club land for a still unknown sin with no hope of reprieve. A ten year veteran, captain and wallaby stalwart seemingly cast aside in his lowest moment both personally and professionally. This is not culture
Kate: C+ – there was an improvement over last year certainly, and I am sure others will think more kindly and nudge into the B territory. Certainly with equal wins to 2013 perhaps I should be marking higher, but I haven't just judged on the win-loss ratio here, I have looked at the whole season, including the off-field situation and the administration.
SFR: C. A pass mark. But only just. I guess the season met, maybe even exceeded my expectations, but let's face it, the expectations were not real high.
Ben: C- While there have been undeniable improvements in many elements of the overall team, it's structure and results in the raw win-loss overview, there are still far too many negatives to that prevent it being a pass result. If you look at reviews of 2017, many of the same issues haunting the Reds then are still there now. Lapses in discipline, leaky defence are the two most obvious examples. Let's not forget that the Reds are the only Australian side not to beat a NZ one this season, and that will be a cross to bear into next season.
Reg: C- I'm bumping them up a whole grade this year. The seasons were actually pretty similar (2017 and 2018) but I'm happy to give this one a little more slack because it achieved more with less, so to speak.  Now obviously Thorn ran the risk of being hoisted by his own petard when he announced he would not consider Quade Cooper, Nick Frisby nor Marcus Vanzati less than a week after the squad was announced. Further absences through off-field activity gave the coaching team the 'youth policy' out. The excuse got old after a number of losses but it did make the wins more impressive. Still heaps to improve on.
SEASON LOW POINT:
Sully: The 63-28 round 13 loss to the Sunwolves would have to be the on field low light of the year, with winning the dubious honour of most cards for the season not far behind. But there are so many more off field low points. The parking of millions of dollars' worth of players on the sideline, the Reds financial situation while this madness was happening, the boardroom machinations and 'retirements' while Rome burned. As a dedicated fan it seemed the hits would never stop coming.
Kate: Sorry peeps, I couldn't pick just one. Three things stood out to me, each bringing a new low:
This happened last year, but the MONTHS of chat around Nick Stiles losing his job and being replaced by the rookie Thorn wore thin. Very thin. I thought it was exceptionally unprofessional of the Reds administration to both do this and to do it so poorly. Stilesy deserved better and this for me definitely decided me as someone who isn't interested in winning at all costs.
Again, last year, but the announcement that players like Quade Cooper and Nick Frisby would not be selected under Thorn was gobsmacking. I could write pages on this topic alone, but for now, I will say that the job of coach is to bring people in and along, not summarily execute.
James Slipper twice being caught with cocaine-positive drug tests. I know it is easy to say there is a zero tolerance on drugs, and to a point I understand that. But this situation is both shocking and sad. For a player to turn to illicit drugs isn't that surprising in this day and age. I am however surprised it was Slipper and even more surprised that supposedly with a coach supposedly so focused on culture, that Slipper felt this was an option. I understand a lot of people will decry my position because Slipper should take responsibility for his own actions. Agreed, but I still question the availability of support to players. With a coach that clearly has both high standards (see his entire playing career and coaching to date) and a position that he won't give people a chance (see Frisby and Cooper), I am not sure this is the healthiest of environments. And it has also been made abundantly clear Slipper has no place at the Reds, where to for him? How does this help him recover?
The humiliating loss to the Sunwolves should be here too, but I am too depressed to write about it.
SFR: From a game point of view, THAT game in Tokyo. I wish I could really scrub it from the memory but…….. Arrrrgggggghhhhhhh. From a season point of view – the off field bullshit. The stupidity of two of our supposedly experienced players being involved in drug allegations. The proportion of the salary cap that is (was) playing in club rugby because of what is "apparently" a conflict of egos. The non-selection of others for reasons that are suggested to fall outside on field performance. I accept that there are some significant changes that Thorn wished to bring to the culture of the squad, and probably really needed to, but I am struggling at some of the decisions being made.
Ben: There were two for me and they both coincided with the Reds coming off the bye. The week 8 capitulation to the Brumbies (45-21) and the week 13 embarrassment to the Sunwolves both shared similar tendencies when you look at them closely. The Reds looked disinterested in both games and paid the price. I think of the two, the Brumbies game might be worse, as the Reds had come off a three week road trip to South America and Africa, where they won two and had a chance to win a third despite being a man down. Momentum was with them, and there were murmurs amongst the public that the tide was turning. The Blues game wasn't far behind as far as low points go.
Reg: I want to try to focus on the on-field stuff because the Slipper situation itself still hurts.  If we were to isolate a single performance than it HAS to be that Sunwolves loss.  The team were just terrible that day and it was embarrassing the extent of the loss.  It should just never have happened like that. But I think we kinda new this team was still capable of such a performance. The real low was those early losses to the Brumbies and then the Tahs. We were playing well prior to that, ignoring that first round loss to the Rebels. We had won three in a row for the first time in yonks and then pushed the Stormers in Cape Town. We came back to Australia with the chance to make a statement in our conference against two teams yet to find their groove. And we shanked it. We leaked tries and the confidence was shattered. Well…mine was.
SEASON HIGH POINT:
Sully: The forward packs the Reds trotted out all year. The scrum! The lineout! The general play! All of exceptional quality. But even this is tempered but the realisation that even with this dominant platform we still could barely score a point.
Kate: The win against the Rebels in Round 18 showed absolute scrum dominance and the young players starting to find their groove.
SFR: Coming away with the win in the last two rounds of the season. Both teams had beaten us earlier in the season so it was nice to get some pay back. I also think that these games showed some real development and growth in the squad.
Ben: Oddly, it was the two week phase where we lost to the Highlanders and the Hurricanes. These were games that no one really thought we would win, especially the Hurricanes match, but we nearly won them both. It showed me that the Reds could genuinely compete, and if those situations were repeated in 12 months time, you would like to think that a young squad with more time under their belts would win both of these.
Reg: Reading Ben's I really want to steal that one. He makes a great point. Those kiwi clashes were a couple of really impressive performances. It was also great to finish the season with a couple of wins over teams who had spanked us early. It was quality rugby too. But my choice is when we weren't playing pretty rugby, and those three early wins. The loss to the Rebels was terrible but not unexpected. What was unexpected was the way we bounced back. How the team circled the wagons, tightened up their game and played with intensity.  The win over the Brumbies without scoring a try was indicative of our grinding, unrelenting play. We backed up against the Bulls for our first back to back wins at home since 2013 and then dared to dream a little further with a win on the road in Argentina.  For rusted on Reds fans while the tries weren't plentiful it was terrific to see physicality and intent in their play.
PLAYER OF THE YEAR:
Sully: Taniela Tupou is hands down the most important player the Reds have. No other player in the squad dominated like he did. Sure plenty of guys stood up and were counted but he was the only guy to do it all year long. And he had a boat load of fun doing it. This is a man actually living his dream and savouring every moment.
Kate: Looking back at last year three of us voted Karmichael Hunt as Player of the Year.  My, how things have totally changed.  What an absolute waste. Taniela Tupou had a monstrous year and I am thrilled to see him smarten up and demonise the opposition FR in a smarter way, without getting so many cards. Looking forward to a great career in gold for him, and a super 2019 season.
SFR: Since I am a Forwards girl – JP Smith get my vote. He has been playing very well this and with Tupou and Paenga-Amosa have made a formidable starting front row. Honourable mentions to: Caleb Timu – The bollocking number 8 that Australia has been looking for since Toutai Kefu. Jono Lance – Has provided the stability and experience that was sorely needed in the backline. Will be missed next year.
Ben: The prop in me tells me that I should pick Taniela Tupou however it might just be too obvious a pick. I still have doubts about his technique at times, and once people work him out, his strength won't be able to carry him. So instead of him, I present to you, Scott Higginbotham. I think what he has done this year in terms of bringing a team together with so many issues coming into the season (Cooper, Hunt, Frisby, Smith and his taxi) has been nothing short of outstanding. Yes, he got himself sent off and missed some games due to injury but the grittiness and the fight never stopped. Honourable mentions go to Izack Rodda and Samu Kerevi.
Reg: Tupou was superb who did some absolutely incredible things this season and who`s scrummaging has developed extremely quickly.  I`m going to go with Izack Rodda though. I thought he was simply outstanding in 2018 in every game he played from his hammering defense to his powerful runs. His lineout work has also developed since inheriting their responsibility once Rob Simmons departed.   You talk about a young tight forward who has matured rapidly and Rodda's play for the Reds demanded his selection for the Wallabies against Ireland.  Fatigue hasn't hit yet as his form post-tests as quite possibly stepped up a gear and he was rewarded his first try of the season (v the Rebels) but also by being the captain late in the Sunwolves game once Higginbotham had been replaced.
ROOKIE OF THE YEAR:
Sully: Jordan Petaia is my rookie. The kid does all the basics exceptionally and to me that's so much more important than doing exceptional things sporadically. The young fella looked so good there are calls for a wallaby call up. I'm not one of those calling. Why? Because it's just too soon to throw a young guy into the toughest contest in the rugby world. Put him in the training squad and see how he goes.
Kate: So many young players but many were blooded last year under Stiles, but for being fleet of foot and making his presence felt in only a few matches, Jordan Petaia wins my Rookie of the Year. Now, we just need another 3-4 like him in our backline.
SFR: Jordan Petaia. Was a fair find this season. Showed some skill and talent on the wing when he was first brought into the game day squad but has looked most at home as a replacement for Samu Kerevi in the 13 jersey. Special mention to Angus Blyth if only for that smile!
Ben: There has certainly been no shortage of rookies to pick from this year, with so many of the Queensland NRC contingent getting opportunities, as well as former garbologist Brandon Paenga-Amosa. If this group can stay together and develop as a group there is a real chance for something special to develop. It is too early to compare them to the group brought in by Phil Mooney prior to his departure but a man can dream.  Until his lineout throws developed the yips after his Wallaby debut I would have picked Paenga-Amosa hands down, but in terms of consistency, staying under the radar and playing with the kind of abrasiveness that you want I have decided to pick Angus Scott-Young. Despite his rugby pedigree he has probably attracted the least amount of hype of this group and it is hard to figure out why. He stands up in defence, puts his body on the line and just plain works his socks off. Honourable mentions to Tate McDermott, Jordan Petaia (particularly the switch to centre) and Harry Hockings.
Reg: Gee there`s a few options here isn`t there? I could go the front row options of the Smith twins or BPA, who were all outstanding. I have a soft spot for Filipo Daugunu, perceived defensive frailties and all, and by topping the team's try scoring list gives him a strong case. Ahh gee, Angus Scott-Young was terrific too. But it comes down to two for me. Petaia must get the season award for how he so calmly seemed to handle every challenge thrown his way. He was a bloody schoolkid last year with his club probably still considering playing him in colts. But then he was on the bench v the Brumbies, then he was starting v the Lions. He missed tackles like I miss meals – he just didn't. Then he was picked to replace our biggest attacking weapon in the hardest position to defend. And he just handled it every step of the way. Remarkable composure. I do want to acknowledge Tate McDermott though. The Reds used four scrumhalves this season which can't help cohesion. Thinks looked up when Moses Sorovi got his chance but then Thorn does what Thorn does and dropped Moses to start Tate in the last match of the year. In his first start for his state, this 19 year old was (in my eyes) the best on ground while on the field. With slick service and an eye for a dart, is it any wonder it was this match we scored our season high points tally?
WHAT DO YOU WANT TO SEE MORE OF IN 2019:
Sully: Some, actually any, creativity in the midfield. The team is greater than its part philosophy works with the right people. But even with this approach you need special players in some positions. Sometimes all you need is one. How many did the Reds have not playing club rugby?
Kate: A more consistent team named each week – they need solid playing time together to gel into a truly strong team (see all of Ben Darwin's work). I got whiplash some weeks trying to follow who was in and out. Flinging mud at the wall to see what sticks isn't really a coaching tactic.
SFR: Am I being too simplistic by saying "Wins"? I want to end up on the winning side of the ledger more that on the 'tother. Sigh. As mentioned before I am a bit of a forwards girls, so I think that it will be important to maintain our forward dominance, or possibly even get it better. The back line is going to take a while to sort out I think but a good stable pack will help.
Ben: I am one of those odd creatures who would be happy to watch 80 minutes of scrummaging  every week but I know that's not going to fly with the viewing public. In all honesty what I want to see more of next year is consistency of effort. The Reds aren't going to win every game but the performances against the Brumbies and the Sunwolves mentioned earlier aren't acceptable either. Maturity of the squad will bring that hopefully as well as turning some of the close losses to wins. If we look at the six wins this year as a base, you would look at 8-10 wins as the target. If you get to the top end of that scale, the Reds will be there or thereabouts come playoff time.
Reg: I want to see more of that intensity we played with in that first batch of wins mixed with the attacking flair we started to display in the last two games.  And I want to see more of the players we blooded this year. We can't be rolling through players week in week out now. Let's build this cohesion and let these players find their feet week to week.
WHAT NEEDS TO BE FIXED NEXT YEAR:
Sully: We need an elder statesman to guide our young halves and inject some creativity from fullback. Now you could search far and wide and pilfer some guy from our southern brothers or you can save a bit of the money you don't have and use the guy your already paying for. Actually I'm actually not sure if Israel Folau is the guy you want for that particular job but I do think Quade Cooper is exactly the guy for the job.
I'd like to finish with a direct plea to Brad Thorn – Consider including Quade Cooper and James Slipper in next year's squad. Obviously strict conditions have to apply. You have a year of coaching under your belt and a lifetime of experience. You can control this situation and if it goes wrong you don't have to play them.
Kate: Experience will fix some of the things that didn't go right this year, but we need:
backs to support the efforts of the forwards, specifically a fecking flyhalf who isn't shite
a goalkicker to replace Lance (who may be the flyhalf, I don't care as long as they can kick with 78%+ accuracy
a new captain
less yellows and no reds
and for the TMO AND REFEREES TO SORT THEIR SHI*T OUT
SFR: The backline. The lack of experience in the back line is telling and in some cases has been the difference been winning and losing. With Lance moving on at the end of this year the situation is going to be even more of a problem next year. So, my Christmas wish is for as experiences fly-half who can mentor the likes of Hamish Stewart and help him develop into the player that I think he can be. And while we are at it can we find a full-back. Someone like Tom Banks or Dane Hallett-Petty. You know, a complete full-back.
Ben: Teamwise, there are two elements to this. Firstly, we need to put the ghost of Quade Cooper and Karmichael Hunt to bed. I firmly believe one of the reasons that Hamish Stewart had a few blips of form was that deep down, he doesn't know if it is HIS team yet and he can't take them by the scruff of the neck and bring them with him. The frankly ridiculous guerrilla campaign run by Cooper on social media, while getting him some social media popularity won't have endeared himself to the powers that be at the Reds and if anything, reinforced their view that he isn't a true team player. I know he is getting rave reviews for his work ethic at Souths but at the same time, intentionally or not, he is destabilising the team he is trying to get back into. Seems I had some pent up emotion there. Might need a spin off article to explore further…
Back to the team, with Ben Lucas, Jonno Lance and George Smith leaving, it makes an even younger squad so it will be interesting to see whether Brad Thorn looks to some older hands again or continues down the path of youth. Part of me desperately wants Liam Gill to return to fill Smith's shoes and be the example to the pack. The NRC squads should give us a sense of where 2019 will take us. Look for names like Isaac Lucas, Nick Jooste and others to be in the mix for some of the spots and perhaps a few wildcard returns from overseas.
Overall, the attendances have been frankly terrible and the atmosphere funereal at times. The plaza pre match lacks the vibe it did a few years ago. 2019 is a World Cup year, so you hope a strong start to 2019 will bring with it some more bums on seats and more atmosphere.
Reg: There's plenty on the field we need to fix and I hope high in the coach's priority list is upskilling some goal kickers. But my biggest hope for next year is that the QRU re-energise match day.  I took two of my sons to the Waratahs match this year. You know, traditional rivals – 'as long as we beat NSW' and all that. And with five minutes to go before kick-off Suncorp was practically empty and the vibe was dead. I assume it's all budget related but I'd love to think we can get fans re-engaged with the team and the game and make those match day experiences a little more special, more memorable.  With Tupou set to be one of the biggest stars in World Rugby very soon, plus some exciting talent in the likes of Timu, Tui, McDermott, Sorovi, Stewart, Paia'aua, Kerevi, Perese and maybe even Israel Folau we have a 'product' worth buying into. It just needs to be packaged up in a nice bow and shown to people more I reckon. Let's hope so at least.
---
We are but five Reds fans and these are our thoughts. Join in the conversation below and give us your answers to these questions.