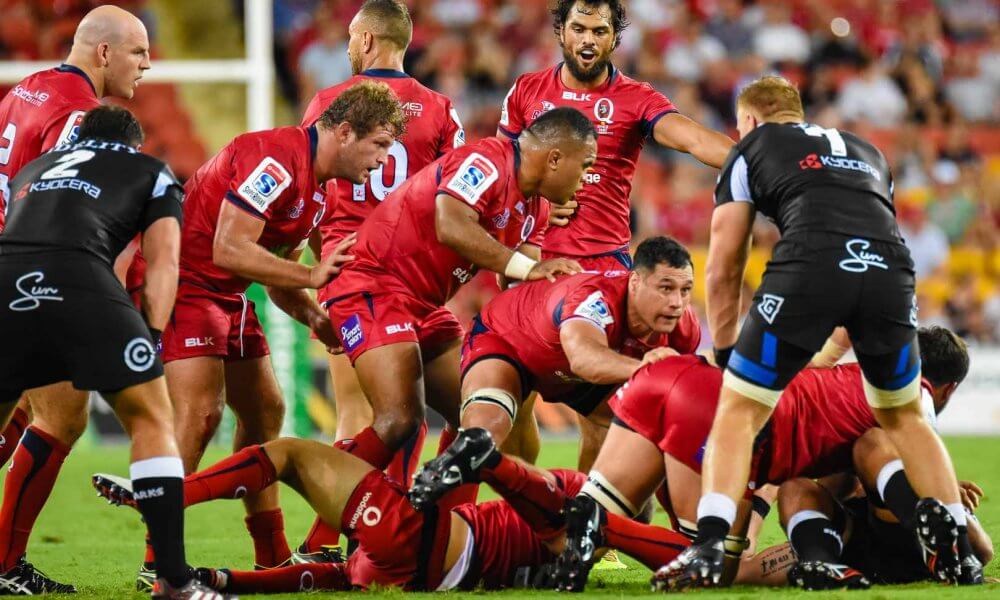 This was (yet another) tough season to be a Reds supporter. Watching the matches was tough enough let alone reviewing them, so the thought of actually writing a season review was fairly uninviting.
There's an old saying, though, that a problem shared is a problem halved. Once again, GAGR has gone over and above this however and split the problem four ways. We've gathered some of our regular Queensland correspondents together to breakdown the season together. So over to you Shane "Sully" Sullivan, Kate Elizabeth and Sucker for Red (SFR). Oh, and I'll help out too.
Season Rating:
Sully – D. The Reds drag themselves up to a D with their attack which was actually quite good. To put things kindly everything else was poor. Their fitness wasn't where it needed to be. There was little commitment in defence, but that was nothing compared to the free ride the Reds gave the opponents through unforgivably silly penalties and yellow cards The Reds greatest opposition this year was their own demons. The demons won.
Kate – C minus. Overall this season hurt.  Too many games we should have won, high profile players not playing to their hype/potential/signing fee, younger players not delivering at the same level they have in previous seasons (which is a major concern in my eyes) and blooding a LOT of freshies.
SFR – D. Not quite an F for fail….. We did get one more win this year than last.
Reg – D minus. I came very close to an F but I think there have been enough (just) positives out of 2017 to avoid the outright 'fail' mark. Perhaps the question needs to be asked as to whether our own expectations for the team were too high? Regardless, there were too many negatives to let a handful of good things get in the way of an accurate review. As the others have said, undisciplined play was such a clear factor throughout the season. Why? Is that fitness, culture, attitude? It cost us big time without doubt.
Biggest issue of the year:
Sully - I could say defence or discipline or teamwork but to me, these problems all come back to belief. Belief in themselves, belief in each other and belief in their coaches.
Kate – The last 15 minutes of four or five matches killed our win/loss ratio.  I attribute it to a rather nasty combination of poor fitness, inexperience on our bench and six inches between the ears.
SFR - A negative 158 for & against says it all really. Only teams with a worse record were the Sunwolves & the Rebels. Discipline was our own worst enemy. You can't be penalised that much and leak that many points and expect to win.
Reg - Intensity. I struggled to find the right word for this but to me the team were never able to play with the complete intensity for a game. Note that I'm not looking for 80 mins of aggression and mad dogging. I mean the type of footy they showed against the Waratahs at Suncorp, but sustained for the match. The kiwis do it week in week out. They don't let the opposition off the hook when under the pump. The have a killer instinct. The Reds too often just seemed content to try rather than execute definitively.
Season Low-point:
Sully - The fade-out against the Crusaders! That hurt but it wasn't just that game it was a series of fade-outs across games. But the Crusaders really stood out to me because it was so winnable.
Kate – Losing twice to the Western Force and in particular the 40-26 drubbing at home in Round 14.  Credit to Dave Wessels and the Western Force in spite of the palaver caused by the 48-72 hour timeframe *cough* they managed to do what we couldn't do – win quite convincingly.  Perhaps we would have won more if we were under threat
SFR - Losing to the Tahs. It is always going to be a low point when we lose to the Tahs. And not just because I was sitting in the crowd with Waratahs supporters…….
Reg - The South African / Argentina tour.  We started the season reasonably well with a win, a loss away to the Force and then that heart breaker against the Crusaders. But it all went boobs up out of country. A smashing by the Lions and a reasonable loss to the Jaguares, both on the back of a spate of cards (red to Quade plus yellows to Douglas, Nabilu (two) put us on the back for the rest of the season.
Season High-point:
Sully - This one is hard. In a season where highlights are few and far between the only thing that comes to mind is the final home game win against the Brumbies.
Kate - The squeakiest of one point wins over the Brumbies in the final home match to give fans a teeny lift and to send Simmons off with a win.  I understand Rob Simmons is a polarising player for many people, and I know he hasn't punched at the weight he used to, but I fail to see the sense* in keeping two almost permanently injured players on the roster and finishing him. *Admitting total bias here as a Sunnybank fan
SFR - Almost beating the Crusaders. Remember that? Way back in round 3? We beat the Sharks in Round 1. Lost to the Force….. let's not discuss that. But then were leading the Crusaders until an 80th minute penalty gave them the game. I know it is odd to nominate a lost game, but I think that was one of their best games they played all year. At that point I was thinking the season might not be all bad.
Reg - I love that we beat somewhat of a hoodoo to get over the Brumbies in that last Suncorp game, but it wasn't the most memorable match. But that first hour against the Waratahs was fantastic to watch from the moment the team ran onto the field in maroon, big Lukhan's running game and some Quade magic. I'll ignore the terrible refereeing performance and the last 20 minutes, but I think that was as close to the best we played all year.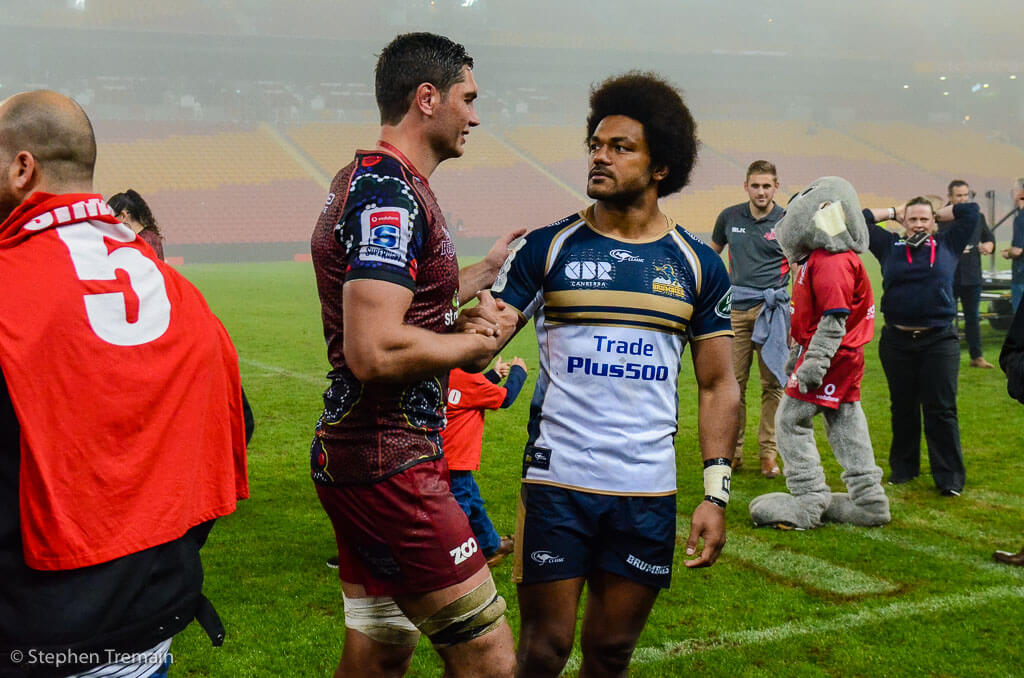 Player of the Year:
Sully – Samu Kerevi. Samu is the player they build the back line around, the focus of the give it to Samu game plan, the player who can always make metres and he did it all with a smile that says he loves the game. To top everything else he stepped into the captain's role without a hiccup.
Kate – Karmichael Hunt.  He delivered this year in defence and attack.  His experience was also invaluable for the debutants this season.  Totally bummed we won't get to see him in The Rugby Championship
SFR – This is actually quite hard…… lots seemed to have flashes of brilliance but then would disappoint the following week.  For consistency I guess Karmichael Hunt probable had a good season. Duncan Paia'aua also did alright.  Or do I just bite the bullet & go with one of the rookies?
Reg – It's Karmichael Hunt for me too. He was exceptional and we missed him when he wasn't on the field (either through injury or yellow cards). He played with the intensity that I alluded to above. I want to acknowledge Duncan Paia'aua too who had his best season in Red. Long may it continue.
Rookie of the Year:
Sully - Izaia Perese. The word on Perese has been filtering through for a while and this year he showed that the promise could be real. He's fast, I've seen him tackle much bigger men with ease, and he's happy to bust his gut to get to the right spot on the field to make a difference. All good things.
Kate - Izaia Perese had a solid debut season after injury cruelled his chances in 2016.  Strong ball running, hardworking and no nonsense I am looking forward to seeing more of him
SFR - There are 2 which I find hard to separate. Izack Rodda certainly took his opportunities with both hands and Izaia Perese who I'm pretty sure I would not want to be tackled by him….. I actually thought he debuted in 2016 but apparently not.
Reg - Izaia Perese wins it for me too. I love the guy. Still, some finishing touches needed on his game but he's bloody exciting. The young guys coming through were some of the real positives of the season – Rodda, Vanzati, Mafi, Sanday and Stewart. Just need those more experienced heads to step up a little.
What's the #1 thing we need to fix for next year?:
Sully - So many to choose from! You could say defence, discipline or new coaches, you could name a few players to buy but the one thing the Reds need to fix is Quade Cooper's body. I was actually pleased to see him miss the Wallaby squad in a strange way, I hope he can use the time to get things working again like Karmichael Hunt has.
Kate - The last 15 minutes.
SFR - See my above comment about discipline. I think we also need to send our leadership group on a ref wrangling course.  They also need to work on playing for the full 80mins. I am not going to say that this is "fitness", like seems to be the popular word at the moment. They just need to stay switched on & concentrating for 80 mins. The lapses in concentration are/were punished. Is this "fitness"? Maybe. I don't really know. I think it is not as much a physical fitness issue as a mental fitness issue.
Reg - Reds recruited heavily for experienced players last year with Higgers, Smith and Moore the man signings. What we lacked was experience in the coaching box. That's what we need to fix. The Force model of experienced assistant coaches helping a younger coach should be replicated. I'm not sure if Tony McGahan is the man for that role as has been rumoured, but I think Stiles needs more support and experience around him.
---
So that's our perspective? Give us yours in the comments section below and maybe we can solve all the issues together!