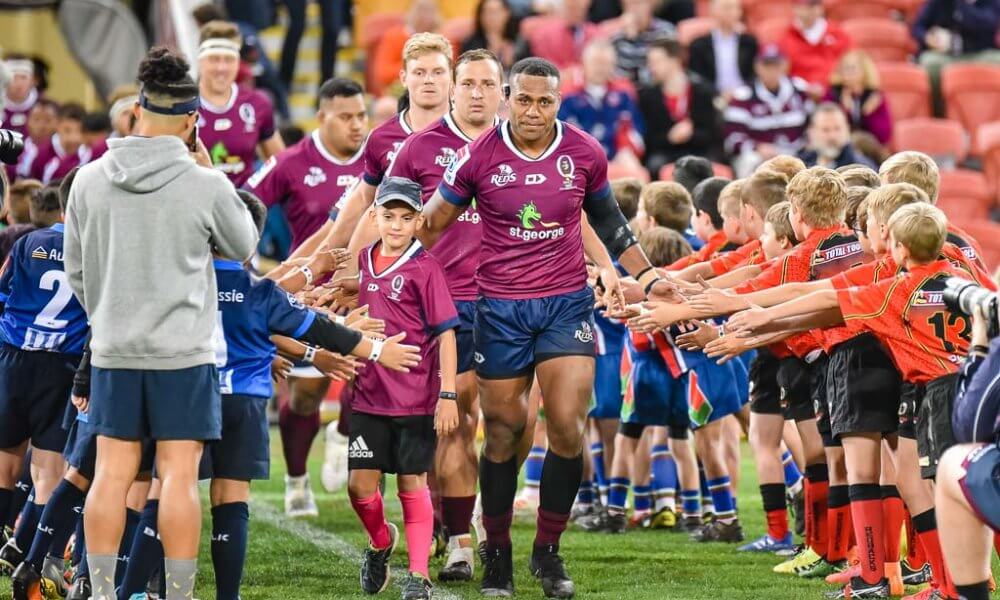 Expectations weren't particularly high for the Reds this year given the lack of significant off-season signings and the turmoil that was season 2018. When young gun Jordan Petaia went down early in our 2nd game, the hopes were dashed further.  A tough draw to start the season proved the case and we were never able to rebound from it.  But it was an odd season. Some of our stars from last year were disapointing, while new players stood up and took their opportunity.  We won the same number of games as last year but finished further down the ladder.  We never got spanked, but we rarely took control of a game.  And in the end we've had to farewell Samu Kerevi.  Sure we say goodbye to Scott Higginbotham and a few others as well, but Kerevi's departure is devestating.  But let's focus on the season gone and try to get some clarrity on it.
Once again I've brought in some support.  Just like last year, I've thrown it out to some of our regular Reds contributors to add their voice to mine. Unfortunately, just like the Reds' crowds our numbers have dwindled.  But that won't stop us.  Joining me will, again, be Shane "Sully" Sullivan,and  Ben Marczyk to look back on season 2018!
SEASON RATING:
Sully: C+ I was tempted to stay with my C from last season. But while most Reds fans can see that some kind of corner has been turned the fact is we won the same amount of games as last year. And in the end that's the only test that matters. So if there was gains they were marginal at best. Last year I spoke harshly about the culture at the Reds but my fears seem to have been unfounded. I'm very glad to be wrong.
Ben: C-  At the start of the season I predicted a 50/50 win loss and sneaking into the finals as the second Australian team. They ultimately went 6-10, falling 2 games short of my target. I know you can always look back in hindsight and say that "if only", but the two games against the Highlanders and Chiefs stand out as prime examples of these. The Waratahs game at home could also have been won if Bryce Hegarty's normally reliable boot (he was kicking at 80% entering that game) had been firing.  A more experienced, wily outfit would have been able to turn these into wins. To balance out the positivity, you could argue they snuck wins against the Blues (only leading for the last three minutes) and the Sunwolves in Tokyo when the opposition went missing in the second half.
Reg: D+ So a grade down on last year.  We've ended up with the same result as last year (6 wins and 10 losses) but we finished a further spot down at 2nd last.  It was just the Sunwolves behind us in a season they played 2nd fiddle to their national team and blew up once they were announced as being a dead team walking. The biggest factor was that we didn't really improve on last year and if you're not going forward, you're going back.  We never got pounded like last year, but losses are losses and we had too many of them. Our backroom was boosted in the off-season with some tremendous coaching appointments, but it seems we only saw glimpses of improvement on the field.  
SEASON LOW POINT:
Sully: I could talk about paying for player at the Brumbies, Rebels and Waratahs. I could talk about crowd figures. But by far the low point for me was Samu Kerevi leaving the Reds. I know players have to earn while they can. I know family comes first. But Samu is a man the Reds could build a dynasty around. The Wallabies could build a team around. And now he's gone. Moore, Sharpe, Barnes, Higgers, Big Kev, Quade, None hurt more than Kerevi.
Ben: The positive from this season was that the lows were never as low as seasons gone by, although the four game losing streak just when finals football was still a remote chance stung. Out of those losses though there weren't any losses that were truly galling, other than perhaps the closeness of the Waratahs game.  The truly insipid Red performances of yore (Sunwolves in Tokyo 2018) comes to mind just weren't there. If you had to be picky, the first loss to the Waratahs away in March was perhaps the worst performance in the season.
Reg: Our performance against the other Aussie teams. In the common maxim is that in the conference system, derbies are effectively worth double. As such our 1 and 5 performance against the other Aussie teams was disastrous. As a secondary point the early season injury to Jordan Petaia was heartbreaking.  He looked sublime in his first outing of the season so to get hobbled in the 2nd game, was almost criminal.  Think of the season we could have had with Jordy running off Samu Kerevi all year long. Oh and yeah, Samu confirming he was leaving was quite shite as well.
SEASON HIGH POINT:
Sully: The win over the Brumbies? Or the Sharks? Or the Blues? Higginbothams try record? All great moments, but it was the losses I'll remember. Well not the losses but the attitude of the players in those losses. In the recent past heads would have dropped and there would be blowouts. Not this year. The players never gave up no matter who we played or how big their rep was.
Ben: In the same ways that the lows weren't as low, there was a sense that the highs weren't as high. Given expectations were generally increased there was a feeling that some of the wins were also expected along with the performances. If you had to put a game to it then it would probably be the Blues game. Even though the season was lost, the fight to win a game when previously the Reds would have found any way possible NOT to win it had to be heartening. It also broke the hoodoo of not having beaten an NZ team since 2016, which can only be a good thing going into 2020.
Reg: This is damn tough to pick.  An away team against any South African team is memorable so the 21-14 victory over the Sharks at Durban was great regardless of how terrible the home team were. Another hoodoo breaking win over the Blues in the 2nd last round was also enjoyable, albeit against a poor Blues team.   I'll go with the home win against the Brumbies, our only against an Australian team, when we won 36-14 at Suncorp.  It was a win based on resolute early defence and some scintillating attack.
PLAYER OF THE YEAR:
Sully: Shout out to Scott Higginbotham, thanks for coming back and guiding a young pack. To Izack Rodda, What a step up man. To Lukhan Salakaia-Loto, what an effort playing in two positions. But the stand out without doubt is Samu Kerevi. No one came close to him. Every team targeted him and the still fell off him like he was covered in spiders.
Ben: I don't think I am going to go out on a limb and nominate Samu Kerevi here. In nearly every game he was the key to a strong performance by the Reds. If he wasn't busting tackles and making metres himself, he was attracting defenders and opening space around himself for others. What has impressed me the most this year has been the massive improvement in his pass/catch skills. A few seasons ago when he made a bust it was lineball if we would have the ball by the next phase such was his poor passing and offloading. There would be times when catching a pass seemed a herculean effort. However, this season was a totally different story, picking his moments to go into contact or offload much better.
It is clear he was a 'lead by example' leader and in that sense he couldn't do much more. He led or was close to the front of all Super Rugby in about four or five categories. I will go out on a limb here and say he was not just Qld's best player, but he was Australia's best, and close to the best in the comp. Honourable mention goes to Liam Wright who came on very strongly in the second half of the season after an unspectacular start to become someone who looks like the long term option at 7 we have been craving.
Reg: It can only be one can't it? Samu Kervi. The development in Kerevi's skillset of late has been phenomenal.  No longer is he just a crash ball bandit as his kicking game was both prodigious and astute, while his off-loading game (pre and post tackle) at times was sublime.  If the Reds had finished higher, and made the finals, you'd suggest he was a certainty for the Super Rugby Player of the Year.  As it is, he should get it for the Australian teams.  As for other candidates amongst the Reds Tate McDermott played at a high standard despite being under all sorts of pressure; Liam Wright is an unsung hero and worked tirelessly all season; Izack Rodda was a force to be reckoned with,  while Bryce Hegarty was somewhat of a surprise packet for me and was perhaps our best recruit in the off-season.
ROOKIE OF THE YEAR:
Sully: Feao Fotuaika's story is inspirational, Fraser McReight is said to be the future of opensides. But the guy who put his hand up for the Reds this year was Isaac Lucas. The kid clearly has class to spare in multiple positions. His work at the U20 World Champs is more proof of what we already knew. Put him on a long term contract.
Ben: While there were a number of rookies played this season, most of them seemed to only play 3-4 games (or less) before getting injured, dropped or sent off on Junior Wallaby duty. If you are going to pick a rookie based solely on games played, then it would be Jock Campbell who came to the starting side during the injury crisis that rocked the outside backs in South Africa and held his place for the remainder of the season. He was good and solid but not exceptional.  However, the rookie that had the most impact and looked the most like the star of the future was Isaac Lucas. Shuffling between fullback and flyhalf, Lucas looked elusive, brave and possessed the spark that most of the rest of the backline lacked. How he develops (and in what position) will be crucial in the Reds progression over the next few seasons.
Reg: Isaac Lucas is going to be a very special player (if he isn't already) and his try against the Rebels was nigh on orgasmic.  But he didn't quite play enough footy to claim this title for me.  Feao Fotuaika is close to the story of the season given the transformation he made in the off-season.  He proved he can cut it at this level which is a credit to the talent identification work of Cameron Lilycrap and Brad Thorn.  However, I'm going to give this to Jock Campbell who I personally thought was just a capable club player who benefited from being at the end of a very good QLD Country backline in the NRC.  But he proved me very wrong and he looked very handy in his seven starts.  He's not blistering fast and that probably cost him two or three tries, but he was composed and adept on his feet which gained him plenty of metres.  His off-load to Scott Higginbotham for his first try v the Blues was lovely stuff. 
WHAT DO YOU WANT TO SEE MORE OF IN 2019:
Sully: In 2019 there was a clear skills development within the playing group. We saw torpedo kicks, long passes from surprising players, kicks from unexpected players. I want more of that. For years I've watched players come into Super Rugby and leave years later with little skill development and their weaknesses still firmly in place. I want the Reds Players to keep developing their game.
Ben: Other than people at the game? More of the consistency that was starting to creep into the team over the season. It is clear Brad Thorn has taught the team to fight through the game and the defence is also broadly improved. What we do need though is spark in the backline.  Any real consistent attacking threat was led by Samu Kerevi for the most part. None of the players that filled the 10 shirt had any real ability to create something out of nothing on a regular basis. Hamish Stewart, Bryce Hegarty, Matt McGahan all were serviceable but not spectacular. Isaac Lucas had some limited chances before being spirited away to the U20 World Championships.  When players with the pace and flair of Sefa Naivalu and Filipo Daugunu are almost invisible, questions have to be answered as to what is happening inside them. The forward pack were again solid, abrasive and aggressive. If this group can be largely kept together, then good things will happen.
Reg: The premise of this question was intended to be 'what was good about this year that you want to see next year'. It puts a different spin on answering it.  Everyone knows that the Brad Thorn era at Ballymore has been about an injection of youth.  This year it was declared that the youth of the team was no longer and excuse for losses.  Fair enough too because in my eyes, the young guys were consistently the best performances.  Obviously take away Samu and Rodda, and the consistent standouts were Liam Wright, Angus Scott-Young, Alex Mafi, Tate McDermott, Isaac Lucas, Jock Campbell, Harry Hockings, Angus Blythe, Harry Hoopert and Feao Fotuaika.  So I want to see those guys continue to be the standout performers and keep the likes of Paenga-Amosa, the Smiths, Feauai-Sautia, Hegarty, Tuttle and Salakai-Loto on their toes.
WHAT NEEDS TO BE FIXED NEXT YEAR:
Sully: I think the Reds are only a couple of player off being a pretty good team. Their big issue, especially without Kerevi, is creating line breaks and building scoreboard pressure. Isaac Lucas, if he's ready, could provide some of that. Petaia might help too. There's a decent hole to fill at inside centre that needs to be filled as well. I'm not sure anyone from within the Reds is ready to fill it although Hamish Stewart has always struck me as more of a 12 than a 10 or 15.
Ben: The old adage is that success brings fans, but at some point there needs to be more promotion to get people there. To be blunt, the crowds were terrible and it showed in a lack of atmosphere at Suncorp Stadium.  Getting 12,000 odd people to the NSW game spoke spades for how poorly the sport is performing overall in the attendance race. To me it really struck home in the last game against the Blues. A few years ago, the Blues played at Suncorp and 31,000 came. This time it was less than 10,000.
And we all know if the crowds aren't coming, neither is the money, and it becomes a vicious circle. Look up at the corporate boxes which are the big money spinner and huge chunks of them will be unoccupied. I honestly believe that if there were a smaller stadium that was up to standard in Brisbane, the Reds would be playing there.  Off-field woes aside, what needs to be fixed is the backline. No Samu Kerevi in 2020 makes me wonder where points will come from and how they will be created. You can have the best pack in rugby and if there is no finishing then it is pointless. The best sides in Super Rugby have multiple ways to finish you off and we are still too one-dimensional to truly test the top echelon of Super Rugby.
Reg: I've said for a while that Australian Rugby has a high performance problem.  Our teams rarely perform at the highest level when they've most needed to – be it the Wallabies, our Super Rugby sides or even our 7s teams.  That was until this most recent Australian Under 20s team.  This Queensland Reds most definately didn't. The derbies are case in point. The one win against the Brumbies early was brilliant, albeit against a misfiring Brumbies team. Each and every other derby was a shank of a performance. We could have won all of them.  Should have won half of them at least.  We won none of them. Because we played poorly.  That's what needs to change.  We need to play with the intensity and confidence of that Junior Wallaby team. With their smarts and commitement to the cause.
SEASON IN PICTURES:
We are fortunate to have some very good photographers up here in QLD who also volunteer their time for the site and provide us sensational photos.  Personally I think Stephen Tremain is one of the best in the business.  What better way to finish the season review with a look back at some of the best shots taken this season.