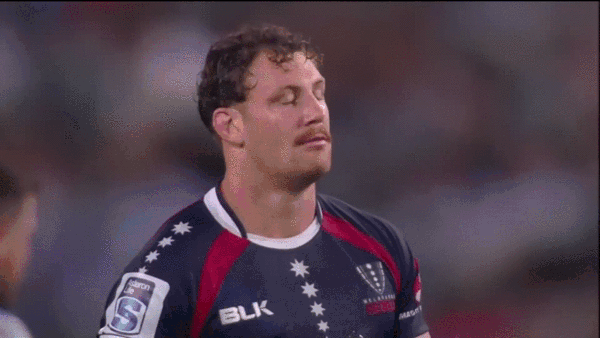 The unkind Super Rugby supporter out there may have already decided the outcome of this match. After all, it's 1st v 5th on the Aussie conference, with the Brumbies coming off a solid win against the Stormers while the Rebels were diced, sliced and friggin' mashed by the Tahs.
You will have to excuse my obvious bias upfront. Not that I give a stuff what you think anyway.
Looking at the facts, and only the facts ma'am, it's easy to see why the bookies have the Brumbies as $1.36 favourites for this clash at AAMI Park.
The last three games have been notable mostly for how completely different they are:
Brumbies v Rebels Last Three Rounds
| | | | | | | | | |
| --- | --- | --- | --- | --- | --- | --- | --- | --- |
| Brumbies | | | | | Rebels | | | |
| Round | Wk4 | Wk5 | Wk6 | | Round | Wk4 | Wk5 | Wk6 |
| Opponent | Hurricanes | Waratahs | Stormers | | Opponent | Western Force | Crusaders | Waratahs |
| Score | 29 – 21 | 28 – 23 | 25 – 15 | | Score | 7 – 32 | 19 – 25 | 8 – 32 |
| Result | W | W | W | | Result | L | L | L |
| Location | Away | Home | Home | | Location | Away | Home | Away |
Hold on to your hat Dorothy, can the Rebels pinch this game? Well, no, probably not. But still, there is enough talent in the Rebels squad to match the Brumbies man for man. Fantastic trial form, a brilliant dismantling of the Cheetahs in the first game, then from there it has all turned to organic fertiliser. So what has gone wrong in the Rebels camp?
This reporter has stopped drinking long enough to consider this most basic question. In all honesty, the Force game has killed the confidence of the young team. After such a promising start where the lads became a team, the way the Rebel boys were smashed by the sheer intensity of the Force has shell-shocked them and created a group of inward looking individuals. You can see it in every game since then; kick aimlessly and kick often. Afraid to run. Afraid to make a mistake. Afraid.
No team can mount any kind of attacking challenge when the ball is booted away. And against the conference leaders with rebounding attacking excellence in the shape of Jesse Mogg, Matt Toomua and Robbie Coleman, the last thing the Rebels should be thinking is giving the ball away.
Key Matchups.
So, as to the game, there are several match-ups that look super-exciting on paper. This is where I think the game will be won for the Rebels:
1) Inman v McCabe –
Mouth-watering stuff, this. The object of my man-love v the other guy. McCabe is so tough he makes Chuck Norris seem like a girl scout and the only way to slow him down is to kill him. Pat loves to run into contact at light-speed and is only happy when his head comes off. How many times has he busted a line with sheer power and intensity? And yet, that strength could also be a very big weakness.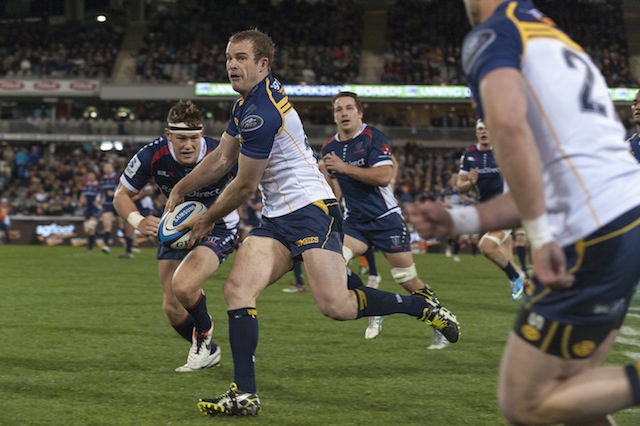 Pat still loves that straight line while Mitch has spent the off-season learning how to go lateral and even put on a side-step or two. Another key bit of information is that Mitch has turned himself into a human tackle machine. Not hard to do when that is the Rebels game-plan, but still, 33 tackles year to date against 29 for McCabe. Both have 8 tackle busts and 2 line breaks. And yet, Mitch has done this in 306 minutes of rugby, where Pat has taken 351. Mitch to win this battle with the help of his centre partner Tamati Ellison.
2) Stirzaker v White –
Ok, let's just get this out there. Stirzaker HATES being called a ranga, so let's drop that right now. As for the game though, I fear the kid is in for a potentially long night. It is the talking point of the Rebels fan-base. How can a kid who has missed 8 weeks of rugby due to injury get a starting jersey on his return and relegate a Wallaby scrummie to the bench? Ballsy call by Coach Tony, or a simple recognition that Burgo has lost the plot? Personally, I can see Stirzaker hitting the pine inside 20-30 minutes. I hope not, but White will win this battle with one arm, a blindfold and 40 minutes of down-time.
3) JP Smith v Max Lahiff –
Poor Max. Built like a Sherman Tank but just cannot pack down without getting pinged. Ok, that is a bit harsh, but the fact is that while the former London Irish Loose-Head gained a reputation for fearsome scrimmaging work in the UK, he is struggling to find his feet (and bind, and position) in Super Rugby. JP could set a record for most penalties against an opposition prop in any form of the game if Max doesn't bring his 'A' game.
4) Mowen v Higgers –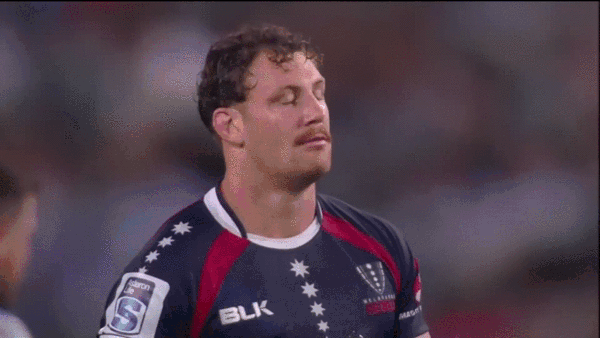 What a match-up. Drool-fest extraordinaire! Two Wallaby 8's to go head to head. This will be a battle for the ages. Or will it? Higgers has an impressive record so far this year. 2 tries, 31 runs for 178 metres, 8 tackle busts, 3 kicks for 10 metres and 25 tackles in 317 minutes of gametime in 2014. Mowen has more tackles at 39, but it's all downhill from there. No tries. 31 runs for 131 metres, 3 tackle busts and 1 kick for 39 metres. Higgers will win this battle and win it big.
The Fearless Prediction
So who will win? Well, Larkham and Fisher deserve credit for bringing the Brumbies squad into 2014 with all guns blazing and they are deserved conference leaders. This grubby, alcoholic and pitiful reporter however, is sticking to the Rebels bandwagon and if they hold the bloody ball in hand and attack attack attack, they could well get the choccies. But kick the ball away and it will be the Brumbies by an organic fertiliser load.