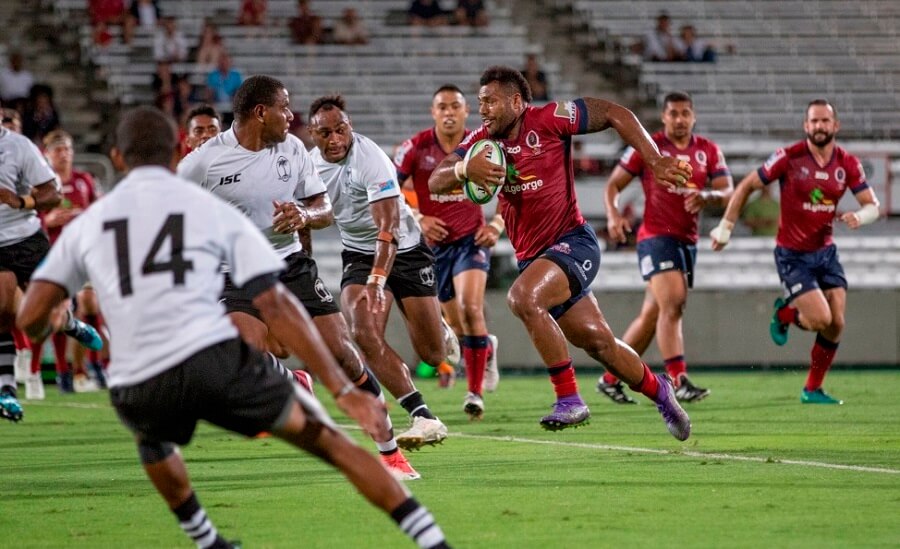 So on a steamy Thursday night the Queensland Reds turned out what appeared to be a near full strength squad for a trial against a Fiji Warriors side that on paper looked to be quite strong. After an intra-squad trial that raised more questions than answers. Having been part of the crowd first time round gave me a good opportunity to assess the progression of the squad. So away we go…
The Reds started off positively enough with a good early run of possession punctuated by a few key handling errors, particularly in the flanks. This was a common theme in seasons past and the kinks still don't appear to be ironed out. The simple question is why throw a no look pass when a regular will do? Despite this, the Reds were still able to work forward and some quick thinking by the returning Jono Lance cutting in through a crease in the defence and before you know it, a short jinking run by Taniela Tupou saw him over to the right of the posts. Conversion to Tuttle and its 7-0 after 4 minutes.
Another few minutes of good simple rugby saw the Reds march forward again, infringement by the Warriors and Tuttle kicks the penalty, 10-0 after 10 minutes. At this point I might have been forgiven for thinking this would be a cake walk, but from this point on, the narrative got flipped and some bad habits reared their head again.
One of the things I mentioned last game was what seemed to be a lack of intensity in defence, and this was definitely improved this time around, one key example was a crunching hit by Feauai-Sautia, but this was by no means the only one. The tight five all seemed to be working hard in close against the physical Fijians both in attack and defence, even if they weren't making much ground.
At this point the ball was slipperier than toddler in a bathtub so  there was a real struggle to maintain possession on both sides. The Reds in particular spent large periods camped in their own 22 only to cough up the ball time and time again. Only some very sturdy defence and a lack of imagination by the Fiji side prevented points going on the board at a higher rate.
In the 17th minute the pressure told with a combination of some silly penalties and sustained pressure saw Tuwere Vugokoto burrow over, conversion by Malele and it's 10-7 to Queensland.
The rest of the second half saw both teams fail to put much on and error after error had neither team hold on for more than a minute. Interestingly the front line Reds pack failed to assert any dominance at either set piece and the crowd willed us to half time when a penalty saw Malele add three points and we are all locked up at 10-10.
The second half started the way the first half ended, with neither team dominating and scrum lovers having the time of their life. The Reds started making changes in the 50th minute with Slipper getting a spell. A number of errors and continuation of giving penalties away in their own half saw Queensland punished with replacement hooker Navuma getting over and with the conversion missed the Reds trail 15-10.
By this stage there were subs a plenty on both sides but the set piece of Queensland really got the upper hand  by now, several scrum penalties brought real joy to the Front Row Union and may give Thorn food for thought prior to the Rebels game.
Any real attempt at pressure was continually undermined by handling errors, and as we approached the last five minutes a boilover was on the cards. A couple of penalties close to the line where the Reds took a scrum option bore no reward, with the ball squirting out a few times as the pushover beckoned. Eventually the pressure told and Izaia Perese finally latched onto a pass, got around his man and dotted down. Conversion by Stewart and 17-15 Queensland. A messy few final minutes played out and the hooter finally sounded.
Observations-
The defensive intensity missing in the intra-squad trial was there tonight, similar to the quarter final of the 10's against the Chiefs. This should please Coach Brad Thorn no end, as long as the consistency develops across the season.
Jono Lance was solid in his first game back in Red while also coming back from injury. His calmness against a rushing Fijian defence was pleasing as was his solid boot. More game time will do him well.
Izaia Perese for all his excitement factor struggled to hold onto the ball, partly through his own hands but also some questionable service from those inside him. It was telling that the one real chance he got, he converted.
The usual suspects seem to be in decent form- Kerevi, Tui, Douglas, Tupou all looked strong and goodness knows I love the intensity that the backrow play at.
While it was very steamy, the amount of overall handling errors will still be of concern. This happened across both teams to be fair and was almost solely attributable to the conditions. While I hate to use Kiwi sides as the example, this wouldn't happen to them in a wet game in Christchurch, and some more clinical attack by the Fijians could have seen 3 or 4 more tries scored.
The big question- How will Queensland go in the season proper?
As much as I am a Queensland supporter, I don't think many other teams will be left worried by their performance tonight There has absolutely been improvement across a few areas from the intra-squad trial but worryingly the things that lose games, such as ball security and ill timed penalties still reared their heads. As much as I want to be wrong, it could be a long season.
St.George Queensland Reds 17 (Taniela Tupou, Izaia Perese tries; James Tuttle 1, Hamish Stewart 1 cons; Tuttle 1 pen) def. Fiji Warriors 15 (Tuwere Vugakoto, Ratunaisa Navuma tries; Enele Malele 1 con, Malele 1 pen)