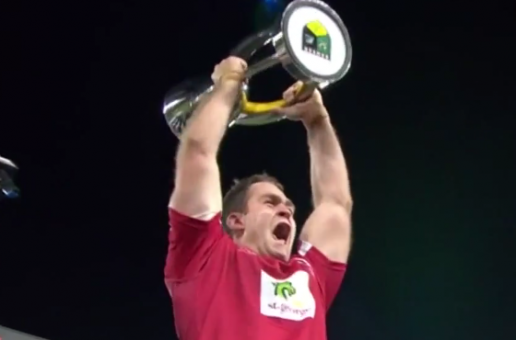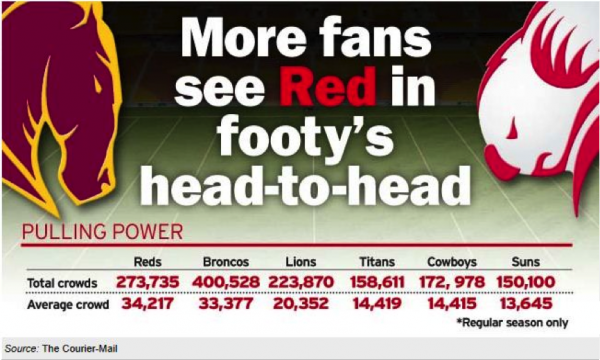 I don't know about you but I was one happy rugby supporter when it was reported in The Courier Mail last Thursday (13 September) that the Reds had eclipsed the Broncos in their average crowd attendances during the 2012 season. It doesn't matter if you are not a Reds fan — you have to admit that that is a job well done in an NRL stronghold.
Woo-hoo! We are on top! Perhaps not by a significant margin, but we are still leading the three other codes of football played in this state.
Then I started thinking: should we be really gloating? Hmmm…. Time for some research. Let's have a look at what has been going on over the last few years.
Now, before I go on here I need to make a few statements. The numbers I have used for each year were sourced from Wikipedia. Perhaps not the most reliable stats, you might be thinking, but the easiest to find, and, since I have used the same source over the seven years, I hope a consistent reference.
I have not done the whole statistical analysis. Read into the raw data what you will, and remember the expression: 'there are lies, damned lies and statistics'. I have drawn my conclusions; you may see it differently. Oh, and across all codes these are the numbers for the regular season games. They do not include pre-season or finals games.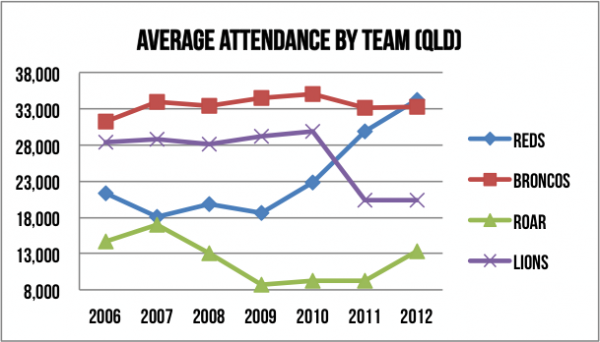 First off, let's just look at the Queensland side of the numbers. You can see the meteoric rise of the Reds' crowds from the lows of 2007–09. It is amazing what an improved performance and leadership develops into. In 2009 we finished 13th out of the 14. In 2010 we just finished fifth, just missing the finals. And we all remember what happened in 2011.
Just in case you have been under a rock – the Queensland Reds were 2011 Super Rugby Champions! And before you think we are hanging our hat on one win, refer to the results for the 1992 Super 6 and the 1994 and 1995 Super 10 comps. Just sayin'. A long time between drinks, but the wait just makes them a little sweeter. (Yes, I have been around for that long….)
The improved results have brought about a rise in our membership numbers, from a little over 5,000 in 2009 to more than 34,000 this year. If we reach the target of 40,000 in 2013 it will be a stunning transformation from being, let's face it, the joke of Australian rugby during much of the previous decade.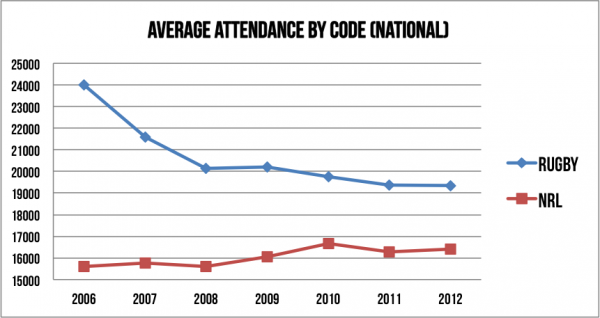 After a moment of feeling proud that my boys had knocked the Broncos off the top of the heap, I started to wonder how some of the other numbers stacked up. But first I thought I would just compare Super Rugby and the NRL, since they are the most closely related and traditional competing codes.
Wow! Was that unexpected or what? I really thought that the NRL numbers would be higher.
What is a concern is the rather significant decline in numbers attending rugby games. I would expect that the decline from 2006 to 2008 is the downside of a spike generated by RWC 2003. And it does appear that the decline is bottoming out, and this has to be a good indicator. Isn't it?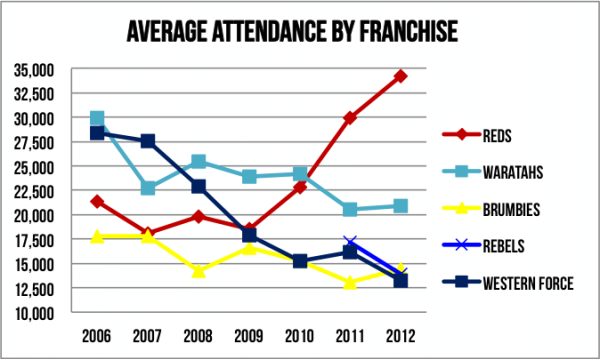 So let's have a look at a comparison of the Aussie rugby franchises. Now guys, can I gloat just for an insy-winsy minute? How you like them apples? The Reds are the reason rugby crowds are holding their overall own. In the last two seasons the Waratahs have been over 30 per cent behind us!
But, taking off my Reds hat, and rummaging through my bag of tricks to find my Aussie rugby hat…. Ahhhhh, St Leonards, we may have a problem.
The Waratahs and Brumbies are showing only a gradual decline, but the trend is still in the wrong direction. The Rebels have not been around for long enough to draw any meaningful conclusions. And of biggest concern is the plunge of the Force from top to bottom in five seasons. What has happened in our western province? Surely not that many people have moved from WA to Queensland.
From a Reds perspective you can come to the conclusion that success breeds support. And yes, I am sure that their success during 2010–11 has been a significant factor in the increased crowd numbers. But have there been other factors? And can these factors be identified and transferred to the other franchises?
While we are considering that – GO THE REDS! And if you want to see a good rugby crowd, come to Suncorp for a game next year.
Clarification: Although I've referred to the Reds as 'we' throughout this article, I am not associated with the Reds other than as a member, season ticket holder, and long-term (some might say long-suffering) supporter.