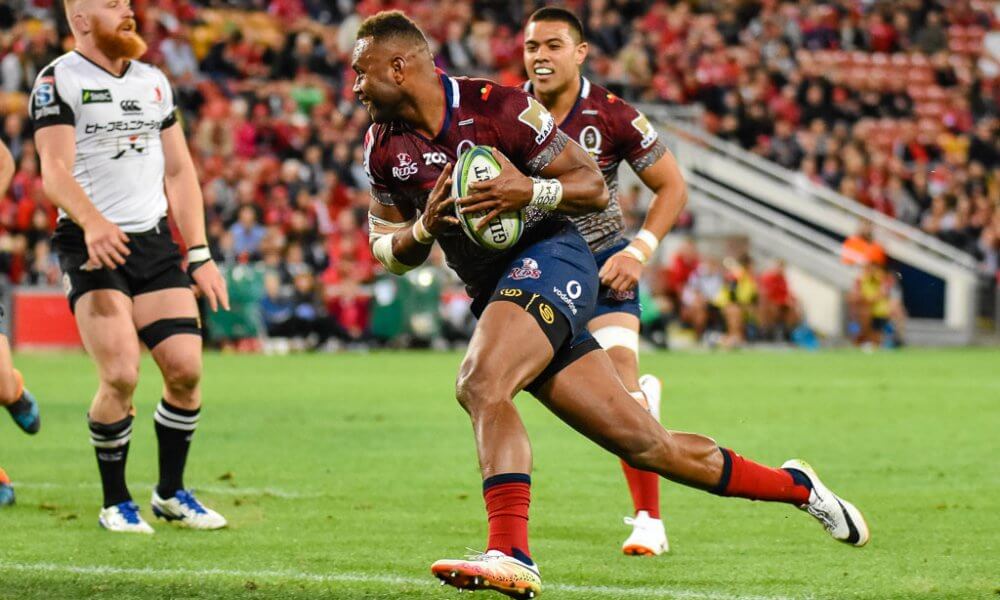 This game means nothing to anyone. It makes no real difference to the ladder and nothing for the wooden spoon. The only thing on the line is Brad Thorn's coaching record. If the Reds win this could be their best season since 2013. The only problem I can see is that the Sunwolves are just the type of team that could completely stuff up the Reds systems. The good thing is there is nothing on the line so just maybe we'll get some stress free exciting football. Fingers crossed!

The Match
One Half
All in all that was a pretty good half of football from both sides. Completely destroyed by an absolute clusterfuck of a Red card delivered to an incredulous Ed Quirk in farcical circumstances.
The Reds scored four tries to one, and while they never dominated they clearly looked the better side even without their expected scrum dominance. The young halves pairing of Tate McDermott and Hamish Stewart looked comfortable and accomplished, but it was the old stager Jono Lance who looked the pick of the backs with Duncan Paia'aua close behind him despite a silly Yellow card and penalty try for a slap down.
In the forwards, Lukan Tui and JP Smith had huge halves but, to be honest everyone contributed with the only downside being a shoulder injury to Higginbotham late in the half.
Another Half
The first half red card was made to look even sillier when Caleb Timu was only yellow carded for a shoulder to the head of the Sunwolves flyhalf Hayden Parker.
The Reds took advantage of their numerical advantage and ran in another three tries to dominate the game. The Sunwolves never gave up and ran in two late tries to bring the final score back to 48-27.
---
The Game Changer
That Red card! did it change the result? I don't know, but it definitely changed the game. Week on week we are seeing players handed their marching orders on the slimmest of evidence. While other situations get hardly a look. Something has to change because right now it's destroying too many contests.

The G&GR MOTM
Jono Lance gets the gong. A try and 7 from nine off the boot and shared the second playmaker with Duncan Paia'aua

Wallaby watch
I might have actually picked Duncan Paia'aua for MOtM if not for his yellow card. His try assist to Eto Nabuli after stripping the ball and running 35 metres was special. Taniela Tupou was class as usual. as was JP Smith, Lukhan Tui, Izaak Rodda, Tate McDermott and Hamish Stewart. did I miss anyone?

---
The Details
Crowd:
Score & Scorers
Reds: 48
Tries: Liam Wright, Eto Nabuli 2, Jono Lance, Taneila Tupou, Duncan Paia'aua, Moses Sorovi
Conversions: Jono Lance 5/7
Penalties: Jono Lance 1/2
Sunwolves: 27
Tries: penalty try, Ryoto Nakamura, Jaba Bregvadze
Conversions: Hayden Parker 2
Penalties: Hayden Parker
Cards & citings
Duncan Paia'aua (Y), Ed Quirk (BULLSHIT RED),  Caleb Timu (Y)