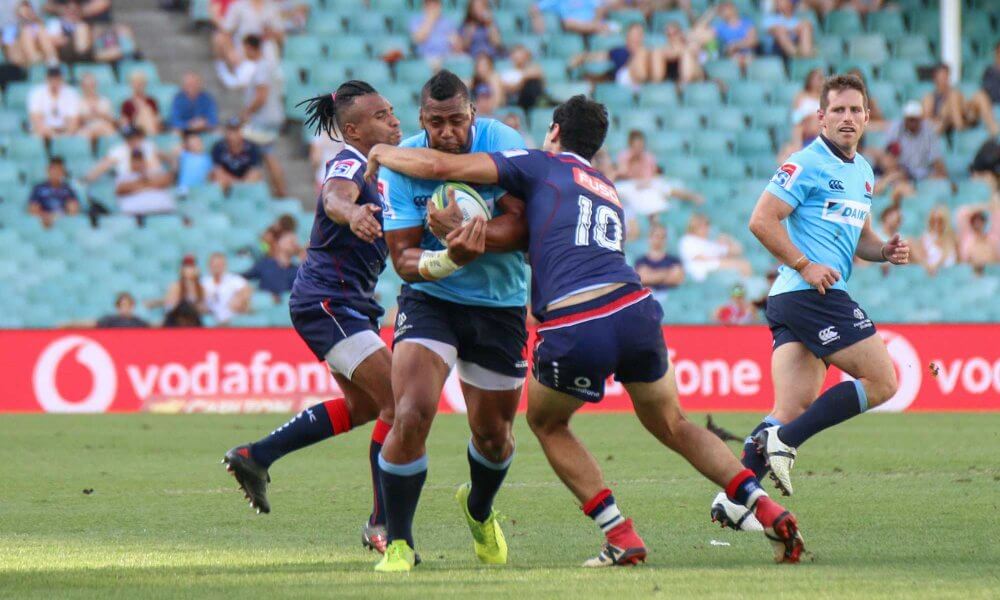 Well, for the second week in a row I'm just gob-smacked. In the forums and on the blog no one predicted the game turning out like that. The only hint we got was that Gibson said they would go to the air more often this week.  "Ha-ha," I said, "just a coach blowing smoke." With the Rebels picking a huge pack I expected an unstoppable steamroller, but it turned out to be more of unstoppable will-o-the wisp's.
The Match
FIRST HALF:
It was hot. Over 35 degrees hot. Not great weather for rugby. Play stopped midway through both halves to allow a drinks break and both teams needed it.
The Rebels started with great pressure and scored first from a Waratah gift. Folau collected the ball 5 metres out from his own line, passed too hard to Beale who couldn't take it and English picked it up to score in the corner. Conversion missed. 5-0. The Waratahs had all the next period of play with some scintillating backline moves, but always the half-chances remained unconverted.
There were a couple of scrums in this period with honours even. Welcome back Kepu, but his calf injury was clearly troubling him. Dane Haylett-Petty put his head in the wrong place and got concussed. With only a five day turn-around I don't think he'll be back for the Sharks. Foley kicked a penalty for 5-3. The next "score" was turned over by the TMO. The Rebels had a period of excellent attack but Hodge knocked on over the line. Water-break.
Hodge missed a dubious penalty, then Genia had a brain-fart and picked up a Mafi knock-on from an offside position. Foley missed his first kick for the season so Peter Hewatt's record of 18 in a row remains intact. There was a Waratah knock-on with the line open and Genia relieved pressure with a good touch finder. Then the Waratah's turned it over to Debreczeni, who popped a pass off the deck to Mafi who ran 60 to score against the run of play. Try converted for 15-3.
Then the Waratahs overran the kick-off, the Rebels then had a long period of attack before Maddocks scored out wide. Unconverted but 20-3 and the game looked lost for Waratah mistakes rather than Rebel dominance. The Waratahs kept up the pressure, and in the 38th minute  Foketi did a very forgettable grubber that luckily went to Beale who passed to Fitzpatrick and then back to Foketi who scored. Foley converted for 20-10.
SECOND HALF:
Hanigan succumbed to injury at half time so Staniforth went on. There was a fully fledged kicking duel at the start of the half with honours- even. Then Beale bombed for Folau who flew and secured the ball, passed to Hooper, on to Foketi, then two long passes (Short and Beale) to Hegarty on the cut, pass to Fitzpatrick, on to Foley and inside to Simmons to score a great try. Converted for 17-20. The Waratahs went on the attack but a Foley knock-on stopped momentum. The Waratahs continued the pressure and Rona charged at the inside shoulder, passed to Mitch Short to score a try on his run-on debut. 24-20.
Then Big T came on to replace an injured Foketi. Debreczeni mucked up the kick-off, Waratahs attacked down Naiyaravoro's wing and then across the field to the other. Waratah's secured an offside penalty and kicked it for 27-20. Waratahs secured a penalty from the kick-off, line-out, three good phases and Hegarty scored a great try in the corner, converted for 34-20.
Foley then kicked a bomb for Folau to regather, passed infield, a quick ruck and Beale cross-kicked to Big T, passed to Rona, on to Holloway and back to Big T. Shut the gate. Converted for 41-20 and the Waratahs had scored 31 points in 20 minutes. Water-break.
The Rebels struck back with a good try to Philip from a Meakes offload to make it 41-27. Then Maddocks made a great run to the 22 but the Waratahs regathered, and went to the air again. Hodge dropped it, scrum. A late tackle on Foley by Philip resulted in a kickable penalty, 44-27. Then the Waratahs finished it off with a great converted try in the corner to Big T for a final score of 51-27.
No one predicted the manner of the win nor the margin. If you don't put pressure on the Waratah game they can kill you in the blink of an eye, and today they did.

THE WARATAHS:
As assistant coach Chris Malone said, "The Waratahs tried to score off every phase in the first half." They attacked well but a little mistake or turnover cost dearly.  In the second half some passes stuck, the Rebels lost intensity and "goodbye was all she wrote."
Foketi's been great, but surely Naiyaravoro must start against the Brumbies. Four touches, two tries is just overwhelming pressure. I don't care if he's going to England, if the Waratahs want to win a few this year he has to start at 13 or 14. The forwards broke even today, which was enough to secure the win, but harder questions will be asked, starting in a fortnight. Short and Snowden were both very good, we don't want for good potential halfbacks. Hegarty did everything asked of him.
THE REBELS:
The bubble has burst and its back to reality for the Rebels. I wouldn't be surprised if the Sharks turned them over on Friday; today took a lot out of them, both physically and confidence-wise. They really lacked the intensity you expect from such a big pack of forwards and they do need to start Fainga'a or Hardwick at 7. They will miss Dane Haylett-Petty at the back next Friday, Hodge made too many mistakes that DHP would not have made had he stayed on the park. Mafi was excellent, but generally their stars were quiet.
IN SUMMARY:
This was a game in which the Waratahs finally "clicked". They do have the ability to cut teams to pieces if other teams let them play. Early days, but the Waratah forwards have to find another gear and learn to dominate their opposites before they can be considered a real threat. The Rebels were shown up today, their team needs to find their mongrel again and put their opponents under pressure.
---
The Game Changer
A magic twenty minutes after half time when the Waratahs exploded and scored 31 points.
The G&GR MOTM
If Naiyaravoro had played 80 he would probably have got it but my MotM is Kurtley Beale. His play was just magic today.
Wallaby watch
Foley looked better this week, Folau was devastating on the right wing, Kepu's back. Hodge made too many mistakes and Coleman and Philip were neutralised, as was Genia (its hard behind a beaten pack). Maddocks is on course to be a Wallaby, he has talent to burn.
---
The Details
Crowd: Looked very small on TV but on a sunny Sunday afternoon no one can sit in the eastern stand looking into the sun.
Score & Scorers
Waratahs 51
Tries: Naiyaravoro (2), Hegarty, Short, Simmons and Foketi
Conversions: Foley (6)
Penalties: Foley (3)
Rebels 27 
Tries: Philip, Maddocks, Mafi and English
Conversions: Hodge (2)
Penalties: Hodge (1)
Cards & citings
A remarkably quiet game.