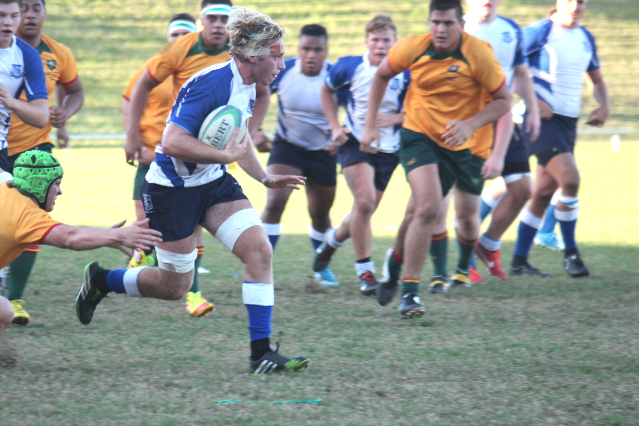 Riverview beat St. Augustines 25-14 in an inter-assocation game at Rat Park yesterday.
It was ony a trial but it was a needle match between the teams fancied to win the competitions of the Sydney GPS (Riverview) and the ISA (St. Augustines).
It was a typical trial, or early season match, and there were a number of errors from both teams because skills and combinations were rusty.
First half
For View 5. Beau Petterson had a couple of rumbles up the middle and once he was in the act of scoring a try when 12. Luke Lough of St. Augustines came flying across and nailed him, spilling the ball.
But after Saints cleared their line View came right back at them through a precise box kick to the corner by 9.Lachlan Condon. 11. Thomas McBryde chased it and scored a slick try after running shoulder to shoulder with a defender and taking the bouncing ball.
The conversion missed and View lead 5-0 at 16 minutes. The lead was increased to 8-0 at 24 minutes when 10. Jack McGregor kicked a penalty goal.
St. Augustines was finding it difficult to get out of their own territory and were susceptible to bursts when their defensive spacing was ragged.
But from the restart St. Augustines got a rare visit into Riverview real estate and found the visitors short of tacklers wide out. 8. James Lough swept up touch and when tackled popped the pass up to 10. Ben Marr backing up.
He ran under the posts to score a try which he converted. It was game on, and although Riverview was still leading it was by only 8-7 at 27 mins.
Then just before half-time 15. Conor Hurley scored a brilliant individual try surrounded by Auggies defenders. McGregor could not convert and the score at oranges was Riverview 13—St. Augustines 7.
Second half
There wasn't a lot in it at half-time, but after the break View fans were lifted when their star player, Henry Hutchison came off the bench. He was soon involved in a set move.  Having ran 10.79 seconds for 100 metres in GPS athletics recently, he won the chase to the ball kicked through for him nicely by McGregor, and scored.
McGregor converted from wide out and the scoreline of 20-7 was looking ugly for St. Augustines.
It got worse after 4. Jack Bodwitch powered over their goal line soon after and suddenly Riverview was cruising 25-7 twelve minutes into the second half.
St. Augustines steadied after that and gave as good as they got. They threatened once near the View line, but dropped the ball on a lineout drive; however they were rewarded just before the end of the match.
Marr went on a searching run to set things up and not long afterwards 7. Johnnie Walker dragged a couple of tacklers over the line for a try. Marr converted with a difficult kick and the final score was 25-14.
The teams
Riverview
After a close first half Riverview showed their class in the second, despite many inept moments of rustiness. It wasn't their first trial but they were missing their GPS athletes until this game.
Overall they were more relentless, got into better field positions and created more chances
St. Augustines
Despite having nine players in the 2014 ISA team St. Augustines looked overmatched sometimes in skill and self-belief, but they had a reasonable first half and finished the game well.
The St. Augustines' team manager, Mr Les Bobis, said the sides were well-matched physically but Riverview had a few fast lads who took advantage of St. Augustine mistakes. He gave praise to the visitors, who had a longer rugby tradition than his team.
They took their opportunities better than St. Augustines did. They were calmer about the game—it was 100 years of rugby playing twelve years of rugby.
Mr Bobis thought that the brothers 8. James Lough and 12. Luke Lough played well for St. Augustines as did 15. Ben Fontaine, who got his team out of trouble several times.
He congratulated 8. Jack Hayson of Riverview on his fine performance and thought that Henry Hutchison was an outstanding player for them:
He's a class act with his pace: just give him the ball and a centimetre of space and he will kill you.
Scoring
Riverview — 25
Tries: Thomas McBryde, Conor Hurley, Henry Hutchison, Jack Bodwitch
Conversion: Jack McGregor
Penalty goal: McGregor
 St. Augustines — 14
Tries: Ben Marr, Johnnie Walker,
Conversions: Marr (2)
Slideshow
Photos by Lee Grant