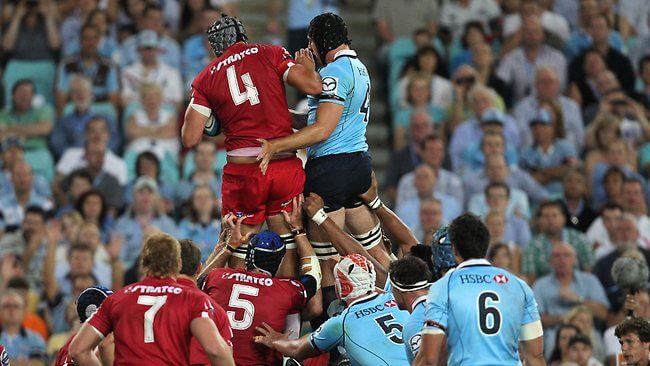 When the idea of a Rugby State of Origin was announced late last year, it received a shrug of the shoulders. At best, it received conditional support.
Whatever the reception, the idea seems to be going full-steam ahead. Ballymore's been booked, a date set, and meetings planned.
Weird, huh. It's like a disaster's incoming, and all we can do is somehow make it less worse. In saying that, let's see what this State of Origin's all about, and what we can do about it.

It cuts states out
It doesn't take much brain power to come up with cons to the idea of a rugby State of Origin.
Here's Canberra-born Stephen Larkham with one: "I'm still not sure of the format. If you're born in Queensland or NSW, but what about if you're born in Canberra or anywhere else? I assume that means you can't play in that game. Are they saying the only rugby players that are worth watching come out of NSW and Queensland?"
I guess you could go down the tangent of ruling the ACT out given that it's State of Origin and not Territory of Origin, but what about the other states: where would Dane Haylett-Petty (WA), Adam Coleman (Tas), Christian Leali'ifano (Vic) or James Hilterbrand (SA) go?
You could shove them into an Allied team, but supporting a best-of-the-rest wouldn't really work, and having a full interstate carnival would be a nightmare.
No space in a bloated calendar
But even if a full interstate carnival was viable, there simply isn't the time and space to add any more games to rugby calendar. This is part of the reason why this State of Origin game is planned to be played on Thursday 29 June – in the middle of the week, in the middle of the international break, and five days after the Wallabies play Italy in Brisbane.
Drew Mitchell himself said this about the Tens: "There's just not enough time, there's too much footy ­already as it is."
No superstars
And that's another thing. There's no way the likes of Stephen Moore, Bernard Foley, Samu Kerevi and Michael Hooper – ok actually maybe he could do it – could play in this game.
So here's another con: the game wouldn't feature the best players. If the State of Origin were to be played, it'd be fought out between the guys not good enough to play for the Wallabies.
That's unlike the rugby league State of Origin, where the best Australian players all get to take part.
League-lite, and there's already a QLD-NSW game anyway
And that's another con too – should Australian rugby ride in the slipstream of rugby league anymore than it already is?
"No.1, what's important is that if we do something like that, we've got to have a uniqueness about it," said Michael Cheika to the SMH, "You can't just go and copy off rugby league and see if that works. It's got to have something about why it would be a special event as opposed to sticking another game in the calendar and then it's also about the timing and when it's on.
If this under-strength, imitation State of Origin game  goes ahead, what would that make games between the Tahs and Reds who already represent those two states anyway?

Despite all these bads, rugby big wigs seem to be enthralled with the idea and are pushing ahead anyway. The Brisbane Tens was still a success despite the unbearable heat, lack of All Blacks (and other superstars) and iffy scheduling and ticketing.
This might be the same for this State of Origin game. How could it work?
Queenslanders
Unlike New South Wales, and like every other state in Australia, Queenslanders have an interstate chip on their shoulder. Queenslanders love hatin', pretending that as soon as you cross the Tweed north – or if you're further out west, that line in the sand that was drawn far away and long ago by some bloke saying, "that'll do" – it's like you're in some weird country where it's hot, English is the main language and people drink beer after work.
Depending on the result, a rugby State of Origin would also finally sort out the "Wallatahs" conspiracy theory.
More Australian Domestic Rugby
It would also fill the lack of domestic rugby due to the Whacky Races-inspired Super Rugby conference system. The Reds and the Tahs are only playing each other once this season, a mistake that is hard to exaggerate.
Australian sport is dragged down and forced to look inwards by the rugby league and Aussie rules divide, and unlike other rugby nations, the ARU has a really difficult task in growing domestic interest and participation. So more big-note games like a State of Origin series can only be a good thing.
Everyone seems to like the idea
The idea also has the support of the players, Michael Cheika and the fans, with the Daily Telegraph happily reporting that 83% of readers also back the plans. (Do you like the idea?)

Maybe if this State of Origin game goes ahead as planned, it'd work totally fine and be a solid addition to the rugby calendar. But that's if it's so good, that the cons don't matter. If only Bruce Willis could help us nudge this asteroid.
How it could it be better?
The basic parts of why it would work – State of Origin is an exciting concept, and it would give Australian rugby another derby – are powerful reasons to follow through with the idea.
Simple adjustments could make this idea work better. For example, to drive excitement for the NRC, would an Origin match between NRC players be a better idea?
As was suggest on the Green &  Gold Rugby Show (starts at 43:15), this Origin idea could also be replaced with more Australian Barbarians or Australia 'A' games. Again, you could fill the side with NRC players.
Or maybe, like with Australia 'A', a State of Origin game could be scheduled during the northern hemisphere's off-season, and players like Liam Gill could be invited back down to play. (And then when the overseas players are here, we can guilt trip 'em real good into returning!)
More talk can only be good
RUPA President Dean Mumm, the Nickelback of the Australian rugby scene, said this:
"When it comes to the people who come in and pay for seats, you have to be engaged and connected with them as much as possible. We have to be innovative about that. When you look at the status of where rugby sits, and the competition within the Australian sporting landscape, it's all very competitive…I don't think there is such a thing as a bad idea, when it comes to creating that engagement with fans. We can do those things much, much better."
Amen to that. What are your thoughts?