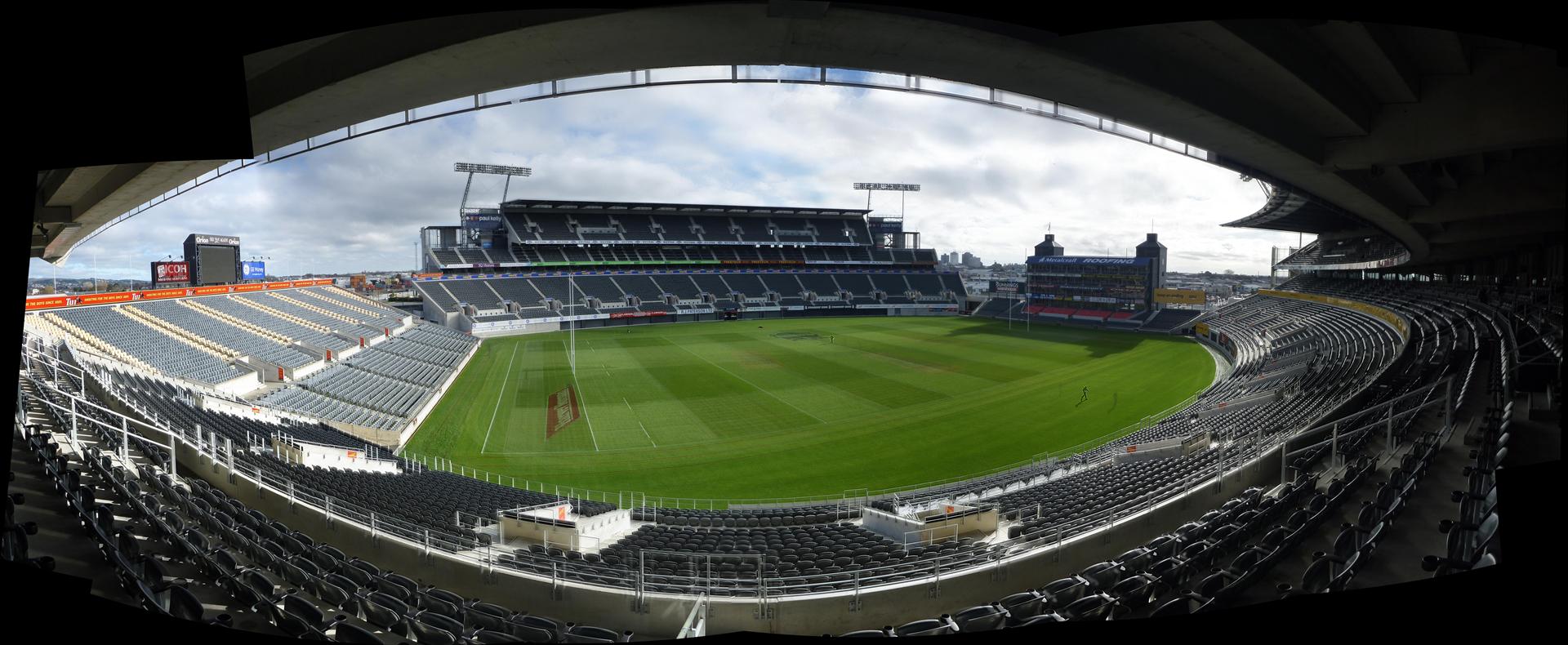 In the lead up to the Rugby World cup 2011 in New Zealand we are running a series of articles on the venues that will be hosting games during the tournament. Part of the spiel around hosting the tournament sold the country as a "Stadium of 4 Million" and they have tried hard to stick to that, with 13 venues in total scheduled to host matches.
We are starting our virtual tour in Christchurch, where the clean stadiums rule, finally caught onto by the Kiwis, sees AMI Stadium renamed as Stadium Christchurch. Stadium Christchurch will host 5 Pool matches, including 2 Wallaby matches, and two Quarter Finals. The recently upgraded stadium, where the addition of the Deans stand (nice of them to name it after the current Wallaby coach) has an increased capacity of nearly 4o 000, though temporary seating will see it hold 45 000 for the RWC.
A little bit of History on the ground, In 1880 Canterbury Cricket and Athletics Sports Co. Ltd was established and proceeded to purchase 10 acres from the Lancaster Estate. the new ground adopted the name Lancaster Park and was officially opened in 1881, interestingly the opening was scheduled for a cricket match on 8 October, but it was cancelled due to rain. An athletics meeting became the first event held on the ground, on 15 October.
The venue has held an amazingly diverse range of events, from cricket, trotting, cycling, swimming, tennis, potato farming (During World War I the ground was dug up to grow potatoes to support the war effort) and hot air ballooning to hosting Pope John Paul II (1986) and Queen Elizabeth (1963) to concerts by Bon Jovi in 2008, Roger Waters in 2006, AC/DC in 1996, U2 in 1989 & 1993 and Billy Joel in 1987. But it is Rugby we are all interested in, and it has seen some amazing moments on the rugby pitch as well.
First and foremost, this ground as Lancaster Park used to be one of the 'big four' venues where test rugby was played (Carisbrook, Athletic Park and Eden Park the others). Many famous All Black tests have been held here with memorable battles against the Springboks, British Lions and France in particular.
One of the most famous international matches to be played at Lancaster Park was Canterbury vs The British Lions of 1971. THE Lions won the game 14-9 but it was one of the bloodiest premeditated assaults in rugby history that resulted in Scottish prop Sandy Carmichael, Irish prop Ray McLoughlin and Irish No.8 Mick Hipwell being ruled out of the tour, as well as leaving Irish breakaway Fergus Slattery with concussion and without two teeth.
Domestically it's been a fortress for Canterbury over the years. They dominated South Island rugby and, along with Auckland, have been the powerhouse of NZ provincial competitions and the Ranfurly Shield. With Super rugby, let's not mention Bob Dwyer's Waratahs record breaking loss to the Crusaders here (96-19 in 2002).
Australia first won in Christchurch in 1913, a 16-5 win to the Wallabies in front of 7000 spectators. We've played 13 times against the All Blacks here for a won 4 lost 9 record. The last time we won was in 1998 (27-23 with tries to Bowman, Burke, Larkham and Little, pen Burk, con 2 Eales). This year's RWC will be the first time the Wallabies have played anyone else at this venue.
Location: Four-minutes from the city centre or nine-minutes from the airport (I think that is a little optimistic.)
Capacity: 45,000 for RWC 2011, 36,000 in standard dress
Address: Stadium Christchurch, 30 Stevens Street, Phillipstown, Christchurch
Matches:
Argentina v England, Saturday September 10
Australia v Italy, Sunday September 11
England v Georgia, Sunday September 18
Argentina v Scotland, Sunday September 25
Australia v Russia, Saturday October 1
Quarter-final 2, Saturday October 8
Quarter-final 4, Sunday October 9
EDIT: I Started writing these guides late last year when I was on a tour of all the venues with work. I wanted to start with Christchurch, mainly because it was the venue for Australia's first game of the cup, but also because I love visiting the place. It was/is definitely my favourite city in the country that I have visited at least, not just because it was where I enjoyed my first (and subsequent) Whiskey Sour. I sincerely hope it returns to that glory. While I will edit the upcoming articles, I wanted this one to stay as it was before the tragic quake.