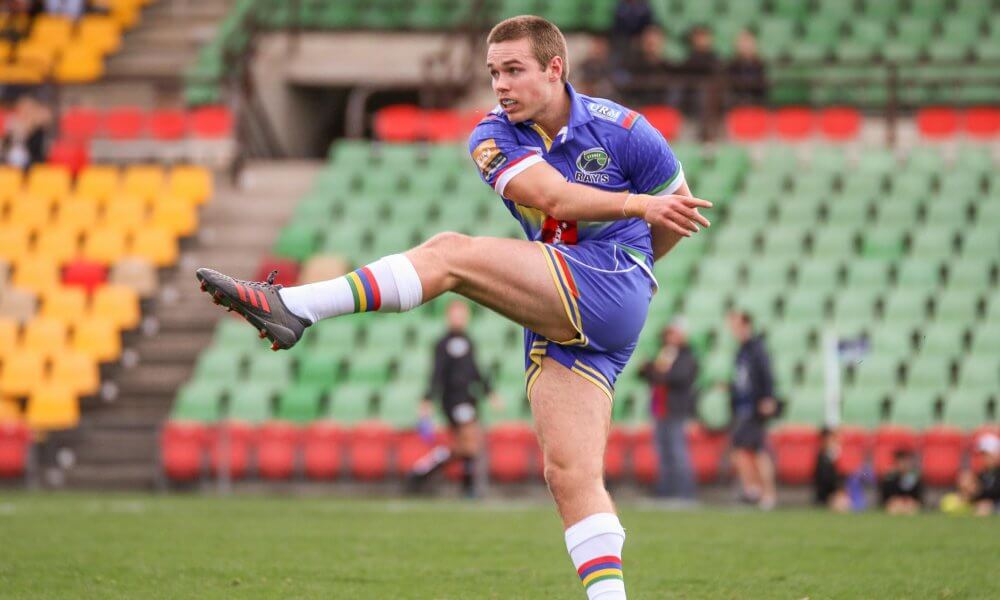 It's long been said that you select your tighthead prop first. The assumption was that you will commit so many handling errors that you will be scrumming a lot under pressure and therefore require steadiness at this vital set-piece.
As a researcher of school's rugby I see a different picture unfold at this level of the game. Firstly, in school's rugby you have a 9% chance of winning scrum ball off an opposition feed. This is based on well over 1000 games measured. Secondly, you are not allowed to move an opponent backwards more than 1.5 meters. So while a strong scrum will always have advantages, the 'must-have' player is in my opinion no longer the monster tighthead.
We need more options 
In 2013 during the Lions series against Australia, Irish center Brian O' Driscoll was dropped in favor of a Welsh center combination featuring the Jamie Roberts and Jonathan Davies. This combo is was said offered a bigger threat with their kicking game. I never quite understood this until I started running skills tests of young players to learn which weaknesses exist in skills development.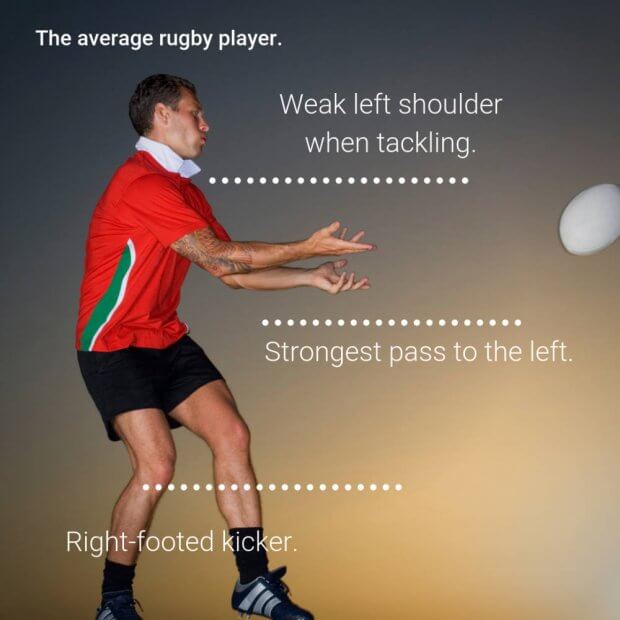 Above is a depiction of 81.3% of all players I have tested since 2014 (713 in total). As you can see, by far the majority of rugby players prefer passing to the left, kicking to the right and tackling with the right shoulder. This is simply because most players are right handed.
If you are to study the migration patterns of a rugby match, you will notice just how programmed most games are, due to the large majority of players preferring to all shift and move in the same direction.
Most passes occur to the left, whether there is more gaps or not. The 10 and 12 just feels comfortable shifting the ball that way. Most kicks occur to the right, whether the option to pass existed or not.
However most tries are scored when teams pass to the right hand side. This is an odd statistic because the defense runs with their predominantly strong shoulders on the inside. To beat the defense when playing to the right side of the field, you have to try and beat defenders on their outside, yet this is more likely to happen statistically speaking (teams score on average 3.4 tries per game on the right side of the field compared to 2.2 to the left).
The rise of the 'southpaw'
Left handed (and footed) players, affectionately known as 'southpaw's in the boxing world, really screw with the matrix when it comes to rugby's usual migration patterns. Not only do they kick to a different side and pass the wrong way – they also have a different 'leading shoulder' in the tackle, which confuses the attack. Often you will see a perfectly orchestrated backline move end with the ball carrier smashed to ground due to what most would consider a good defensive 'read'. Chances are the move contained a cut-back scenario – not knowing that the defending 12 is a southpaw who loves nothing more than an attacker cutting back into his left shoulder!
The emergence of the 'ambo'
It is said that true ambidexterity (having no leading hand or foot) exist in only 1% of the population, while around 9% of people mix and match a bit. You may see a kid who writes right-handed but kicks left handed or vice versa. Or one that can kick off both feet but still have a weak tackling shoulder. These 'ambo's', like their southpaw mates, can really complicate matters on a rugby field because they are even less predictable.
My argument is that these 'golden freaks' today are the first names you pick on your team sheet, because of the way they disturb normal migration patterns. I also urge parents and coaches to ensure that their kids pass and kick to both sides at all times. Not only does it improve your balance and coordination – it also gets the right brain activated and improves your creativity.
The tighthead prop is dead! Long live the southpaw's and the ambo's!