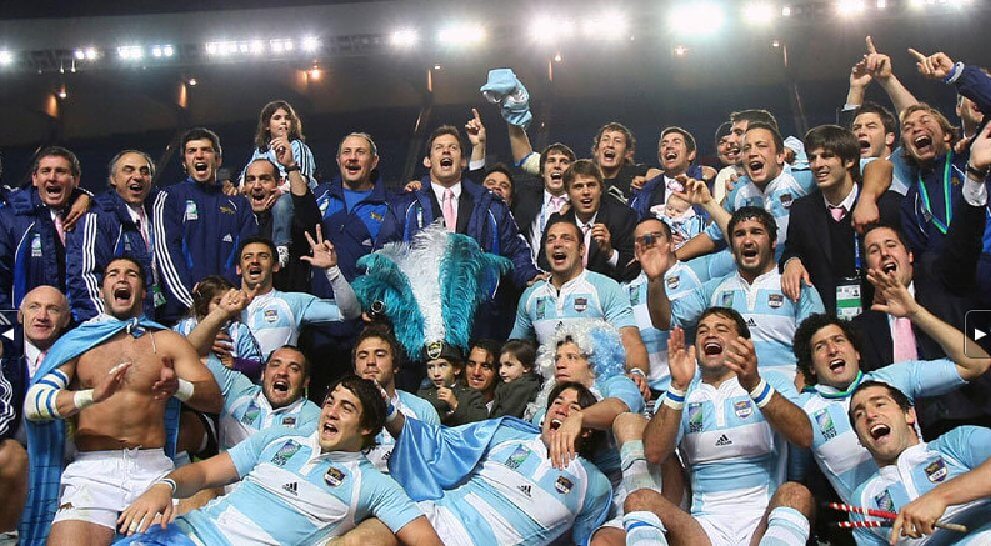 Argentina have been to all of the World Cups and have made it out of the pool stages three times – in 1999, 2007 and 2011. In 2007, they placed third in the tournament. Los Pumas have come even further since then and will be considered a threat to repeat the success of the 2007 tournament.
1.  The Rugby Championship
Argentina have been a good team for a long, long time. Since their spectacular success at the 2007 World Cup, they have continued to improve – especially in their consistency. Since coming into TRC in 2012, Los Pumas spent a couple of years paying their dues before their historic victory over Australia in 2014 and their subsequent defeat of South Africa in Durban this year. They even pressed the Kiwis in their match in 2015.
That performance is important, because they'll face the All Blacks in pool C this year. While they're not expected to win, they certainly have the talent to do so on their day. They've been playing a lot more Rugby since 2012, and the numbers of games they play against other South American teams ensures they have an opportunity to build experience and depth.
2.  Argy Bargy
If there is one thing everyone knows about the Argentine team, it is that they pride themselves on their scrum. They have produced great scrummagers for as long as anyone cares to remember. They are also able to export great props to other countries. While Topo Rodriguez and Patrico Noriega are cases in point, the likes of Martin Castrogiovanni in Italy are more recent examples.
The days of the Bajada and scrums so low that hookers used their chins to hook the ball are over. But the best bits have been kept and the tradition is being kept alive. That was evident in this year's TRC, where prop Marcos Ayerza and captain Agustin Creevy were held up as examples of the best in the world after showing dominance at scrum time.
3.  Juan Martin Hernandez
The 33 year old flyhalf has 53 tests under his belt and has been a mainstay since 2003. Starting out as a fullback, he was regarded by many as the best 15 in the world around 2006. Between Stade Francais, Racing Metro and Toulon, where he now plays, he has racked up 206 Top 14 games and 735 points – mostly from the boot.
It s that boot that keeps him near the top of the list of the world's top flyhalves. There can be no better example than in the 2007 World Cup, where he almost single handedly (or single footedly, if you like) pushed the team through the pool stage on the back of three drop goals against Ireland and another in the quarter final against Scotland.
But he doesn't just kick goals. His kicking from hand is equally sublime. Here's one of my favourite touch finders ever…..
4.  The Other Juan – Imhoff
Imhoff, 27, plays his club footy at Racing Metro, for whome he has scored 27 tries. He also has 16 tries in his 29 caps for the Pumas. He certainly has been a key part of Los Pumas' attack for a while.
But it was in this year's Rugby Championship where he really broke loose. In Argentina's historic win over South Africa, the winger scored a hat-trick and propelled the team to victory and to finish above the Springboks on the table.
5. The Big Challenge
Los Pumas join their Rugby Championship rivals New Zealand in pool C. There would be nothing that Argentina would enjoy more than knocking the All Blacks off to mark off their third victory over TRC teams, having already done so to Australia and South Africa. However, that isn't the expectation.
Most people would expect Argentina to finish second in their pool to set up a quarter final berth against the winner of pool D, which is likely to be France or Ireland. If that happens, Argentina will rate themselves a chance of making the semifinals as they did in 2007.
But they will face challenges from their pool rivals, as well. Tonga is ranked 11 and is capable of pulling off an upset against the world's best and Georgia has something to prove. They will especially want to test their scrum's mettle against Los Pumas.