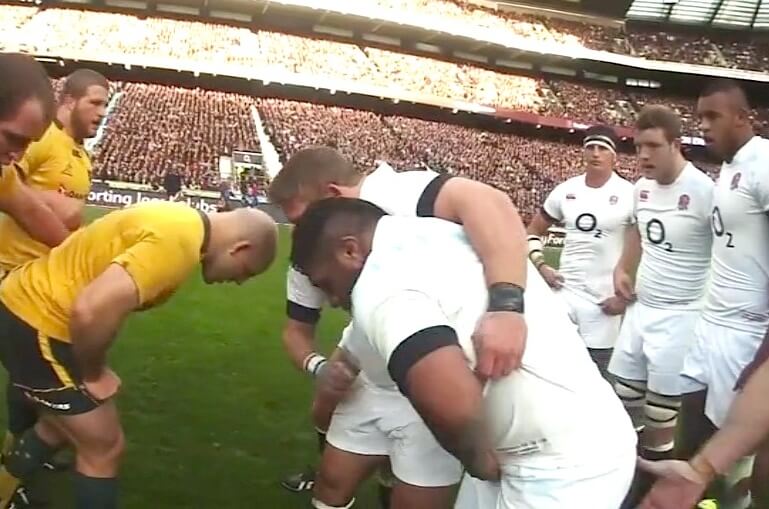 The English have much of the home field advantage, as they did in 1999 when Australia brought back Bill for the second time. This time, though, they have a very tough pool and a closer field in general. They don't have a firmly established midfield and they've had a few off field dramas. How will they cope come Friday night and beyond?
1.  Farrell and Ford
The English, by reputation, have a reliance on the flyhalf position at the World Cup. Although, to be fair, Rob Andrew and Jonny Wilkinson have dominated the 10 jersey at the RWC. With Andrew wearing it (mostly) for the first three and Wilkinson for the last four. It's pretty clear that the Poms like to settle on a flyhalf and stick with them.
And it seemed for some time that they had done just that, with Owen Farrell having established himself as the first choice 10 over the last few years. Farrell got started early, having just turned 17 when he made his debut for Saracens. Since then, he's played 113 games for the club, earning 1112 points. England didn't need him until 2012, though. They had that Wilkinson fella until then. Since, though, he's played 31 tests for England and scored 300 points – 290 from the boot – continuing the English tradition of the flyhalf essentially being a foot with a maths degree.
But the arrival of George Ford has made the decision less cut and dried. Ford has only played 13 tests, but has racked up 124 points himself in that time – despite only starting 9. Ford seems a more dynamic player in attack, though. He's scored two tries – the same number Farrell has in 31 tests – and has an array of passes and kicks which wouldn't look out of place in a gold or black jersey. His club, Bath, play a game which uses these strengths and sees the wide channels being used more often than you might see at Saracens.
Ford has recently received the blessing of Wilkinson, himself. But the decision is likely to come down to defensive ability, where Farrell has the edge.
2.  Sam Bloody Burgess
You can't read a Rugby article at the moment without hearing about Sam Burgess. There's always someone with an opinion. There is a lot of discussion about whether he should even be in the squad, let alone whether he should be playing at 6 or 12. There are those who think his lack of ability in the forwards shows that Union players are more skilful than League players. There are those he think his climb into the squad proves unequivocally that League players are better than Union players.
It's all a load of what the Soap Dodgers might call old tosh. The reality is that Burgess is about as solid a defender as you're likely to find and can run the crash ball with the best of them. He's also defensively solid enough to play at 13. That makes him pretty attractive as a centre for the English in a World Cup, which seems to bring out the Roses' conservatism even more than usual.
Either way, there is no question Sam is a big game player and will make a contribution to the team. And Channel 9 will be praying he plays against Australia. It'll be a sure ratings grabber.
3.  Absence Makes The Heart Grow Fonder
The fact that Burgess has been selected for England would seem odd since Manu Tuilagi has had the big centre spot sewn up for a long time. The Samoan-born centre has 25 tests for England and has been doing pretty well. However, he won't be attending the tournament after being left out for disciplinary reasons. It seems was convicted of assaulting a female police officer, which was enough for Stuart Lancaster to leave him out of consideration.
The other notable omission, again due to disciplinary issues, is Dylan Hartley. Hartley was dropped when a suspension for headbutting overlapped with the first game of the World Cup. Hartley is England's most experienced hooker and they struggled at the set piece without him recently.
But there may be a silver lining for the English. Graham Henry, widely regarded as the catalyst for the famed All Black cultural changes in the last decade, thinks it is a masterstroke by Lancaster. And if the discipline on and off the field improves and translates onto it, he may well be right.
4.  The Pomgolian Scrum
It's either one of the best scrums on earth or they are a pack of cheats – depending on your perspective. I'm of the opinion that, if the ref doesn't call it, it's no point crying about it. So, whether we like it or not, we have to deal with it. There is no question they play hard and fast with the rules at scrum time, but it is effective. And they have given the Wallabies a towelling there in the last several years.
But they've struggled at the set piece in their warmup games and other teams are improving – especially Australia. Also, if new interpretations about playing the ball when it's available are enforced, the English scrum may turn out to be less of a weapon than it previously was.
5. From the Frying Pan Into the Fire
The Six Nations has been a close fought affair the last few years. The English haven't won it since 2011, in the leadup to the last Rugby World Cup. They have been the runners up each year since. The Championship this year saw England get over everyone except Ireland – that includes pool A rival Wales. But, while the Six Nations is a tough competition, the question remains whether it compares to the crucible that pool A will be this year.
The winners of the 'Pool of Death' will first have to dispatch at least one other top five team while staving off the threat of a motivated and exciting Fiji team. And then, if they don't go through the pool in the top position, their path to the semis will be impeded by South Africa. t's a tough slog, but England may be heartened with a little home-field advantage.