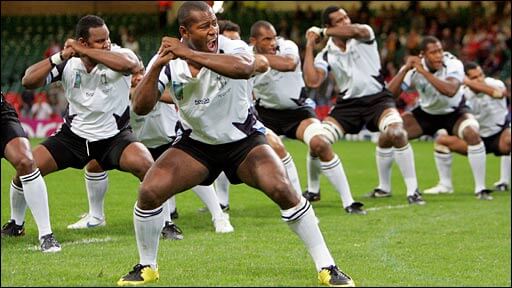 Fiji face the toughest pool they have ever had to in their six prior appearances. However, this one of the best Fijian teams to ever take the field, with most of the players being professionals in some part of the world. They'll be expected to make an impact on the pool and to cause problems for the top three teams trying to progress.
1.  The 'Smith Prophecy'
As if there wasn't enough talk about the potential fortunes of the teams in Pool A, when George weighed in recently, he managed to change the focus of discussions. While the world debated which of the big three in the pool would not make the quarters, the pressure seemed to be on Australia and Wales, with England firming as a favourite to run the board.
But George's somewhat tongue-in-cheek comment that Fiji would knock off both Wales and England on the way to their own quarter final berth generated outrage, laughs and legitimate discussion. The indignity of some of the British press was amusing, but most knew it was a mischievous ploy to shift the focus back onto England. But the reality is that he may not be far wrong. In all of the kerfuffle about Australia, Wales and England being in one pool, plenty of people seemed to have forgotten that Fiji is a top ten team with history.
The Fijians have never had a great time against either England or Australia, but like other Pacific nations,  they have a better history with Wales – chequered, but pretty positive overall. Since the last World Cup Fiji attended in '07, They have drawn with the Welsh, lost a very close one and been on the end of a flogging. But it is their surprise win over Wales on the big stage in 2007 which will have Fiji fired up and ready to cause an upset. Stuart Lancaster thinks so. He attended their 47-18 trouncing of Canada on Saturday.
2.  Nemani Nadolo
When Nadolo, 27, came onto the scene in 2007 with Perth Spirit in the ARC, there was limited fanfare. In fact, in the next couple of years,he was unable to crack the Waratahs squad while playing at Randwick and Manly. After a couple of decent years in Europe, he moved to NEC Green Rockets in Japan, where he scored 55 tries in 51 appearances. Now with the Crusaders, he is still a try scoring machine, with 21 in 27 games.
The 194cm, 125kg monster wouldn't look out of place in the second row, but his speed and acceleration make him the ideal winger – a la Jonah Lomu, to whom he has been compared throughout his career. For Fiji, Nadolo frequently occupies the 13 jersey and has been handling the goal kicking duties as well recently.
Nadolo is being regarded as one of the players to watch, which isn't a surprise. What is interesting is the improved skills and leadership by example he has developed since his days in the Australian U20s team.
3.  High Energy, Low Percentage
I did an in-depth survey of several people and discovered that, of Fiji's 880,000 people, some 94% are world class wingers. And what's more, they all want the ball and they want it now. As far back as anyone cares to remember, Fiji has produced some of the best backs in Rugby. They are well known for their not just their speed, but spectacular footwork and a nose for the line. The Fijians also have a propensity to throw the ball around and take big risks.
Their five try route of Canada at the weekend was a case in point, demonstrating Fiji's style of play. They move the ball around to find a place to make a break. And when the break is made, there are 15 blokes running a support line, calling for the ball. With players like Nadolo above, along with veteran centre, Vereniki Goneva and youngsters like Waisea Nyacalevu – who has scored 27 tries for Stade Francais in under two years – they certainly are exciting to watch.
Fiji putting five tries on Canada – There are some Canadian tries, as well. They are the boring ones.
4.  John McKee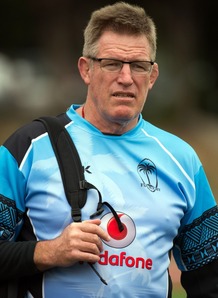 Why does John McKee rate a mention here when some other coaches have gotten away with it? Well, McKee is a special case to the Fijians. While the Kiwi born Aussie is technically sound like most international coaches, he brings something that other coaches from have not been able to in the past. He seems to understand the Fijian way and has managed to adapt the technical gameplan around the laid back Fijian approach to daily life. It's been said that he is laid back enough to be Fijian, himself.
McKee took on the team early in 2014 with a view to seeing the team in the World Rugby top eight. They are now in number nine and are pushing Argentina for that eight spot. A win over one of the big names in pool A would help out there a great deal.
5.  Life in the Pool of Death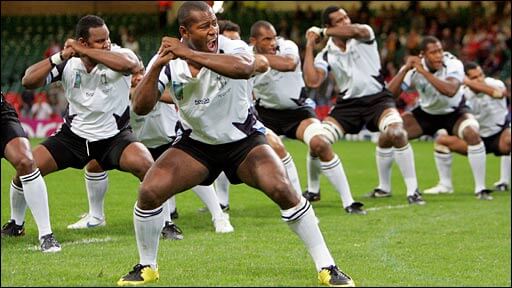 There are four top ten teams in pool A. It's going to be a hard slog for any of the of those four teams to make the quarters. And, despite Mr Smith's confidence, Fiji won't be expected to progress. However, they do have it in them to pull off an upset, and that could be key in determining who does progress.
Wales is an especially likely target due to the history between the teams and the seemingly ideal matchup of styles. But that matchup exists (to an extent) with England, as well. It will be a big stretch to make the semis, but with some luck, there will be an upset versus one of the home unions and the Fijians will help propel Australia into the quarters.