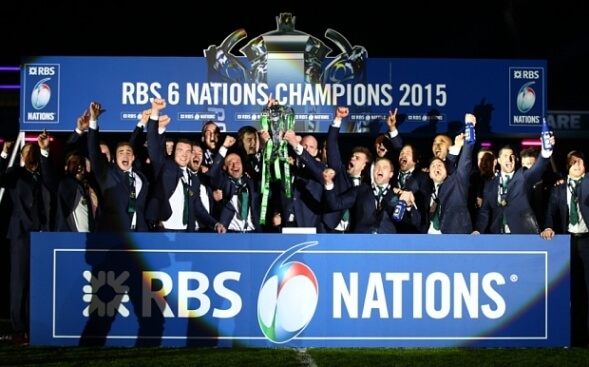 Ireland have competed at every Rugby World Cup. In six of them, they have been eliminated in the quarter finals and they have never made the semis. This year, though, they are coming off two Six Nations championships in a row and face a pretty pedestrian pool to give them a shot that they've never really had before. They have also had a strong year outside the Six Nations, defeating both Australia and South Africa in their November tours last year.
1.  The Luck of the Irish
A good team makes its own luck. And Ireland have a knack for being lucky. Their luck comes from innovation and an adventurous spirit. Who can forget 2011, when Ireland brought back the choke tackle to defeat the Wallabies during the last World Cup? And the more recent driving maul innovations? Joe Schmidt's boys reintroduced Italy's non-engagement maul defence from 2006. When other teams tried it, they showed how to win against it by keeping the ball at the front. And when others did that, they showed how to defend that with a chop tackle to the ball carrier.
Whether he comes up with it off his own bat or puts a new twist on and old strategy, Joe Schmidt is innovative and his team buys into his ideas. As a result, the Irish are capable of presenting an entertaining and unique product which may well see them deep into the finals series.
2.  Paul O'Connell
Paul O'Connell is equal parts Rugby player and national talisman. At 198cm and 112kg, the Irish captain is about the right size for an international lock.  But O'Connell plays even bigger. He is hard and uncompromising and leads his troops by example. He's known for his incredible intensity. If you want an insight into that intensity, the Youtube video "Manic Aggression" should give you some idea of how O'Connell fires himself and his team up prior to a game.
O'Connell gives great service in the row, as well. He is an incredibly reliable lineout jumper and while his 209cm second row partner, Devon Toner, is gradually taking over as Ireland's preferred target, O'Connell still gets his fair share of the catches. He can steal them, too. Couple that with O'Connell's celebrated scrummaging and you have a recipe for a great captain.
The bloke has 103 caps for Ireland and another 7 for the British and Irish Lions, whom he has captained, as well. There are few more experienced, more reliable or more intense than the big bald bloke from Munster.
3.  The BOD Delusion
OK, so it's not a delusion. It's more of a philosophical dilemma. Since the retirement of Brian O'Driscoll in 2014 with 133 caps and 49 tries for Ireland (there were eight caps for the Lions, as well), the Irish have been forced to ask the question…. How do you replace a legend and who do you look to in order to fill his sizeable shoes? The Irish ethos was built around BOD on the field, if not the gameplan. You can't replace a bloke like that without making some changes to said plan. And anyone who wears the 13 jersey is going to be unfairly compared to the great man by the Irish fans.
Fortunately, as we've already discussed, Joe Schmidt is no mug. He had six possibilities to fill the jersey at the start of this year's Six Nations but he seems to have settled on Jared Payne to wear the jersey. The New Zealand-born former fullback is no youngster, having turned 29 by the time he debuted for Ireland after qualifying on residency. He'll likely partner Robbie Henshaw in the midfield. That represents a shift in philosophy for the Irish since O'Driscoll's retirement, as O'Driscoll could be relied upon to be the creator out wide. Now, the team will rely increasingly on flyhalf Johnny Sexton to create the opportunities for Henshaw and Payne to exploit.
4.  Johnny Sexton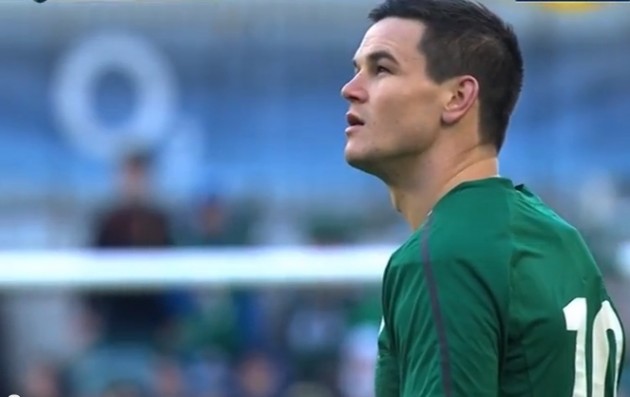 It seems like yesterday that I first saw Jonathon Sexton as he slotted five penalties to keep the Irish alive during their tour loss to Australia. But that was in 2010, and he'd already been at it for a year by then. Now, the 30 year old has 53 caps (and another three for the Lions) and 494 points in tests for Ireland. And while he does have a prodigious boot, he can score a try, too. In fact, in Ireland's successful Six Nations campaign in 2014, he was the leading tryscorer for the tournament. It's little wonder the discussions comparing Sexton to the greats are occurring in the North at the moment.
Playing behind Sexton for the last 21 tests has been 26 year old Ian Madigan. Madigan has a great boot in the vein of Sexton and has developed the experience necessary to deputise for him at this year's World Cup. In this respect, Ireland have an advantage over many teams who will struggle to put up an experienced replacement flyhalf who plays a similar game to their starter
5. Sailing Through
There isn't much to pool D at this year's Cup. With Ireland and France heading up Italy, Romania and Canada, it is the only pool where there doesn't seem to be any real challenge for the second spot. Of course, Ireland would be disappointed if they didn't progress. They'll also want to defeat France and go through at the top of their pool so that they don't face New Zealand in the next round. They will fancy there chances much more against expected pool C runners-up, Argentina.
There are many who are tipping Ireland to make their first ever final. If they can avoid the All Blacks in the quarter finals, they have every chance as they would then face beatable opposition in the semis – especially as they have recent victories over all of the likely candidates from pool A.