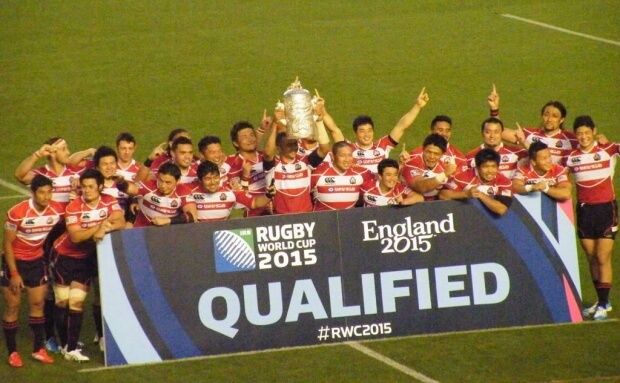 The Brave Blossoms have improved in the last several years under former Wallabies coach, Eddie Jones. Currently 14th in the World Rugby Rankings, they have progressed from perennial easy-beats to being competitive at the Pacific Nations Cup. This year, they have the potential to throw the cat among the pigeons in Pool B.
1.  The Coach
You can't enter into a discussion about Japan without discussing Eddie Jones. The former Wallabies coach and RWC 2003 Runner Up took over the reins from John Kirwan in 2012. Since then, Japan have improved not just their record, but their quality of opposition, as well. They have also reduced their reliance on ex-pat Kiwis and Aussies as has been the case in the past.
Jones has developed a relatively novel structure to Japan's attack which plays to the strengths of the team's smaller forwards and away from the jaws of the bigger packs. Coupled with their much improved scrum, this has given the Blossoms the tools to move forward. Jones has announced he'll be leaving the role after the World Cup so this will be his last hurrah.
2.  Extraordinary Scrummagers
The Japanese are known for their smaller stature throughout the forwards. There are a couple of ex-pats in the team, but there are fewer than there used to be. Nonetheless, the Japanese can't match it for size with the big teams. Nonetheless, the team has managed to improve their scrum to the point where it is at least competitive and sometimes dominant among the tier 2 teams. They probably won't be winning pushover tries against Scotland and South Africa, but they can hold their own. They may well have moments of dominance against Samoa and the USA, as they have in this year's Pacific Nations Cup, as well.
Much of the improvement can be attributed to former French hooker, Marc Dal Maso, who was the Japan scrum coach until 2014. This season, he moved onto the Highlanders as a consultant. They seemed to do alright, as well. Dal Maso is known to have an unconventional and uncompromising approach, which has been carried on by former England lock, Steve Borthwick. Borthwick has also done a lot of work to improve the lineout, as well.
3.  Ayumu Goromaru
Japanese fullback, Goromaru, is unusually big for a Japanese back. He's 185cm and 98kg. While he's a strong and agile runner, Goromaru is best known for his kicking. That, and his odd finger taping/gloves.
Goromaru has played 50 tests for Japan in the last 16 years. n that times, he's racked up 627 points. His tryscoring statistic of 16 tries is pretty good, but it is his 83 penalties and 149 conversions which are the real benefits for the Blossoms. He can hit a penalty from almost anywhere in his own half and, occasionally from outside it.
Since Japan's fast style of play can generate quite a few penalties, Goromaru could be the weapon they need to cause an upset in their pool.
4.  Yoshikazu Fujita
Fujita could well be Japan's answer to James O'Connor. The 21-year old winger played his first test at 18 and has racked up 26 tests since, starting in 18 of them. In that time, he's scored a whopping 25 tries. Fujita, like Goromaru is relatively big for a Japanese back, at 185cm and 90kg. He was educated in New Zealand and received his initiation to Rugby there.
He's fast enough that, given a bit of space, he'll find the line. He also has the nous to finish in tight situations. Plus, he can set them up, as well.
Fujita, at fullback, sets one up against the USA
5.  Head to Head
There's a saying in boxing and MMA that says, "Styles make fights". Rugby is really no different. Whether it's discussion about Argentina's platform off the scrum, Australia's traditional ball-in-hand attitude or the All-Blacks' 'Total Rugby' approach, we understand the strengths of those teams and what to watch for.
The Brave Blossoms' approach relies on fast ball and forwards getting wide to attack the defence in the midfield, rather than back into the teeth of the opposition tight five.
Unfortunately, Japan may be out of their depth in this pool. The teams in this pool will be able to deal with that wider running threat better than some of the other teams Japan may have come up against. With that said, Japan have shown that, head to head, they have the capability of mixing it with Samoa and really challenging the newly resurgent Eagles.
They'll also be hoping for a better performance against Scotland, who last defeated them 42-17 two years ago.
Japan will likely be playing for the bottom spot in their pool, but will be looking to make life hard for the others to progress. A surprise victory over Scotland or Samoa may well have a profound effect on the competition this year.