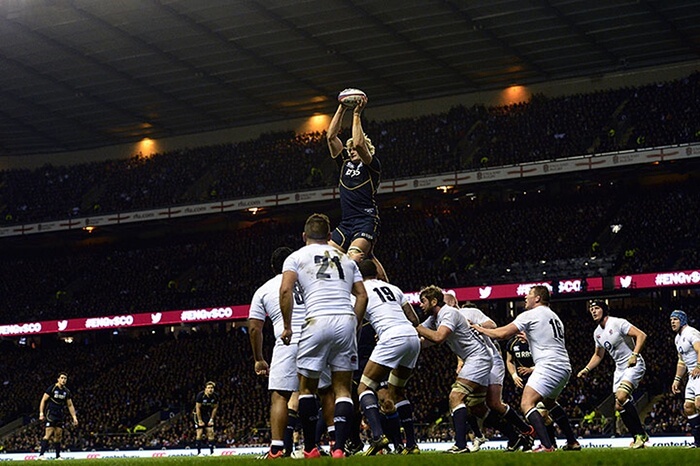 Until 2011, the Scots had made the quarters at every World Cup. They were expected to then, as well. But they were pipped by Argentina for that spot. They face the same risks this time, albeit with a different threat from the southern hemisphere.
1.  Six Nations Struggles
Scotland's last two campaigns in the Six Nations have been decidedly ordinary. In 2014, they beat Italy in a very tight match to prevent the wooden spoon, but this year – even after the introduction of Kiwi coach, Vern Cotter – they went one worse. Their 0-5 record securing the wooden spoon for the tournament, as they did in 2012.
Cotter seems to have the team moving forward on the run-up to the tournament, though. In their warmup matches, they have lost a tight one to Ireland and managed to assert some dominance over Italy twice. Their last hitout before the tournament was a close loss to the French at the weekend. So, all up, an improvement over their Six Nations campaign is on the cards.
2.  McVisser and Friends
194cm, 110kg Dutch import winger, Tim Visser has scored an impressive 67 tries in his 127 outings for Edinburgh and another 9 in his 20 Scotland caps. But that's not why he gets a mention here. The fiasco when Visser was selected for Scotland in 2012 is indicative of a wider issue for the Scots.
While Visser's selection is old news, it indicates the depth issue Scotland faces with a relatively small talent pool. As such, the team has begun to look elsewhere for talent, encouraging the Pro12 clubs to bring in players on long term contracts which allow them to play for the country on residency. This year's somewhat controversial additions are Josh Strauss and John Hardie – South African and New Zealand born back rowers respectively.
In Australia and New Zealand, we have seen this practice for a long time, but it is a relatively new phenomenon for Scotland and some pundits are struggling to come to terms with it.
3.  Stuart Hogg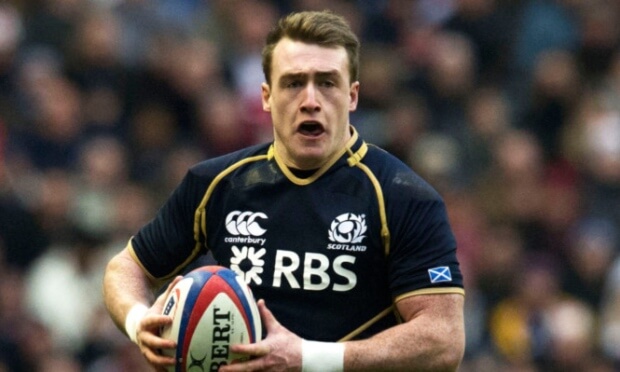 Despite Scotland's disappointing Six Nations tilt this year, Hogg was outstanding in a struggling side. He was also instrumental in helping Glasgow to their first ever Pro12 title earlier this year.
Although he's likely to play at fullback, Hogg is a utility player who can fill in at flyhalf if needed. But it is as a ball runner when he is at his most dangerous. He claims to have developed his incredible footwork playing 'Knock and Run' as a kid – I guess it's a pretty boring life in Scotland – and to watch him run is certainly inspiring. So much so that JK Rowling was inspired to write a story involving him in her ongoing Harry Potter chronicles.
4.  The Gray Boys
Richie Gray is huge. At 208cm tall, he's a key feature of the Scottish lineout. And he's a quality scrummager in the lock position, as well. He'll be joined by his little brother, Jonny. Jonny is only 198cm tall, and the two make a formidable locking pair.
These two show the other side of the coin for Scottish Rugby. They are loyal, hard working players who will run through brick walls for their country. And Scotland will need them to. There are a few of those to be encountered in pool B.
5.  The Brick Walls of Pool B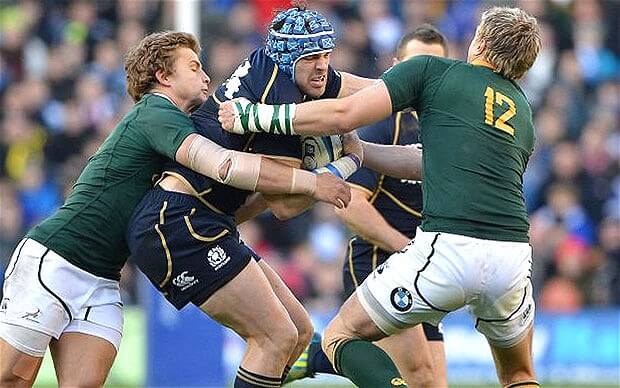 There is a lot of talk about pool A being the "Pool of Death", but pool B can make a good case for the most competitive pool, too. Though South Africa are expected to take out the pool, regular quarter finalists, Scotland and Samoa, will be in a tussle for second spot. Couple that with the ever improving Japanese and a dangerous USA on the hunt for an upset, and suddenly you have some drama to look forward to.
Scotland last faced the US over a year ago. They won handily at the time, but the Eagles have been on the improve and a loss to them will be likely to be enough to keep Scotland out of the finals. The main risk comes from Samoa, though. It's been over two years since they faced off – with Samoa coming away with a very handy victory.
Scotland has a hard road to hoe if they are going to make it through the pool stage and it doesn't get any easier if they manage that as they would then face the battle-hardened winner of the Pool of Death.