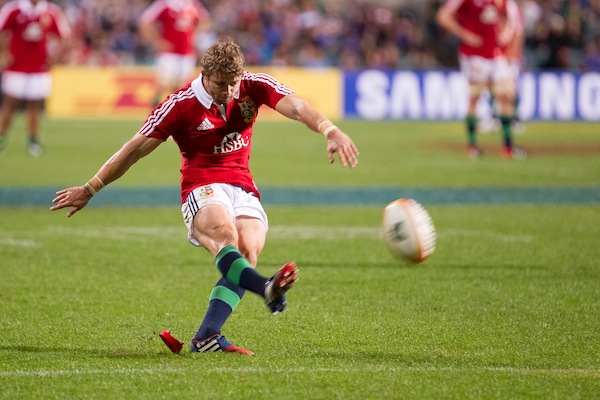 Wales come into the Cup at fifth in the world rankings. It's an indication of how competitive their pool will be that they are widely tipped to miss out – perhaps even behind Fiji. It will be a tough ask for the Dragons, but their strategy works well in tournament Rugby.
1.  Halfpenny and Webb
These two blokes would have rated a mention in this article in any case, but they are here for all of the wrong reasons. Both suffered injuries in last Saturday's warmup win over Italy. Furthermore, it has since been confirmed that both will miss the World Cup.
Rhys Webb had recently asserted himself as Wales' first choice scrumhalf band was being hailed as a player to watch for the Dragons. He'll be replaced in the squad by experienced campaigner, Mike Phillips, who was a surprise omission in the first place. What they lose in dynamic play, they'll make up some having Phillips' experience on the bench.
Halfpenny is even more of a loss. The little fullback is a threat both with the ball in hand and with the boot. His goal kicking is worth naming him for by itself, but he s agle and has speed to burn, as well as the hands to set them up for others. He's been replaced in the squad by Osprey's prodigy Eli Walker, though it will likely be Liam Williams who takes his place in the team.
2.  Warrenball
Warren Gatland has a certain style in coaching attack. When you read down the team list, you notice a proliferation of massive backs. A starting side for Wales is likely to have four backs well over 100kg – each a fast and explosive athlete. Wales relies on these blokes running straight, hard lines at a weak shoulder and relying on the flyhalf or fullback to put them into the right place at the right time.
There has been a great deal of discussion among the Welsh pundits as to whether this style of play has merit and whether it has outlived its usefulness. The consensus seems to be that it has. Wales' inconsistent performances in the Six Nations tournament and in other internationals are testament to that.
But the World Cup is a different kettle of fish and I think that it is exactly the stage where 'Warrenball' can be effective – provided you have the depth. It can really suck the life out of dynamic opposition. It is a simple, well rehearsed plan. As such, if there is an injury, it is easy to have replacements prepared. That's a bonus in a tournament where management of injuries has as much to do with the result as the on-field talent.
3.  Tackle, Jackal and Bosh
Warrenball also relies fairly heavily on forwards who can win and hold onto the ball and defend their backsides off. Everyone needs a backrow which can defend, carry the ball and win it at the ruck, but – like everything Gatland does – Wales has a simple method of selecting the players.
They are specialists in their area, with Dan Lydiate providing the tackle, Sam Warburton the jackal and Toby Faletau the bosh.Warburton is the captain and is a breakdown specialist. He's close to the best over the ball the northern hemisphere has and he can win the pill for the Dragons. Faletau's main role in lfe is to move the gain line, and the number 8 takes his job seriously. He carries the ball more than any other Welsh forward and moves the line when he does. Lastly, Lydiate is a tackling machine. He only carries the ball a couple of times per game, but regularly tops the tackle count and doesn't miss many.
Again, with simple roles for each of the forwards, it enables a simple gameplan and makes it easier to produce replacements who can come on without having to change said plan.
4.  Six Nations Form
Wales are coming off a reasonable Six Nations tournament, where they lost just of their five matches – to pool A rivals, England. They've since lost one of their tuneup matches to Six Nations champions,Ireland, as well. During last November's tour matches, they went down to Australia, but got over South Africa and won an unexpectedly tight one over Fiji – another pool A rival.
It's hard to know how to read the form for Wales, but it sure will be an up hill battle for the Dragons.
5. First Up Against the Wall
It's generally accepted that there are three teams with a chance in pool A. It's also accepted that the team likely to miss out will be Wales. The injuries to some key players don't make it any easier. In fact, if George Smith's Fiji prophecy comes true, Wales will be first up against the wall in the revolution.
As it stands, it will take quite a run of luck for the Welsh to progress beyond the pool rounds this year. That's a real issue for the number five ranked team in the world.