ABOUT STRANGE GAME PLANS
The perplexing aspect of this encounter was that, at various stages throughout this match-up, the Bokkes could have taken this game but they applied less of the defensive intensity that they have showed after the initial loss to Japan and they never/rarely unleashed their normally effective Backs.
Last week against Wales the Springbok Forwards had 374 Ruck Involvements (RI).  This was second only to Ireland's 389 RIs against France.  Yet against the All Blacks the Springboks had only 213 RIs.  Was this just one game too many for some of their tired bodies?
Francois Louw had an impressive 37 RIs (25A/12D) and had 2 TOW.  All other Springbok Forwards had fewer than 30 RIs and only replacement Alberts had 1TOW.  Only Front Rowers B Du Plessis and Mtawarira had >20 RIs.
There were some early glimpses of the ball-carrying skills in the Springboks Back Line but they were never unleashed.  Players such as Le Roux, Peterson, Habana, De Allende and Kriel have the ability to scythe through most defences but the game plan was obviously to grind out a win.  This attacking power was never unleashed.  Despite those early glimpses of real attack the lack of any Plan B was very strange indeed.  The Springboks had only 76 carries for 149m (3 Defenders Beaten) compared to the All Blacks 117 carries for 387m (20 defenders beaten).
By contrast the All Blacks, who have been clocking up around 260 Forward Ruck Involvements regardless of the opposition or game plan, increased their work rate to a high of 305 RIs with 6 Forwards having >30 RIs.
McCaw had an impressive 53 RIs (42A/11D) with 2 TOW.  Pretty good effort from the 34yo Captain.  Whitelock wasn't far behind with 38 RIs (42A/6D).
The All Blacks Forwards earned 7 TOW to the Springboks 3 TOW.
The All Blacks who dominated Possession (57% – 65%/49%) and Territory (67% – 72%/60%) also struggled to unleash their attacking power and appeared subdued after Milner-Skudder left the field after 48 minutes (11 carries for 94m).  Savea had a relatively quiet game (9 carries for 33m).
The All Blacks were dominant in tackling with 83 tackles from 86 attempts (97%).  The Springboks missed 20 tackles (150 attempts).
It was really only the lack of discipline by the All Blacks (14 Penalties + Kaino YC) which kept the Springboks (6 Penalties) in the match.
RUCK INVOLVEMENTS
Remember:
Early means 1st or 2nd of player's team AFTER the ball carrier has been tackled and brought to ground.
Impact means active engagement: strong physical contact, changed shape of ruck, clean-out, protecting ball etc. (more than hand on someone's bum or arriving after the hard work has been done). Yes it's subjective – but as I collect all data at least it's consistent.
Impact DOES NOT equate to Effectiveness. I've concluded that coming up with an effectiveness measure is just too hard in the time that I have available – but open to suggestions.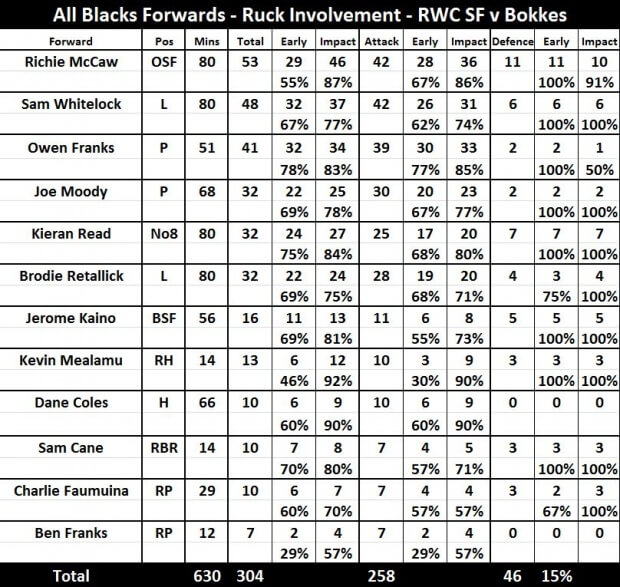 Comments:
McCaw was tireless at the breakdown. 53 Ruck Involvements is close to the tournament best.
The leading RWC performances include: Francois Louw 55 (68 min – Wales), Rory Best 53 (73 min – France); Jamie Heaslip 53 (82 min – France); Mike Ross 48 (65 min – France); Sam Whitelock 48 (80 min – Sth Africa), David Pocock 47 (81 min – Fiji); Sam Warburton 47 (82 min – Fiji) and Sean O'Brien 47 (82 min – France).
The All Black Front Row contributed 37% of the RIs of the Forwards with strong support of their ball carriers. By contrast they only made 22% of Forward's Defensive RIs.
O Franks and Moody led the way with big cameos from replacements Faumuina and B Franks.
Coles continues to have the lowest RIs of the All Blacks Forwards.
The All Blacks were intent on maintaining their defensive line and were standing off most rucks in Defence (Def Rucks only 15% of Total RIs by Forwards).
McCaw earned his 2TOW at a rate of 5 RIs/TOW. The All Black Forwards averaged <7RIs/TOW.
The All Black Backs contributed only 13% of the Total RIs but earned 2TOW at <4RIs/TOW.
Francois Louw had the top RIs for the Springboks. He was not well supported by his fellow Back Rowers.  IMO both Berger and Vermuelen have been very subdued at the breakdown in the RWC.
Louw earned his 2 TOW at a rate of 6 RIs/TOW.
The Springbok Front row had an impressive 43% of the Total RIs by the Forwards and an even more impressive 53% of the Defensive RIs made. This is a high for data gathered for Front Rows at RWC.
The Springbok Forwards tried to put the All Black ball carriers under a lot of pressure with Defensive RIs at 27% of Total RIs by Forwards.
Both de Jager and Etzebeth's contributions, especially at Defensive Rucks, were below their normal impact and work rate.
The Springbok Backs contributed only 15% of the team's Total RIs and 18% of the team's Defensive RIs earning 3TOW at ~4RIs/TOW.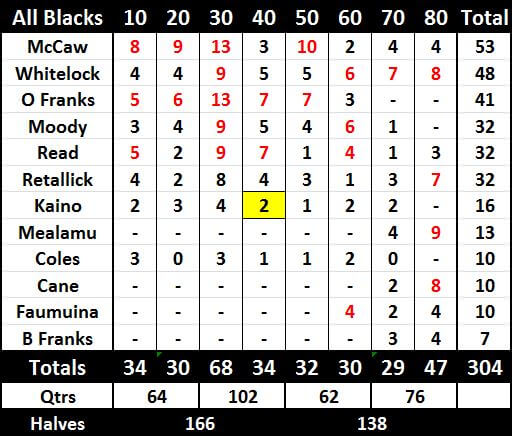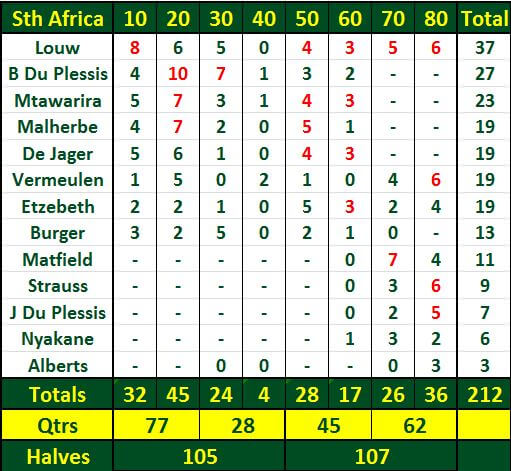 Comments:
The Springboks only matched the All Blacks ruck efforts in the opening 20 minutes.
The Springboks were totally overwhelmed in the 2nd quarter of the match.
All Black Locks and replacements put in big efforts in the closing 10 minutes.
LOOKING FORWARD
In the RWC Final against the All Blacks the Wallabies must win the "Battle of the Breakdown"!!
(Wallaby v Argentina stats still to come….)