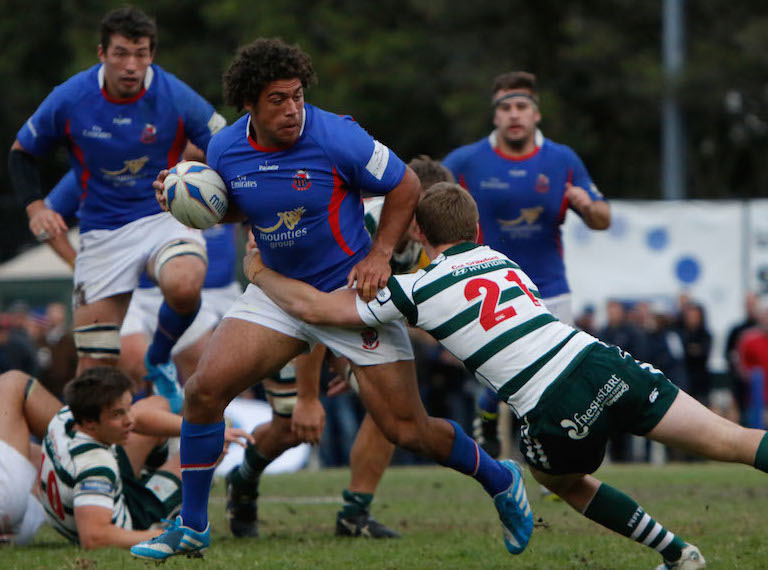 The Manly Marlins have recorded their sixth consecutive win with a 39-16 bonus-point victory over Warringah in Round 6 of the Magners Shute Shield.
Words by Ben Harrison photos by Karen Watson
Touted as the Battle of the Beaches, the top-of-the-table clash also saw the Mounties Cup up for grabs, with the home side holding on to the silverware for the fifth year running.
After another sparkling performance, NSW and Manly scrumhalf Matt Lucas heaped praise on his forward pack for really getting over the advantage line and driving through a tough Rats' pack. "We definitely won the game upfront, there is no hiding that," said Lucas. "Our forwards are the dominant part of our side. Our backs played well too and we capitalized on our pack's good play. It's a good start but we have a lot of work ahead of us."
The loss was Warringah's first of the season and sees them relinquish their perfect record and, with it, top spot on the table.  Scrumhalf Josh Holmes though applauded his side's effort, saying there were positives to take into next week's training.
"It was a tough game but we only made it hard for ourselves," admitted Holmes. "They capitalised on our mistakes, so it was disappointing for us.
"We'd won five games in a row, Manly are a good side and they got the better of us today. We will just go back to doing what has been working for us for the first five weeks and turn up next week prepared."
Poor ball security plagued both sides early in the encounter but it didn't dent either side's confidence. Rats' flyhalf Hamish Angus opened the scoring in the sixth minute with a penalty goal from 40 metres out, only for Manly fullback Shaun Treweek to equalise 10 minutes later.
It wasn't until late in the first half that an offload from Manly captain Ed Gower led to the ball being quickly shifted to the left, for winger Richard Hooper to cross in the corner for the first try of the match. The Marlins went into the break leading the Rats by 8-3.
It took just one minute in the second half for young Harry Jones to pick up the first of his two tries, with the debutant finishing of a class backline play from the Rats to score in the corner.
Warringah would then suffer a significant blow with captain Luke Holmes being sent to the sin bin for repeated infringements, leaving the depleted Rats to hold out a rampaging Marlins' pack.
After going to a rolling maul, they couldn't stop Manly prop Mitch Lewis from crossing for his first try of the season.
Warringah kicked a penalty goal courtesy of Angus and the Marlins would score once more through David Porecki before Luke Holmes made a welcome return to the field. The Rats mounted a comeback but to no avail, as two late tries to Kotoni Ale and Lui Siale sealed the deal. Harry Jones picked up his second with a 'falcon' helping the fleet-footed winger again once more in the corner.
The Marlins will face Northern Suburbs side next week, whilst Warringah take on a West Harbour side looking for revenge after their Round 1 defeat to the Rats.
Manly 39 (Kontoni Ale 2, Mitch Lewis, David Porkecki, Richard Hooper, Lui Siale tries; Shaun Treweek 3 cons, pen) d Warringah 16 (Harry Jones 2 tries; Hamish Angus 2 pens) at Manly Oval.
The Students were back to winning ways, picking up a bonus point on their way to a big win over Norths in front of their loyal supporters. Tom Carter showed his experience having a hand in a number of tries and grabbing a double himself, with winger Henry Clunies-Ross also bagging a double and proving a standout.
Sydney University 48 (Henry Clunies-Ross 2, Tom Carter 2, Tom Boidin, Jake Gordon, James Dargaville, Stuart Dunbar, tries; Daniel Kelly 4 cons) d Northern Suburbs 13 (Lachlan Porteous try; Jack Grant 2 pens, con) at University Oval No. 1.
The Rebels have caused their first upset of the season, knocking off competition heavyweights Eastwood and securing a bonus point in the process and getting their season back on track. Goal kicking really let Eastwood down, as the Woodies missed all five of their attempts at the posts, but managing however to pick up two bonus points despite the 31-25 loss. The results sees the Woodies sit second overall, whilst Souths (who have now won three on the bounce) retain seventh.
Southern Districts 31 (Kieran Black, Josh Hall, Ollie Samuela, Denny Godinet tries; Rohan Saifoloi 4 cons, pen) d Eastwood 25 (Mick Snowden 2, Nick Batger 2, Jed Gillespie tries) at TG Millner.
The Pirates have notched up their second win of the 2014 campaign, turning in a strong performance to secure a narrow defeat of a youthful Randwick side. Both sides picking up a bonus point, with the try-scoring Usaia O'Sullivan really showing why he is one of the top prospects in this year's competition.
West Harbour 26 (Matt Coles, Joel Brooks, Tito Mua, Usauai O'Sullivan tries; Dave Harvey 3 cons) d Randwick 22 (William Reece Hole 2, Alex Walker tries; Oli Nicholson 2 cons, pen) at Coogee Oval.
Penrith were unlucky not to pick up their first win of the season, after Parramatta stormed home to snatch victory in the dying stages. Despite leading 22-20 at one stage, the Emus couldn't hold back an impressive Two Blues outfit.  The match saw both sides pich up bonus points – with Penrith bagging two – as 11 tries were scored in the 37-34 home win.
Parramatta 37 (Andrew Cox 2, Sakaria Noa, Larry Hermens, Lani Tiatia, Evan Olmstead tries; Chris Nay 2 cons, pen) d Penrith 34 (Daniel Arona, Ethan Robinson Mate, Robbie Mate, Wilson Silipa, KJ McKenzie tries; Michael Mate 3 cons, pen) at Merrylands RSL Rugby Park.
In what was an absolute nail-bitter, Gordon held off a last ditch effort from Eastern Suburbs to record the narrowest of away victories at Woollahra Oval. The Beasties had the chance to win it after the siren but failed to convert, allowing Gordon to grab the competition points and rise one place to tenth overall.
Gordon 22 (Xavier McCoy try; Terry Preston con, 4 pens, Henry Carmichael pen) d Eastern Suburbs 21 (Daniel Gallagher 2, Seilala Lam tries; Henry Hudson 3 cons) at Woollahra Oval.
Magners Shute Shield ladder after six rounds

  Team

P

W

D

L

F

A

Df

BP 4t

BP <7p

BP

Pts

Manly

6

6

0

0

246

102

144

5

0

5

29

Eastwood

6

5

0

1

231

135

96

4

1

5

25

Warringah

6

5

0

1

197

148

49

5

0

5

25

Sydney University

6

4

0

2

195

117

78

3

2

5

21

Randwick

6

3

0

3

149

119

30

2

3

5

17

Parramatta

6

3

0

3

173

192

-19

4

1

5

17

Southern Districts

6

3

0

3

168

174

-6

3

1

4

16

West Harbour

6

2

0

4

175

197

-22

2

0

2

10

Northern Suburbs

6

2

0

4

125

179

-54

0

1

1

9

Gordon

6

2

0

4

100

197

-97

0

0

0

8

Eastern Suburbs

6

1

0

5

84

180

-96

1

1

2

6

Penrith

6

0

0

6

159

262

-103

4

1

5

5

 P=Played   W=Wins   D=Draws   L=Losses   F=Points For   A=Points Against   Df=Points Difference   BP 4t=Four Tries   BP <7p=Close Losses   BP=Total Bonus Points   Pts=Ladder Points