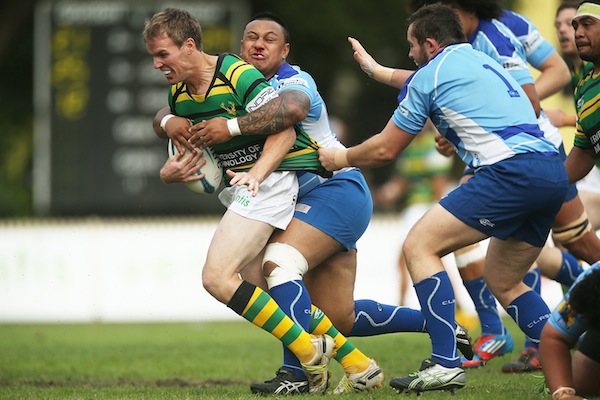 Eastern Suburbs will be keeping a close eye on Gordon's point-scoring Preston brothers this weekend, as they fight to prevent an upset at Woollahra.
Despite sitting four places above their opposition on the Shute Shield ladder, Easts' Director of Rugby Matt Barlow admits that Terry Preston and Mark Preston, who will play at scrumhalf and fullback, pose a serious threat.    "The Preston boys are certainly dangerous and are a serious mix of speed and skill.  It is important that we wrap them up when we can and shut down their combinations."
In the only Shute Shield game of the weekend, the match completes Round 9 and will be shown live on ABC TV, with the rest of the round's matches completed last weekend.
Fresh from a week off, Barlow added, "The week off really helped our guys focus on this weekend and recover from niggling injuries, we will be ready for whatever Gordon brings out to the field."
Barlow says the team will draw inspiration from their big win against title holders Sydney University in round three.  "It is important that we stay relaxed, that's what we did against Uni and if we can get another win on Saturday it will set us up nicely for next week.
"It will be a great game and one that will showcase some exceptional rugby down at Woollahra."
As always the 2013 competition will be broadcast live on ABC1 throughout NSW and the ACT on Saturdays from 3pm. Interstate viewers can watch a full replay of each week's Shute Shield game at 3.30am on Tuesday mornings on ABC1 nationally and rugby fans everywhere can catch all the action online at anytime on ABC iView.
Alternatively, rugby fans across NSW can tune in to ABC Local Radio's new rugby show, Settling the Score with Niav Owens between 2pm and 5pm every Saturday, for all of your country rugby and Shute Shield news. You can TEXT the program with score updates from whichever game you're at on 0467 920 222 every Saturday afternoon.  Make sure your team gets a mention each week and keep Niav up to date with the latest scores from your competition.
A full fixtures list, together with weekly previews and all the results can be found at 
www.nswrugby.com.au
.  Rugby fans can also follow the Shute Shield on Facebook via 
www.facebook.com/shuteshield
 or  
www.facebook.com/abcshuteshield
 where you can catch game highlights and a preview of the upcoming ABC TV match, and on Twitter via @shuteshield or @abcshuteshield where you can send your thoughts through the week and receive live updates during selected games. You can also catch highlights of every round on the ShuteShieldTV channel on YouTube.
---
Round 9B – Eastern Suburbs v Gordon @Woollahra Oval (3pm)
Eastern Suburbs: 1 Cooper Chapman, 2 Alex Walker, 3 Rob McMickan, 4 Keliti Vaingalo 5 Gabe Passmore, 6 Pauli Taumoepeau (C), 7 Ryan Hodson, 8 Andrew Hodson, 9 Luke Irwin, 10 Henry Hudson, 11 Damon Anderson, 12 Angus Sinclair, 13 Apakuki Ma'afu, 14 Anton Lavin, 15 Will Fay.
Gordon: 1 Tobias Gukibau (C), 2 Jim Handlin, 3 Willy Maumalanga, 4 Roni Scarano, 5 Mark Johnson, 6 Luke Rissman, 7 Gordon Broome, 8 Seb Murphy, 9 Terry Preston, 10 Erik Moss, 11 Vesi Tokalaulevu, 12 Tom Mathews, 13 Mathew Mcdougal, 14 Michael Manners, 15 Mark Preston.
Referee: William Houston.