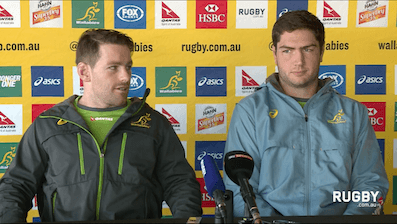 LONDON – Wallabies coach Michael Cheika did not front the media on Tuesday morning UK time after fanning the flames in a provocative press conference, Monday.
Bernard Foley took the lead instead, demonstrating why his 'Iceman' nickname has proven so hard to shake, while GAGR favourite Rob Simmons shed some light on Cheika behind the closed doors.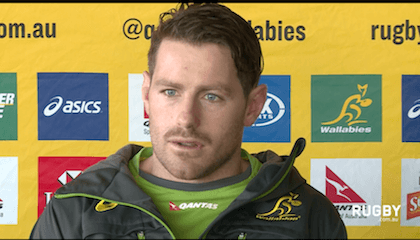 A cool, calm and collected Foley addressed the monkey on the Wallabies' backs following the 3-nil whitewash at home.
"Test footy is a matter of margins," Foley said, discussing the biggest lessons he learned in June.
"In a lot of those games we weren't that far off, the attack was alright but we were sloppy in defence and in discipline and that hurt us."
"The side's moved on and come a long way since June. The side has matured," Foley said.
The changing of the Wallabies guard post-Rugby World Cup has seen 13 new faces injected in to the side, including debutants Reece Hodge, Adam Coleman and Dane Haylett-Petty.
While the new talent is exciting and bodes well for the future, the biggest casualty of the Wallabies' generational shift is their ability to tap in to the mojo that carried the team into the Cup Final in 2015.
"This year's been very character-building for this side," Foley said. "For me it's just getting everyone up the level of knowing their roles in the style we want to play and just sticking to that.
"When this side is playing good footy we can match it with anyone in the world. What we're trying to do is be consistent and we have to do that for 80 minutes and not just for one half.
"We know that isn't enough at this level."
There was no clearer evidence of that fact than the Wallabies 27-24 defeat in Dublin last weekend.
The side struggled to kick into gear in the first half on attack, leaving them a 17-nil deficit to chase before Dane Haylett-Petty's 39th minute try.
"It took us the first 35 minutes to get in to the game and against a quality side like Ireland you can't afford to give them that," Foley continued.
"We created a lot of opportunities that we didn't take and that was the disappointing thing.
On Cheika's fiery form at yesterday's press conference, Foley left it to Simmons to elaborate further but did explain where his coach's excitement was coming from.
Foley said: "He's more disappointed with the loss on the weekend and it's such a big occassion playing England at Twickenham. They're a side that haven't lost this year and I think it's a great challenge for us."
Simmons produced the line of week so far with a chuckle.
"If you think he's fired up in a media conference, you haven't seen anything," Simmons said. "He gets stuck in to us every day anyway."
"I don't think this group needs extra motivation with things like that. We're all pretty well driven and excited about this weekend.
"I definitely hope it the game is [there for the taking]. We're preparing the best we can and whatever happens on the weekend will be what it is.
"I really enjoyed watching Billy [Vunipola] play. He's quite a talented No.8 and he'll be a big loss for their team. They play a lot of their footy off the back of his big carries so whoever has to fill those shoes will have a big task on their hands."