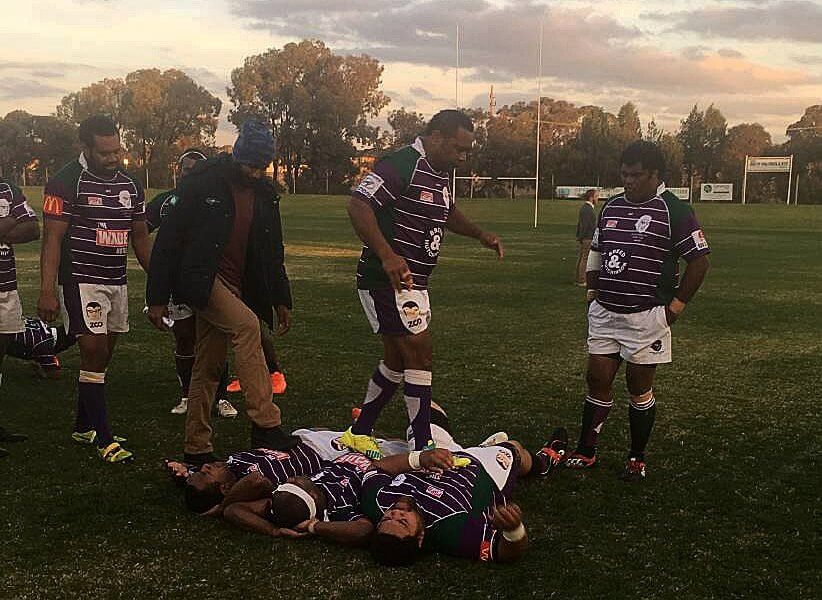 Christmas has come early this year for those folks out in the MIA, the Leeton Phantoms have been the gift that keeps on giving this season for their loyal supporters and have swept all before them this season. Can they bring home the bacon on their home turf?
Waratahs have been the only team to get within Cooee of the high scoring Phantoms in 2017 and if you listen to their inner sanctum, they'll tell you they had the Phantoms beat. Their thoughts don't matter at this stage of the season though do they? It's all about what happens at Leeton #1 Oval at 3:15pm Saturday.
The Phantoms have been through some lean years in recent times but have been slowly building over the past two or three seasons and have definitely hit their straps in 2017. With a strong island flavour, they are deadset bristling with pace across the park and have scoring prowess from 1-15.
The folks that I've been talking to keep telling me that Leeton are dangerous on the fringes but I've seen something different. They definitely push teams to the edges in defence and swing from side to side with ease but the area that I've seen Leeton exploit teams has been through the middle after creating mismatches.
The defensive structure will be at the forefront of Waratah's thoughts this weekend, with no doubt in their minds that they need to nail every ball carrier to the turf with ball in hand or face the prospect of a Leeton off-load and 70m in territory. Waratahs have some strong defenders and these guys will need to work hard but any defensive format is only as strong as the weakest link and there are some soft defenders in the Waratahs 1st XV who need to step up if they want to hoist the silverware on Saturday afternoon.
Leeton have been pretty patient in defence from what I have seen this season, they're happy to tackle and tackle and tackle, not worrying about pilfering too much but relying on strong mid-section contact to force errors and then counter attack. Guys like Simon Vunilagi and Bill Bevan are the back bone of the Phantoms defence and will be keen to give it to Waratahs on this front.
While the Phantoms are avid ball carriers and obviously enjoy throwing the pill around, one area of their game that they're not so confident in is their set-piece and I reckon this is an area of the game that Waratahs will be keen to exploit. Waratahs had Leeton's measure at scrum time two weeks ago and if their form in this area continues, it does expose a weakness in the Phantom's lineup.
Lineouts are pretty even, however Waratahs showed last weekend against City that they can pilfer lineout ball if the opposition throw is not accurate. This is an area that Leeton have shown a lack of focus at times and if they aren't accurate tomorrow, they could find themselves on the back foot here.
Both backrows work pretty hard, albeit with different focuses for their respective clubs. Sam Bunny showed some great individual skills for some long range efforts last week and Waratahs will be hoping he emulates that form this week. I wouldn't be confident that he'll get the same leeway from the Phantoms cover defence in the big dance.
Veriti Tupou has been a key player for the Phantoms this season and young Tom Hallam from Waratahs will have his work cut out for him chasing Freddy around. The sniping runs that Freddy has been able to execute this season have been the starter for some serious linebreaks and shutting down this aspect of the Phantoms game around the rucks and through the middle is going to be important in the GF.
During the regular season, Leeton have scored 881 points to Waratahs 584 which shows you that in 14 games, they scored roughly 63 points For (Waratahs 41). Defensively, Leeton only leaked 194 points (avg 14 per game) vs Waratahs 321 which equates to 23 points per game.
2017 results for these guys look like this:
Round 3: Leeton 40 bt Waratahs 36
Round 10: Leeton 54 bt Waratahs 27
Finals Week 2: Leeton 66 bt Waratahs 27
What does this mean in terms of results for the Grand Final? Probably not much, but it's worth looking into these figures just as an insight into their previous results.
This weekend is an historic occasion for the competition as it's the first time in SIRU history that they've taken the GF away from Conolly Park. It'll be interesting to see what sort of crowd show up to see Leeton run round on their home turf and what impact this has on their performance.
The weatherman is tipping a mostly sunny 16 odd degrees in Leeton this weekend which should make for a sensational platform for what should be a really entertaining game of rugby. Expect to see plenty of strong tackles and Fijian flair on display in this game as the Phantoms attempt to bag their first GF on their home turf.
SIRU2017 Grand Final kicks off at 3:15pm at Leeton #1 Oval
Referee: S Donelan
Waratahs:
1. Harry Cook
2. Jock Munr0
3. James Daley
4. Austin Wallace
5. Joe Mullany
6. Harry Hosegood
7. Sam Bunny
8. Dave Armstrong
9. Tom Hallam
10. Xavier Chigwidden
11. Dan Selmes
12. Tim Corcoran C
13. Matt Shortis
14. Tom Hobbs
15. Ooon Bonner
Coach. Angus Macleod
Leeton:
1. Kula Kaloudonu
2. Tim Rolls
3. Si Ratudradra
4. Tino Semeti
5. Emori Vueti Vulagi
6. Dennis Feagi
7. Bill Bevan ©
8. Simon Vunilagi
9. Veriti Tupou
10. Jimmy Moore
11. Joe Ratu
12. Noa Rabici
13. Adriu Tagilala
14. Joe Tuidreke
15. Petero Tautusi
Coach. Marika Vunibaka