Just a quick word of Good Luck to the lads leaving on the Under 18s School boys national championships trip.
Head Coach Tyrone Tepaiho and Team Manager Peter Garden have done a fantastic job organising the squad after a number of last minute withdrawals due to injury.
South Australia will face the Northern Territory, Victoria 2 and Lloyd McDermott National Indigenous.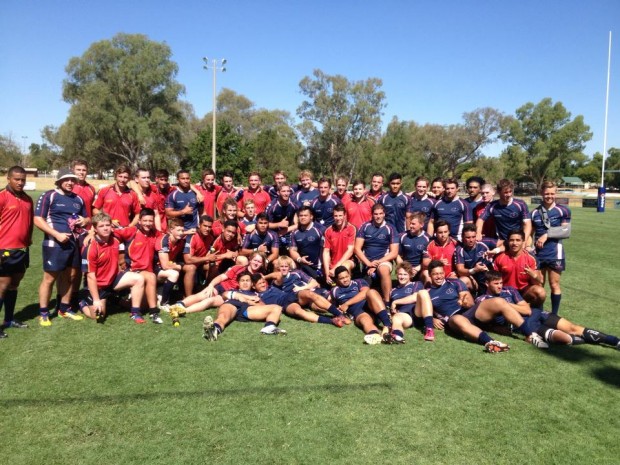 Schoolboys representative Liam Hamilton recently completed work experience at SA Rugby and has compiled a brief write up on each of his team mates:
 Mark Masefield is a well all rounded player, with good skills, hard running lines and a solid tackle.
Jacob France is a hard working front rower, Jacob is a strong ball carrier and is dangerous around the break downs.
Kohban Fry is a damaging front rower, with a strong ball carry he leaves his mark on every contact situation he enters.
Zen Du Preez's height gives him an advantage at line out time along with that Zen uses his size to advantage making strong ball carries and tackles.
George Booth's work at the breakdown is next to none. George always seems to get himself in the mix and come out with the ball time after time.
Liam Hamilton is an important player at lineout and scrum time ensuring that there is clean ball. Liam has good ball skills and talk amongst the forwards.
Treymaine Butler has got pace to burn with a step to die for. When he is unleashed on the wing no one is going to catch him.
Chad Bowker's ability to play a number of different positions is defiantly a strength of his and adds flexibility into this South Australian team.
Ryan France has a massive engine and his work rate is through the roof.
Michael Marshall is a hard hitting and running centre. Michael represented the state men's team just one week after his 17th birthday which made him the youngest player ever to do that.
Joel Astle has tons of natural ability, with quick feet and amazing ball skills. Joel can change a game in a matter of seconds.
Waretini Herbert's ability to read the play and play what is in front of him is by far one of the best in South Australia.
Emmanuel Kontakos gives 100% with whatever he is doing. He is always looking for the ball and when he does get it he becomes a damaging ball runner.
Riley Matthews is a stand out leader on the field, despite his size Riley is hard ball runner with a solid tackle.
Estian Strauss the hard working number 8 does not a miss a tackle, he hits rucks hard and tears teams apart with his running lines.
Jayden Brougham has a serious set of wheels and is deadly on the counter attack. Once he gets himself into some space no one is catching him.
Zach Burgess can play anywhere in the back row, he is a work horse on the field who links up well with everyone around him.
Gerard Dahl is a calm and collected fly half, his ball delivery will be crucial to unleashing the pacey outside backs.
Elliot Robins is a well skilled back rower, Elliot is dangerous around the breakdown and in tackles he also has good ball skills with hard running lines.
Freddy Kamen will play pivotal role in the backline's success. His passing ability will always make sure the 10 gets clean ball.
Mark Tanielu's hard ball running is a stand out in this team, when he goes into contact he makes his presence felt.
Will Marschallek is a stand out ball runner, with his massive presence Will can terrify opposition defences.
Kaleb Joppich is a fast, hard running winger, when the ball gets out wide to him that is when he does most damage.
Jerome Wills has a serious set of wheels that can burn rubber when in space.
Jay Mulvaney is hard work around the park. His work often goes unnoticed.
The boys should have a fantastic trip, and with a strong squad should come home with a few wins and a tonne of experience.