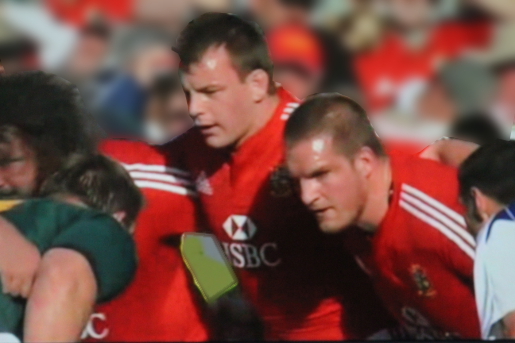 The British & Irish Lions forward pack will be formidable in 2013. They will be entitled to favouritism at scrum time but will not have their own way over the ball.
The Lions selectors will have to select their forwards with great care because a depleted Wallabies team competed well up front against England and Wales in the 2012 Autumn Tests.
In the past Lions' coach Gatland has chosen players for Wales who play club rugby in France, and he will have good look at those who are not playing test rugby just because they play in the Top14. But he is on record as being critical of the strength and conditioning programmes of French clubs and also, will be mindful that the 2013 Top 14 final will be played on the same day that the Lions play a warm-up game in Hong Kong.
Toulon could be playing in the final with two of his props and perhaps a flanker and a lock.
As mentioned in the article about the backs: my squad has 21 forwards and 16 backs in it and there will be some hard heads selected that aren't necessarily in dominant form for their Test team. Also as mentioned: I have paid no regard to how many of the players, or how few, are from a particular country.
---
Props
Since there will be typically two loosehead props [LHPs] and two tighthead props [THPs] in any matchday team I have chosen three LHPs and three THPs to tour.
---
Loosehead props
Cian Healey was an average international scrummager at best not too long ago but his propping work has improved in that area and he is seldom bested. Like a lot of elite LHPs, the Ireland man of the match against the Wallabies in the 2011 Rugby World Cup offers a lot around the park and at the breakdown. He is over the line in front of other candidates now.
Andrew Sheridan suspected he would be overlooked for England selection when he signed up to play for Toulon for the current season. Ironically, he is usually preferred to start for Toulon ahead of teammate Gethin Jenkins, who has no problem being selected for Wales whilst playing his club rugby in France.
Sheridan is in top form and although he is 33 years old now and has had two operations on each shoulder, the hard-head has a history of destroying Australian scrums. And Toulon have just signed him for another two years.
Gethin Jenkins has started in only four games this year for Toulon because Sheridan has kept him out of the run-on team. He is not the combative prop he has been in the past and doesn't look to be match fit nor in great shape. Also, his signature poaching of the ball is absent. He still makes the team for his record in big matches and his Lions' experience in 2005 and 2009.
Missing out: Alex Corbeserio will miss all of the Six Nations matches and though he was in grand form last year he will find it difficult to prove his case when he gets back on the park.
---
Hookers
Rory Best was not even sure of getting on the Ireland bench at the beginning of the season but he is playing the rugby of his life at the moment. He is the best all-round hooker available and the most consistent. He's no pot plant in open play either as his long run for Ireland against Wales demonstrated.
Dylan Hartley missed the Autumn Tests but is working his way back into the England side and will start next weekend against France. He is just the type of combative forward that the Lions need against the Aussies but sometimes the red mist comes down and he becomes his own worst enemy. This petulance and standing up in scrums are his greatest faults.
Matthew Rees, a Lion in 2009, gets my vote for the third hooker spot. Others are more active around the park and dangerous on the burst, but they don't have his hard-head factor.
Missing out: Tom Youngs, a converted centre, has improved his lineout throwing and played well for England when Hartley was absent.
---
Tighthead props
Dan Cole had a top scrum performance directly opposite All Black LHP Tony Woodcock in the Autumn Tests to make him the best Lions' THP candidate at the end of 2012. He has also developed a penchant for poaching the ball at the breakdown by putting his hands on the ground in front of the ball and grabbing it when rocking backwards.
Adam Jones is a squatter, low to the ground on the crouch and difficult target for cunning LHPs at scrum time. He has started in just nine games this season because of injury and missed the Autumn Tests. He is playing in Six Nations now but his lack of match fitness has made him less effective and it's why I rate him below Cole at the minute.
Mike Ross is precious to Ireland and is probably the best of the other candidates but all are far behind Cole and Jones.
Missing out: Euan Murray has come back to some of his old form but maybe too late.
---
Locks
There are many good eligible locks that could be picked but few of them are true tighthead locks, like Brad Thorn and Bakkies Botha, who make a difference for the THP at scrum time and play enforcer-like games. Paul O'Connell, the 2009 Lions captain, may be back in time to play before the Lions touring party is chosen, but he has been out for so long that he wasn't considered.
I have chosen four locks and later I will add a utility lock.
Geoff Parling had a meteoric rise in 2012. He is one of the modern athletic big engine locks who are skilful, especially at lineout time, and can get around the park. He doesn't have the physical presence of a Simon Shaw but he puts in a lot of tackles and is no shrinking violet. He is also the England lineout general – not bad, and all in 12 months.
Richie Gray is a larger version of Parling and is particularly noticeble in open play though there is a bit of unproductive wildness about it. For two years he has been recognised as a 2013 Lions tourist but he has gone off the boil this season. Playing for a lowly club, Sale, and for a lowly rugby country, Scotland, has done him no good but he has looked better since Six Nations started.
Nathan Hines is 35 in the shade and hasn't played in a Test since the Rugby World Cup. He won't be picked to tour by many, but Gatland should be looking for a tighthead lock in the party – a tough combative player, in counterpoint to the style of the other locks. He's been playing well for Clermont and can bend the line when he runs with the ball yet has deft hands as well. But Clermont may be in the Top 14 final on the day that the Lions play in Hong Kong!
Joe Launchbury is a young bolter whose rise has been even more sudden than Parling's – from the start of the 2012 Autumn Test only. Just read the notes about Parling and add lightning quick around the park for a big man and you have Launchbury.
Missing out: Courtney Lawes would have been a front runner for the Lions tour little more than a year ago but injuries sidelined him from starting in any Test matches for England last year. His absence gave Parling and Launchbury a chance to shine and they did.
Pages: 1 2