I haven't come across too many people making a strong stand for Michael Cheika to remain on as Wallaby coach since the team's departure from the Rugby World Cup last weekend.
But there is a level of thought out there that the disappointing results of the last few years was just a continuation of a trend that commenced basically after we won our last World Cup way back in 1999. Ben Darwin, through his work with Gain Line Analytics has proposed as much for some time, whenever talk of a new Wallaby coach has been raised.
The truth is most of us are just guessing about why AUS rugby is in the state it's in. Every country has challenges similar or greater than ours. This drop has been ongoing now for 19 years. Cheika's results are completely in line with the trend downward.

— Ben Darwin (@bendarwin) October 22, 2019
Now Ben is a former Wallaby, a former top level coach and has made a living out of statistical analysis of team performances.  I, on the other hand, have not.  But I have done a nice pretty graph. I'm no statistician but I think it tells a story.
I mentioned this on our podcast , but here it is in a visual form.  What I've done is broken down Wallaby team win percentages into 5 year increments. Now there is some latitude taken with this as in the early years as, for instance, between 1899 and 1903 we only played 5 tests. And then none following 1914 until 1920, and again none from 1938 to 1946. But you get the idea.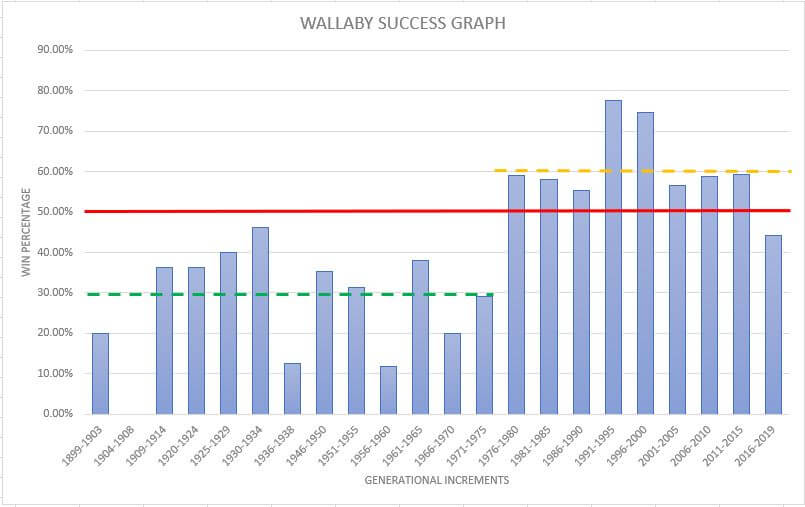 The Wallaby overall win percentage is just a smidge over 50% from my records (including games played by the Waratahs early last century, matches that were later deemed to be capped matches).
Delving into this a little more deeply, from my perspective Australian Rugby can be split two phases – pre 1975 and post 1975. It's actually more specifically around 1978 as a turning point, but as a 5 year increment it's 1976-1980 that becomes central to the upturn in Australian rugby performances.
Put simply, we were not a high performing team before this. We had a win record of just under 30%.
From that 1975 period onward, the record in just over 60%. Now obviously we had a particularly successful decade in the 90s when our win record was a over 75%, but the trend upwards started in the late 70s.
The upturn came as a result of a few endeavors, by all reports, including the appointment of Dick Marks as a National Coaching Director, the advent of the Australian Institute of Sport (after the debacle of the 1976 Olympics) and the emergence of that brilliant 1977/1978 Australian Schoolboys team. There are more, I am sure, but these are common reasons provided.
But back to the graph. It shows win percentage by 5 year increments. The red solid line shows the overall Wallaby success rate, the green dashed line shows the success rate until 1975 and the yellow dashed line shows it post 1975.
The theory that we've seen a declining performance line seems inaccurate in this graph (acknowledging Darwin is likely using way more in-depth information that I am). Regardless, if you agree that our success rate in the last four and half decades is about 60% (not bad for a country our size with the competition from other codes), then the win rate of the last four years of less than 45% stands out as a massive under performance. In fact the win percentage over this period is the lowest it's been since that 1971-1975 period when we inherited the "woeful wallabies" tag.
Now can we turn it around? I bloody well hope so as I don't think I can handle another RWC cycle of poor performances.  If we are to turn things around then perhaps we can look back to that critical moment back in the mid to late 70s.  It may not be another Dick Marks type appointment or next iteration of the AIS.  But it will take a commitment to looking at the approach to rugby coaching differently to how it has been done in the past.  A focus on intelligence and being at the leading edge of coaching and our approach to the development of the support in this country.
Because, just as they had with that 77/78 schoolboy team that brought us names such as Ella, O'Connor, Ella, Hawker, Darcy, Ella, Melrose and Roche, we have another generation of young stars coming through.  Recent success by the Australian Schoolboy and Under 18 team, as well as the Under 20s provides us another potentially rich vein of talent.  We need to ensure that the structure and support is in place to ensure the names of McReight, Wilson, Lucas, Harrison, Bell, Nawaganitawase, Pasitoa, Roach, Flook, Pollard, Gordon et al reach the levels their potential has them positioned for.