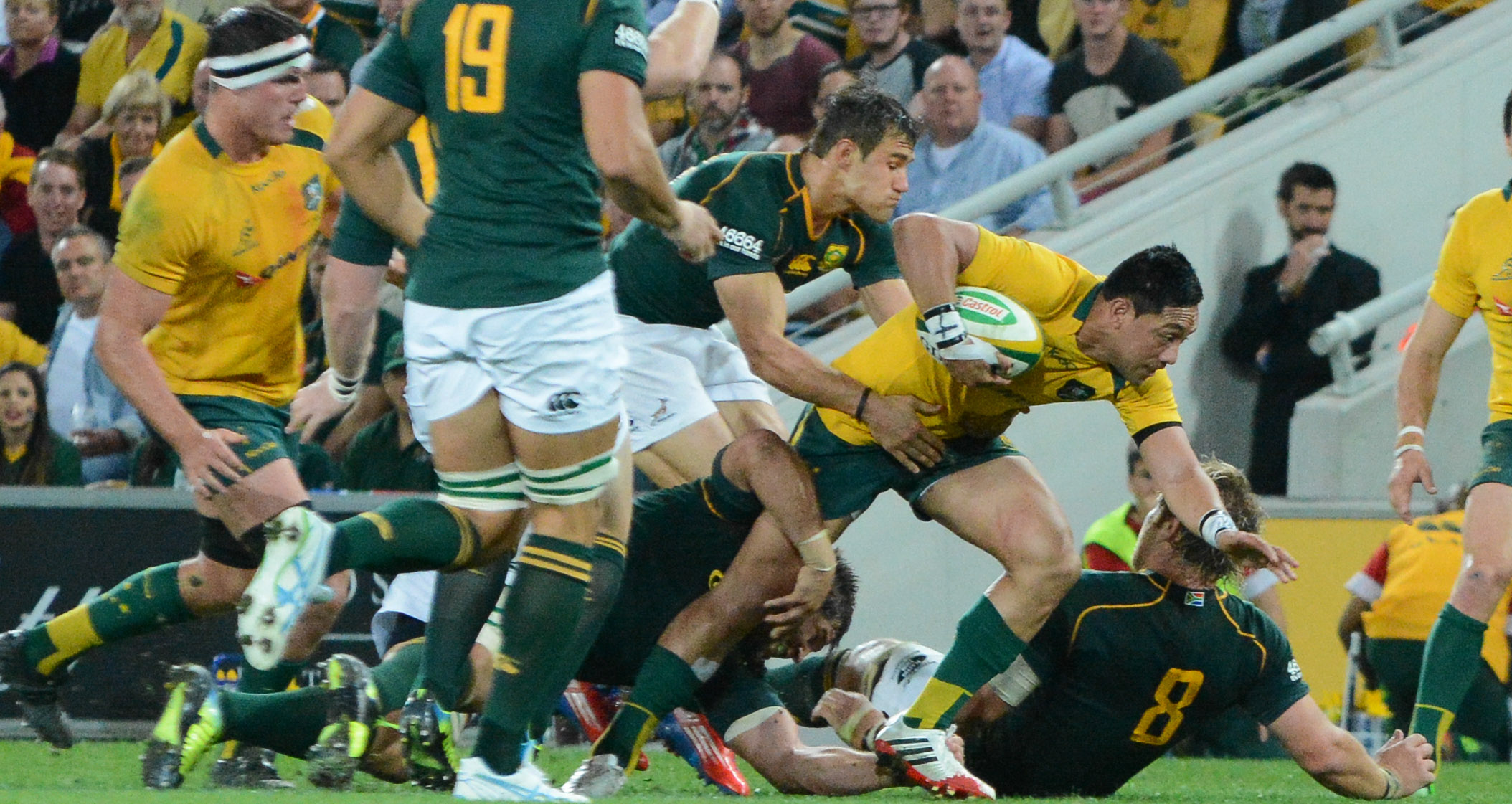 So against all my better judgement I sat down and watched the game again this morning. And here are 11 things I noticed:
Our forwards were TERRIBLE
One of the worst forward efforts I have seen in a long time. We were outmuscled in every facet. Our tight defence was weak and passive, our leg drive and support in attack was non-existent, our cleanouts were inaccurate, our set piece poor. The pack was comprehensively outpointed by the South Africans, and never gave our backline any front foot ball to play the wide game we wanted to play. No forward had a good game. We just didn't show up, and are clearly missing Higgers, Pocock, Palu, Horwill and TPN.
Our decision making in the red zone was once again horrible.
Nick Cummins made a break in the 16th minute, and went to ground just inside the Bok 22. On the right there were six Wallabies lined up against four Boks, with and plenty of space to use. On the left side, the short side, there were two Wallaby forwards against three Boks, with more Boks coming back onside. So what direction did we decide to pass? Left. Fucking left. And then Genia realised the error, and tried to turn it back inside but the pass is intercepted. This has been the story of the last few weeks, and so it was again on Saturday. The Cummins incident was far from the only time this occurred.
We gave away a thousand stupid penalties
Maybe not a thousand, but a bucketload nonetheless. Well maybe not a bucketload, but with Morne Steyn you can't give them any. But we did, and at crucial times. Some of it was under 8s stuff- Ben Mowen picked the ball up in the middle of a ruck, Quade Cooper ran up miles offside when the Boks were on attack. Others were more akin to under 10s or 11s, with players running away from support into the teeth of the Bok backrow.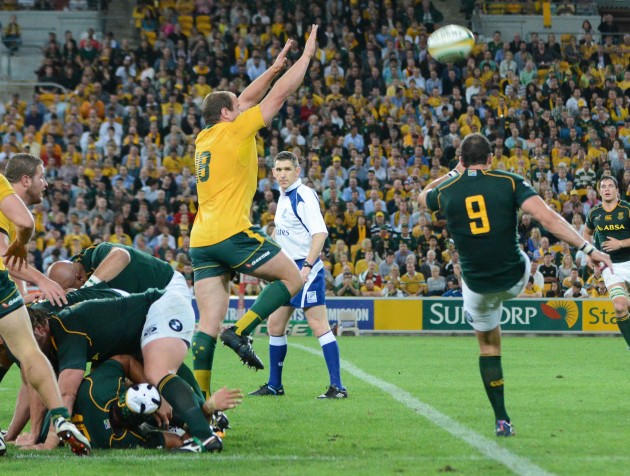 Did these guys even train together?
Honestly. The forwards were strung out and separated from one another. The backs had no interplay at all. The lineout was scratchy (but not bad), the scrum was dodgy, the high ball was again dealt with poorly. The team seemed to have no understanding of each other at all. And when the reserves came on it went from bad to worse.
No basic skills in the backs
While I heap most of the blame for last night on the pigs, the backs can't hold their heads high either. It took until the 71stminute to take advantage of a three-on-two overlap, despite the fact that we had at least ten opportunities to do so in the preceding minutes. But we crabbed across field, or passed the ball to the wrong man, or ignored the men outside. Bob Dwyer must have pulled his hair out. We took the wrong option about 50-60 per cent of the time. Genia, Quade and Lilo must take the blame for this.
We saw the return of sticky hands AAC
The old adage of 'AAC can't pass' was thoroughly debunked by the Waratahs this season, as he played a key role in distributing to the Tahs' red-hot outside men. But last night was a return to the bad old days, with AAC ignoring the space and men outside him to truck it up, often with no support. But I can't blame him too much, as he was more often than not shovelled the ball with nothing on and forced to make a decision that should be being made by a No.10 or No.12. We need AAC running sharp lines in the wider channels, not getting the ball going sideways in the face of a brick wall defence.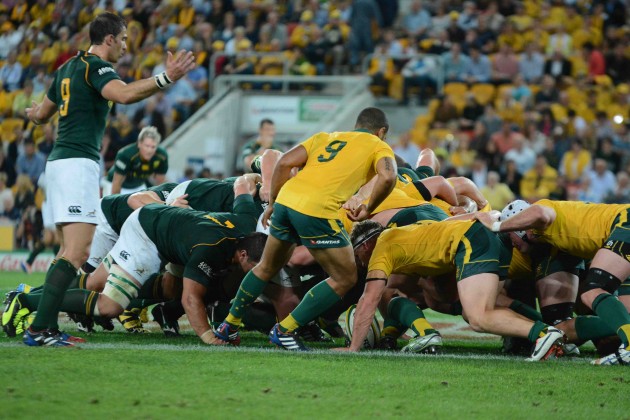 Israel Folau is still a work in progress
Which is unsurprising, given he has not yet played a full season of rugby. And he had a few nice moments last night, along with a few shockers. One will cause Link particular concern: in the second Bok try (scored by Jean de Villiers) Israel was gassed by Brian Habana (not a disgrace), and then seemed to completely give up on the play. He slowed to a jog, then propped himself next to the ruck to have a breather. I'm not sure he would have stopped the try if he hustled back, but it was still telling. And it wasn't the first time this has happened – he was saved similar embarrassment by the corner post in Bledisloe I when Julian Savea made him look like a 4th grade tight forward.
Our kicking for touch was abysmal
Remember when Mark Gerrard used to kick those long, raking drop punts into the corner from penalties? It put the Rebels right on the front foot, and turned a midfield penalty into a red hot tryscoring chance. This element of our game has been totally lacking this season. Last night JOC continued this tradition, by chewing off only 10 or 20 metres with each kick. Morne, on the other hand, was going full Gerrard and the Boks were reaping the benefits.
The Boks were goooood
I probably should have started with this one. Their forwards were big, hungry and, most importantly, clinical. Their cleanouts were powerful and accurate, their attack was simple yet effective, and their defence was dominant. In short it was a vintage Saffer performance. Their backrow were particularly brilliant. But we let them have it their own way all game.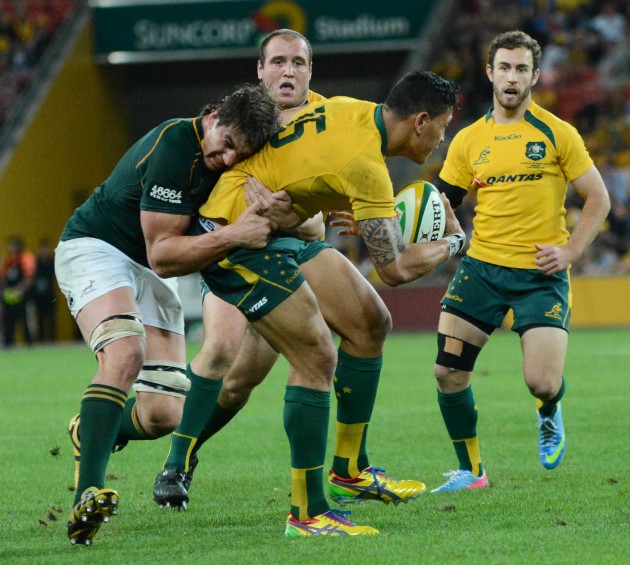 I can't make up my mind about Leali'ifano
I am still unsure if he has what it takes. He was almost invisible last night. The idea with a No.12 is either to have a second playmaking option, or someone who can crash the ball up hard. At his best Leali'ifano can be both, but at his worst he can be neither. And so it was last night. He shovelled the ball in attack, missed tackles in defence, and dropped one of our best attacking opportunities. Maybe he is better with Toomua at five-eighth. But I can't help thinking we are nearing the point where we should give James O'Connor a shot at the No.12 jersey.
Number 8 continues to be problematic
I think it is almost time to add yet another name to the long list of 'blokes who have failed in the Wallaby No.8 jersey when Cliff Palu is injured'. Benny Mowen was industrious last night, but was outmuscled and outplayed by Duane Vermeulen. He doesn't deserve the sack, but I reckon it is time to put him back to the blindside, and give another member of the illustrious BWHFITWNEJWCPII club a crack (Ben McCalman) with Scott Fardy moving into the second row. But this is once again evidence of how much we struggle without Cliff Palu, and the mountain of unseen work he can get through every game. And Higgers and Pocock are sorely missed as well.
What do you think? Am I on the money?