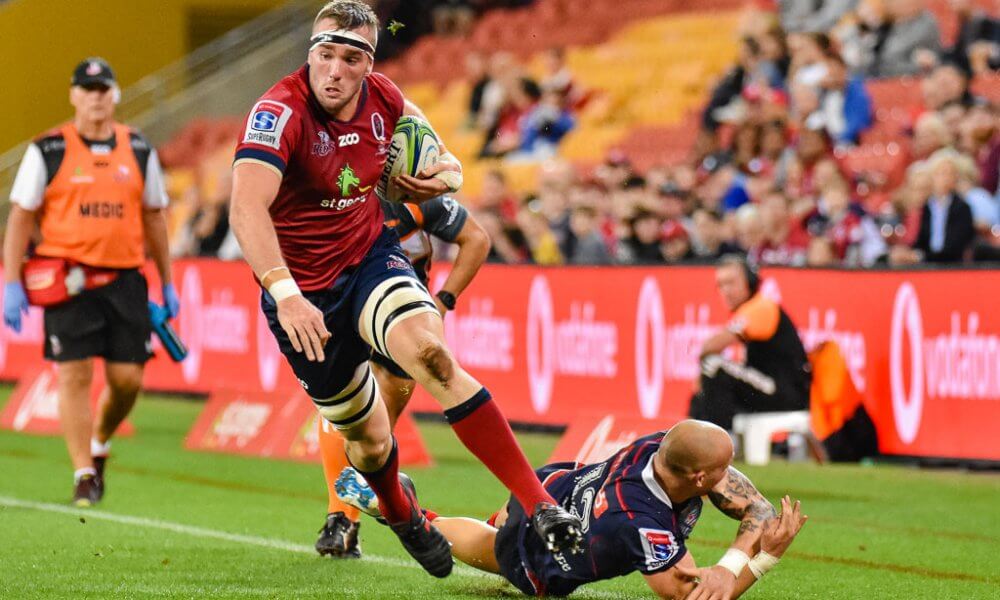 Welcome back to another edition of the Tuesday Top 5. This week we hit you with the staples of the Top 5. The Good, Bad and Ugly, Report Card, stats and our oddly popular feature on the Wallabies RDO's. Then we look fearfully at the Wallabies selection panel and wonder what could possibly go wrong!
The Good, The Bad and The Ugly
Good – Two out of three Aussie teams put in a very good performance this week. Both against New Zealand teams.
Bad – The Waratahs scraping home against an understrength Sunwolves who were missing all their internationals. They looked beyond ordinary and were getting absolutely hammered up front with the Sunwolves walking all over their scrum a couple of times. Add this to the defeat last week and it could be a painful season for the Tahs.
Ugly – I actually can't think of anything too ugly this week in Super Rugby. There were some great games (Tahs aside). That makes a nice change for the beginning of the season, especially after we had two teams face Kiwi opposition. So let's jump over to the 6 Nations for a minute. If you're an English fan (which I know none of you are!) then the loss to Wales would be ugly. But for others it would be Scotland going down to France and failing to break a 20-year losing streak in Paris.
Report Card
Reds A-: The Reds looked very good in their opening game for the season. They made the Highlanders really work for it and there were a lot of players who put their hand up to be taken notice of. If there was one aspect of their game that let them down it was the lineout, they lost 3 of their 8 lineouts which put them under extra pressure. As it was only their first game of the season, they could still have been shaking the cobwebs off, which bodes well for the rest of the season.
Waratahs D: They got the win, they scored 5 tries, but it was about as convincing as Obama's smile when he handed the White House keys over to Trump. They were playing a team with all their internationals out, while the Tahs played all of their Wallabies that were available. Their scrum got absolutely humiliated twice and their defence was, at times, optional. The Sunwolves helped them out with some very dodgy defence of their own. On a positive note for the Tahs, Dempsey continued to show good form and Hunt put in another strong match.
Brumbies A: This match left everyone asking "Where did they pull that performance out of?" It was a completely different side to the one that showed up last week, with nearly everything they touched coming off. I said last week that we saw glimpses of what they could do, well this week we saw a full-length feature movie of what they could do. Admittedly, the Chiefs didn't play well. But the Brumbies still had to make the passes stick, chase the loose ball and make the tackles. And they did. Their re-starts let them down and gave the Chiefs some easy possession, as did some of their exits from the 22m. Fix those things and it would be an A+. The problem now for the Brumbies? We have seen what they can do and it is up to them to prove to us all that it wasn't a fluke.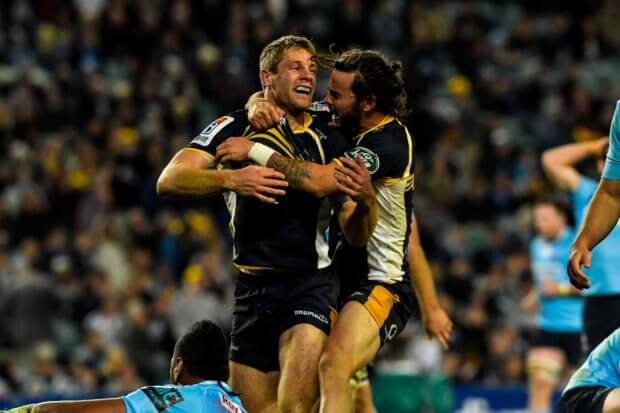 Stats and Stuff
| | | | |
| --- | --- | --- | --- |
|    | Reds | Waratahs | Brumbies |
| Tries | 4 | 5 | 8 |
| Metres | 455 | 640 | 463 |
| Carries | 101 | 160 | 95 |
| Passes | 132 | 227 | 129 |
| Offloads | 9 | 22 | 13 |
| Defenders beaten | 26 | 26 | 23 |
| Clean breaks | 10 | 23 | 15 |
| Kicks in play | 30 | 25 | 18 |
| Turnovers conceded | 9 | 18 | 7 |
| Tackles made | 119 | 66 | 71 |
| Missed tackles | 26 | 24 | 12 |
| Missed tackle % | 21.8% | 36.3% | 16.9% |
| Rucks won | 69 (97%) | 96 (96%) | 57 (97%) |
| Turnovers won | 3 | 6 | 5 |
| Penalties | 8 | 8 | 10 |
| Lineout success rate | 63% | 100% | 82% |
| Scrum success rate | 100% | 67% | 100% |
| Possession | 42% | 63% | 52% |
Into the second week and we now we have seen all the Aussie teams play.
Starting with the Reds, they were a real surprise packet scoring 4 tries breaking their scoring shackles from last season. The run metres were good and so was there use of the ball. An interesting stat is the low number of offloads. I would attribute this to Thornes desire to retain possession and reload. The defenders beaten is an impressive number and shows some real threat. I am surprised by the amount of kicks in play. For an opening season game against a Kiwi team the defence was not too bad. All over the stats are pretty good and indicate to me they have a good platform to build on.
Now I am thinking that the Tahs are channelling Forrest Gump playing keepings-off based on the number of metres they ran and passes they made. It looks like every kid got a touch but someone needs to stop the sharing and just run with the ball! High number of defenders beaten and line breaks make impressive reading until you hit the turnovers conceded numbers. Giving the Sunwolves only 37% possession to make the least amount of tackles of all the Aussie teams is really offset when you miss a massive 36% of your tackles. The other headache is the scrum success rate. Remember, this is against the Sunwolves. Regardless of the stats the Tahs ground out an ugly win and it got them the points. Much improvement required is an understatement.
The Brumbies. Did the stars align, are they going to be a Jekyll and Hyde prospect this season, something in the water? Good run metres, the stats suggest efficient use of the ball and a balanced mix of run, pass and kick. Line breaks and defenders beaten were pretty good and they finished the opportunities. The defence was much improved compared to last week. As good as it is, it's a double-edged sword reading these stats as I can't help but wonder if they can replicate them week to week. Out of all of the Brumbies stats there is one set of stats that is mixed in to the above and when looked at in isolation really provides some clarity around the performance. 60 Meters ran, 4 carries, 2 clean breaks, 3 defenders beaten and only one kick in play. Christian Lealiifano change in approach from his traditional kicking game really caught the Chiefs off guard and finally allowed the Brumbies to play the game they can and the fans have been longing for; ball in hand.
Overall there are some really positive stats by the Aussie teams but can we maintain the standard?
The other question is can we keep the try scoring going and maintain our 4 try or more per game scoring rate? So far, only the Tahs have let us down with their solitary try in the first round.
WALLABY RDO'S
It's only round 2, so I don't really want to read too much into the minutes played just yet – but having said that it looks clear so far that one team is using their Wallaby players more than the others. Nearly every Waratahs Wallaby played the full 80 minutes. Maybe Gibson has a different approach in mind on resting players or it could have come down to best laid plans and simply underestimation of the Sunwolves.
In previous years players like Folau, Beale, Foley and Hooper have played close to every minute of the season so it will be interesting to see how they will be managed going forward. The Sunwolves game is a good indication that it could be hard to rest players without risking ladder points.
Who stood out: Rodda – In what had to be a very emotional game for him, he played hard and had a massive impact.
Most of the Brumbies and Reds Wallabies front row looked good. Tupou, AAA, Fainga'a and Sio all put in good games and give a good core group to work with.
Raised questions: Now this is where it's getting interesting. Finally with some competition players who we would usually consider as safe might now be starting to look over their shoulder. If you have a look at the analysis here http://www.greenandgoldrugby.com/just-run-in-straight-waratahs/ and look at the form of Banks and DHP the conversation around Izzy might just have him switch to playing on the wing. But then again, looking at some of the wing options the conversations could get really interesting. No doubt Izzy offers a lot but will it be enough?
Blotted his copy book: Latu. What can I say other than he is was actually a pretty good player? It's just a shame his level of stupidity exceeds his abilities. What he could bring to the Wallabies is offset by the fact he could single handedly cost you a RWC. At the time of publishing we haven't heard the outcome of his citing, but is it worth the risk taking him?
General observations:
Kerevi – made some good, strong runs in attack.
Samu – again looked very strong coming off the bench.
Banks – showed pure speed and the ability to be in the right place to get the quick passes from Lilo. Avoided and broke tackles, he made it look easy.
Now let's return to the broader "informal" conversation.
Last week I said "I think if QC keep improving, Lilo's RWC chances will be over by mid-season." Well if CL continues to play the way he did last night, and QC keeps on improving then maybe it will be Foley's chances that are over by mid-season. This is contingent on Lilo putting in some consistent performances like last night, making sure it wasn't just a one off. Hopefully he can, it would be great to finally have some competition in the 10 spot.
McCaffery's performance on the weekend should have him on the Wallabies radar if they need cover or a different option. He worked well with Samu and has been a consistent performer when he has been given the opportunity.
Karmichael Hunt. He did the job again for the Tahs and has slotted in their backline nicely regardless of the combination.  He runs, tackles and has a high work rate on and off the ball. His chase and resulting pressure might have been the difference between Parker making and missing the field goal attempt. His from is bring him in to the conversation as an option in the centres. I would suggest he would be a great back up for Kuridrani at outside centre.
James Slipper. Another player making the most of his opportunity. His destiny lays in his ability to keep fit and allow him to perform week in week out. If he can he will certainly be hard to overlook after working with all the front rowers mentioned above and brings experienced.
Selection Woes
So this year we have a team of 3. Cheika, Michael O'Connor and new Director of Rugby (who Cheika will apparently report to) Scott Johnston for a selection panel. How on Earth will that play out? Will they be looking at players on form? Will the incumbents still be incumbent regardless of how they play? Will they turn on each other, 2 against one in a battle of wills? Will Cheika piss the other two off enough that they just go "F*** it, have it your way!"
This quote from new Independent Selector Michael O'Connor may give us some faint insight into what could eventuate.
"I'm a great believer in the more eyes the better, but ultimately I believe that the coach has to have the team he wants. But I know as a coach, I could be influenced by other people's opinions and it was always good to have that discussion with my staff about players. I think the more information the better and ultimately you're responsible for the team if you're the coach, you can take on the information or not. But it's always good to have the discussion and play devil's advocate about players and challenge the coach. I love being challenged on selection and why, and then I found that I had more clarity when I had the discussion if you were in 50/50 selection. I'm a great believer in it, but not all coaches are."
We have all heard stories about Cheika's willingness to make changes to selections based on the opinions of others, so will having O'Connor and Johnston in there actually change anything? It worries me when I read that part where he says that the coach has to have the team he wants. A little pit in my gut opens up and I start wondering if we are all filled with a false hope that this year, the World Cup year, will be different. It will be interesting to see who really holds the power in this little trio, does Johnston have the ability to go over Cheika's head? Just what does his position entail? I guess time will tell.
Tell you what though, if RA really want to make some quick cash they should sell the broadcast rights to those selection meetings. It would be a thrilling and entertaining reality show! Or at least sell tickets so people can sit behind a two-way mirror and see what goes on. Seriously, who wouldn't want to be a fly on the wall during those discussions?