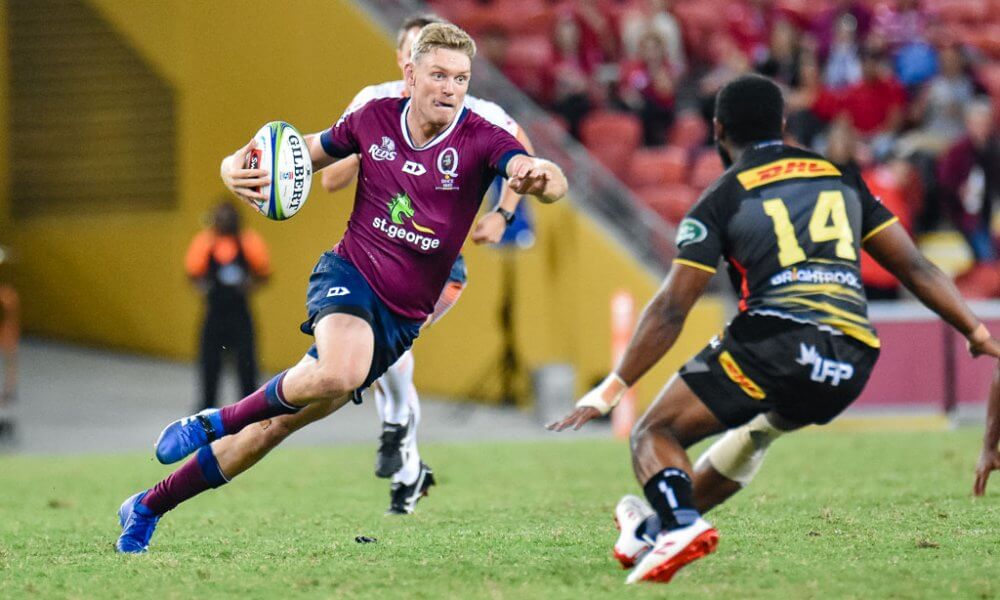 Well what an odd weekend of rugby that was. A few 0's on the board at half time, a few teams had a near complete form reversal from one half to the next and we had the fun of the Hong Kong 7's. After all of that I fear that this week's Top 5 will be a bit dull ….
The Good, The Bad and The Ugly
Good – It was great to see the Fijian Sevens team get the win in Hong Kong this weekend, giving them a record breaking 5th consecutive title at the tournament. They went into this years comp having won the past four Hong Kong 7's and proved too good for the French in the final this year.
Bad – I'm finding it really hard to actually gauge where teams are at this year. Sure, the competition looks to be wide open, but it seems like every week at least one team is below full strength due to players not playing for reasons ranging from injury to being rested to the birth of a child. Some examples? The Blues narrowly beat the Tahs, who were resting Hooper. The Tahs beat the Crusaders who were without 5 of their All Blacks. The Rebels beat the Highlanders who were without B and A Smith, Whitelock, Coltman and Li and then lost to the Sharks while they were missing Coleman, Genia and DHP. The Brumbies are easier to gauge, with the exception of the anomaly against the Chiefs, they are pretty much losing to everyone – however they have come up against mostly full-strength teams (as a Brumbies fan it is a shame that the Canes and Crusaders didn't rest their stars against us!) I am a firm believer that to prove you're the best you have to beat the best, and at the moment none of us can be sure that this is what's happening.
Ugly – A crowd of 9,559 showing up to watch the Reds play the Stormers. To put that in some sort of perspective, the Brumbies (who always cop a flogging for their poor crowd figures) have had figures of 8,500, 8583 and 12112 this year.
Report Card
Reds D/B+: I'll be honest, I had no idea how to mark the Reds this week so I gave them a grade for each half. They went from having next to nothing in the first half, to playing well and getting a good win. In my view they did ok, but the win can't totally negate the first half. They didn't really look like threatening the line in the fist 40, while the Stormers had 2 very near misses. The only thing that stopped it from being an E for the first half was the good defence that stopped those two tries. All credit to the Reds, they came out firing in the second half and got what turned out to be a comfortable win.
Brumbies D-: Once again the Brumbies totally blew it after half time. I'm getting more than a little sick of saying that. They did really well in the first half, scoring one try, coming painfully close for another and holding the Crusaders to no score. But from the moment the whistle for the second half went, they looked like a different team. The Crusaders came out firing and the Brumbies seemed to forget how to defend, missing tackles all over the field.
Waratahs B: After 20 minutes it looked like the Waratahs were done and going to be beaten by a big margin. But they clawed their way back, repeatedly using the high ball to Folau tactic and at one point looked like they were going to steal a win. The Blues aren't the easy beats of the Kiwi conference like they once were, so for the Waratahs to get this close was no easy feat. Lots still to work on however.
Rebels A: The Rebels put in a near complete performance against the Sunwolves, who never really looked to be in the match. They pressured the Japanese into some very costly mistakes and scored plenty of tries. It would have been an A+ if it weren't for their poor discipline. They gave away as many penalties (16) as the Waratahs (7) and Brumbies (9) combined this week. It is becoming a real problem for the Rebels, they currently sit with 88 penalties, compared to 61 for the Tahs, 59 for the Brumbies and 57 for the Reds.
Oh yeah, about that Mack Mason and flyhalf issue ….
Last week we touched on Mack Mason not getting enough game time to be able to have a chance to develop or get experience playing at the Super Rugby level.  This conversation has a natural segue in to the Wallabies options at flyhalf come the Rugby World Cup. Yes, it's a conversation that we have had many times and we all know roughly where it leads. So let's set the benchmark for this conversation with the All Black incumbent Beauden Barrett. Surprisingly his stats right now don't paint a picture of some demi-god like who commands what the ball will do.  Instead we see a player who is kicking near 80% and with decent number when it comes to try assists, turnovers, tackles and missed tackles. The numbers paint a picture of a complete player who is not brilliant at one part but consistent across all parts of his game.
Looking at the Australian flyhalf options there is no real contender from the Reds in this conversation at this point. So our usual suspects of Foley, Lealiifano and Cooper are the only real participants in the conversation. Looking at their stats it interesting there are some numbers that jump out for each of them. But when I say some numbers it's the contrasting numbers they each have. Starting with Foley, while his turn overs are low and his tackle count high his kicking is low at 65% and he is missing around 33% of his tackles. So right now he is well below the bar in both kicking and in defence. Lealiifano's kicking is in the low 70% range and he is making a high percentage of tackles, when he is in position to defend, but he is running equal second in the competition for turnovers conceded.  Cooper is our most successful kicker at this point and does well in the try assists. His expected frail defence is not too bad actually, but his turn over numbers are ugly and even more so are the 13 handling errors so far this season.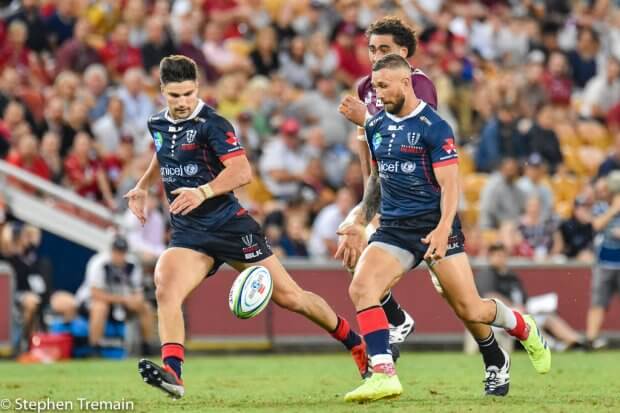 So what we end up with is part of the flyhalf we need, not the complete player like Beauden Barrett who we used for the bench mark. The Mack Mason story last week really highlights that Australian rugby has had years to look for alternatives but we just haven't really been willing to go beyond the known flawed contingent.
The compromise economy of Aussie rugby
When I started considering the whole flyhalf conundrum I ended up realising that really we have put ourselves here willingly and deliberately. Let's face it, when it comes to the three key realistic names for the flyhalf for the RWC we are already making compromises to make it work. Right off the bat I will put it out there that I think the tag "best before date" is applicable to at least one if not most of the options. While one is having his second coming, he is being benchmarked off a new mould after the old one didn't cut it for the Wallabies. Reinvented is fine, but it's still settling for the best of what's left from the past. Foley is a mixed bag. When on song he can be not too bad, he certainly won't be that "wow" player but he provides a basic and reliable platform to operate from most of the time. But I am not sure that is enough. With the try scoring issue that Wallabies shave been suffering over the recent past I would say it's strongly suggesting it's not enough.
This is not a new problem so where are the other options? This is where the compromise economy in rugby is really apparent. Do we take a chance on the new or different like Mack Mason, or Hawera, Isaac Lucas or even some outside option like Hegarty or Jackson–Hope? At the end of the day the compromise economy dictates that you stick with the old knowing it has not provided you with what you need but it's a known quantity and it avoids the risk.
But how can this be? It not like we didn't know this was an issue. Can you imagine if Cheika and RA were serious about finding new talent and reinvigorating the pathways and the game as a whole and demanded that these newbies and alternatives were mandated to play a certain number of games in the lead up to the RWC on the off chance we may unearth a better option? Nope, let's compromise and stick with what we know. It's a theme Aussie rugby covets, it's what we do and that compromise right now has Aussie rugby in many places we don't want it to be.
I know, what I am banging on about is all bollocks right? There is compromise in every selection. No player is perfect. That I can't argue, but in all honesty if you start to cast your eyes over the Wallabies backs for example even Gibson having to defend Beale due to his defensive deficiencies in previous weeks. There has even been talk that if the new selection regime pick players based on position, would Hooper get a run? Over Pocock, or do we compromise and move one to play out of position at 8?
The reality is the compromise Aussie rugby is making is far deeper than just compromising on the composition of a team to get balance. At some point we need to face the demons fully and realise  hiding players when its comes to defence, playing players out of position to get them on the field and not risking a youth development and continuing to persist with players that have not produced in the past is compromising the game. Four years ago we knew Aussie rugby had a deficiency in flyhalves. In four years, with the exception of the forced compromise of playing Hawera in place of a sick Lealiifano there really has not been much effort to find new Aussie flyhalves since the last World Cup. As for the argument that there just isn't any talent out there, well that leads to the question of if there ever will be with the diminishing numbers and should we just compromise and accept that Aussie rugby's best days are behind us?
Our Picks
Try of the week: This match-winning try from the Jaguares was pretty special.
"Oh dear" moment: The mistake from the Sunwolves that lead to a simple try for Billy Meakes.
Dud of the week: I won't put you through the pain of watching 40 minutes of rugby that could easily cure insomnia. The first half in the Reds v Stormers match was sleep inducing. Especially considering the match it was following.
Match of the week: Highlanders v Hurricanes. It was an incredible match to watch, leaving most who saw it exhausted!
What The? I think this one speaks for itself – kind of.