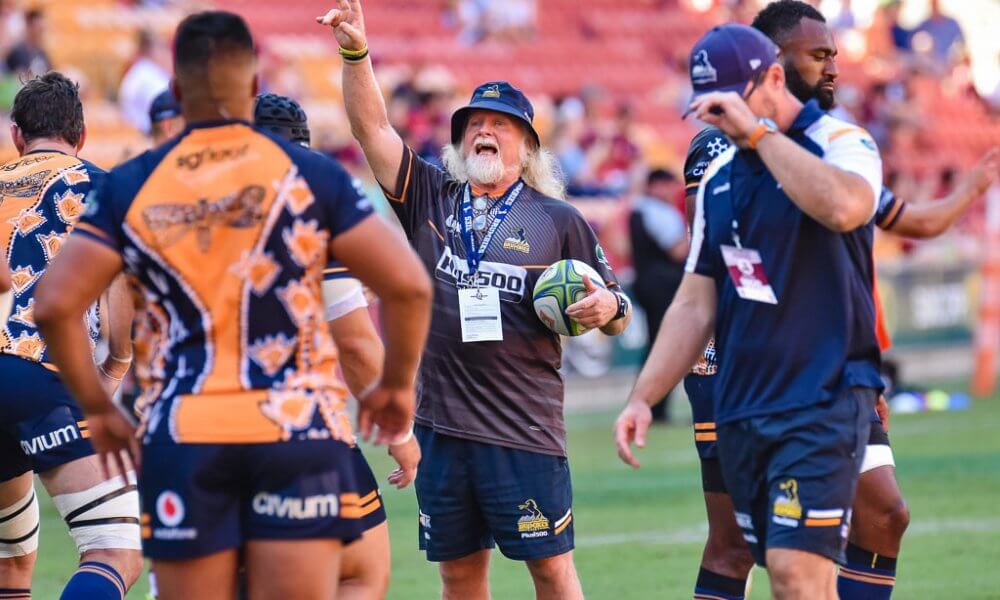 Rugby. Rugby, rugby, rugby. That is what we are here to talk about, and that is ALL we will talk about. Enough of all the extra-curricular rubbish. Just rugby.
You're welcome.
The Good, The Bad and The Ugly
Good – It was good to see two of our centres  having an impact this week. TK has been fairly quiet this season, but on Saturday night he was damaging. Kerevi also put in some good runs, he was the best of a poor side, and his running through the defence for his second try was a highlight.
Bad – News came out Monday morning that Damien McKenzie was out of the world Cup with a knee injury. I know he's a Kiwi, but I hate to see players ruled out of things like this with injuries. It will be interesting to see who the selectors go with, plenty of pundits are putting their money on 21-year-old Will Jordan, who is having an outstanding year with the Crusaders.
Ugly – 44%. Good if it's how much you are saving on your favourite rugby jersey. Bad if it's your team's win percentage at the end of the year. Ugly if it's the tackle success rate of a Super Rugby Game. Yes, on Friday night the Rebels were only successful in 44% of their tackles. I cannot emphasise enough how bad this is. It's beyond bad, obviously, it's ugly. (stats via espn.com.au)
Report Card
Rebels D-: The Rebels were tested for the first time on Aussie soil, and what a test it was. The Stormers came prepared to defend their butts off, and they did just that. The Rebels had no answer to the relentless defence, for the most part they were just unable to break the line. There was no plan B, they kept trying the same things that weren't working. The tackle rate enough was good reason to grade them this low, but add in the poor handling, repeated turnovers and the fact that they had 68% of the possession and 74% of the territory just tops it off.
Brumbies B: It was far from a perfect match, dropped ball and poor kicks could have prevented an even higher score, but it was still a good win for the Brumbies. They ran when needed, kicked with more smarts than we have seen in the recent past and best of all, didn't go heads down in the second half. It could easily have happened with the li0ns scoring soon after half time, but this time the brumbies had their heads on right and stuck with it.
Reds D: They were never really in this match, and the score actually makes it look closer than the match really was, thanks to the two late tries from Kerevi. Those players who stood out last week and had people listing them in their Wallaby squads failed to fire and the big stars struggled to have much of an impact.
Wallaby RDO's
This week saw Tevita Kuridrani play yet another full 80 minutes, meaning he has played more minutes than any other Wallaby. I can only assume that he will be rested during one of the South African games. Kerevi comes close, having missed just 5 minutes this season.
So who stood out? I though Kuridrani had a good game, adding a bit of a step to his usual tactic of trying to just break through the defenders. He looked a lot better when he had a bit of space on the wing than when he was running up the centres. Folau Fiangaa had another good game and showed us a whole new skillset! Genia didn't have his usual impact, but is still a mile ahead of his closest rival. Joe Powell had a very good game too, returning to some of the form that saw him included in the wallabies last year.
As for those hoping to push their way into the squad, two of the big names I keep going back to are McCaffrey and Slipper. McCaffrey is a workhorse, a beast at the breakdown, good passing game and tough as in defence. Slipper really adds to the Brumbies scrum when he comes on and his work around the field is outstanding. I've seen his name popping up on a few different "team of the week" lists, not bad for a player who came off the bench in the second half.
Cooper had a poor one this week, struggling to cope when the pressure was really put on. He made a few errors, poor passes and dropped balls. 3 tackles, 4 missed tackles and 3 turnovers committed – I'm not writing him off, but it shows that he is still susceptible to the same issues he had before.
Our Picks
Just a few for you this week.
Tries of the week: The Blues, Chiefs and Brumbies all put in some pretty special efforts this week. Love the offloads in the Chiefs and Blues tires!
Kick of the week: It's impossible to go past Folau Fiangaa's punt in the Brumbies v Lions match which led to the try above. Pretty sweet skills for a hooker! Here it is again.
Outrageous Stats of the week: There are a few stats within this one. In the Pro 14 Glasgow played Leinster. Glasgow won the match with 35% possession. While they were in possession, they managed to score 5 tries. While they were defending (which appears to be for most of the match), they had a tackle success rate of 91%. Impressive, right? Well it gets better, when you realise that the number of tackles was 331. Yes, 331 tackles, 91% of them successful. It gets better again, lock Jonny Gray made a massive 43 tackles and missed none. Yes, you read that right. 43 tackles made, none missed. Bloody impressive, right? So impressive that since Opta started tracking these stats however many years ago, there has never been a player in any of the top leagues in either the Northern or Southern Hemispheres who have made more than 34 tackles. Oh, and for all the tackling and defending, they only gave away 7 penalties.
The magic number… 4️⃣3️⃣ pic.twitter.com/CoaNJdo2jF

— Glasgow Warriors (@GlasgowWarriors) 15 April 2019
Turning our heads to the North …
With the regular seasons winding up in the Top 14, Pro 14 and Gallagher Premiership I thought we would do a quick check in and see what they have been up to up there.
Over in France Toulouse is leading the way, two wins clear of Clermont in second place. The big surprise to those who haven't been following the comp this year is Toulon who are currently 10th on the ladder. I can't recall when they were last placed so far down. If they stay where they are they may miss out on automatic qualification for next year's champions Cup. There are four round left, Toulouse are favourites to keep on winning, while it looks like it will be a fight between Pau, Agen and Grenoble for the relegation playoffs, with it looking likely that Perpignan, with just 2 wins from their 22 matches are definitely in the relegation zone.
The Gallagher Premiership has three rounds remaining and Nic White's Exeter Chiefs are sitting on top of the table with a handy 9-point lead over last years' champions, Saracens. They don't have the easiest of runs home however, playing the teams in 2nd (Saracens), 4th (Harlequins) and 6th (Saints). The fight to avoid relegation is well and truly on, with Newcastle sitting on the bottom of the ladder, but just 7 points behind Worcester and 8 points behind Leicester. Leicester did themselves a huge favour on the weekend, defeating Newcastle 27-22 and giving them the edge in the relegation fight.
The Pro 14 has just one round left before the finals. Glasgow and Leinster are topping their respective pools on 76 and 75 points. Pool A is much tighter than Pool B, with Munster in 2nd on 73 and Connacht on 61. Pool B has Ulster in 2nd on 52 and Benetton in 3rd on 52. With the to three teams from each conference gong through to the finals it looks like the only spot still up for grabs is third in Pool B, with Glasgow, Munster, Connacht, Leinster and Ulster all confirmed for the finals. Benetton (52 points), Edinburgh (51 points) or Scarlets (50 points) all have a chance of making the playoffs. It will likely come down to Scarlets or Benetton, as they are both playing the teams on the bottom of the pools, while Edinburgh is playing top placed Glasgow. But as we know, in rugby anything can happen.