Well that was a bit of an odd round. Just two Aussie teams in action, and one of those was a breakfast game! this week in the Top 5 we have given you things to mull over, consider, make suggestions on and just straight up argue over.
The Good, The Bad and The Ugly
Good – How bloody close is this season?! It's weirdly unpredictable (I enjoy reading all the frustrated tweets about how poor tipping was again this week), teams are beating teams they have no real right to beat, and, like I said, it is close. Apart from the Crusaders who are miles ahead and the Canes who are also pulling ahead, the next 10 teams are all have between 26 and 20 points. How awesomely unpredictable! It's that time of the season where teams will start falling away, but it's really refreshing to go into the back end of the season having no idea whatsoever who the final 8 teams will be!
Bad – I could easily change this to "Dumb" or "Probably cost my team the win". Can you guess who I am talking about? Jed Holloway and his swinging arm. Look, I get that he was frustrated at being held into the maul. I'm sure Henry Speight was too when it happened to him on the weekend. Or any player who was held onto by the jumper in a maul in any other game over the weekend, and let's face it, it happens all the bloody time. But how many of those players decided to swing their arm at the head of the player holding them? Just one. Henry smacked the other players' arm away, a move I have seen many times. Jed went for the backhand elbow/forearm to the head. I understand that a captain feels they have to try and defend their players, but for Hooper to defend it by saying "It's not intentional on the head" and "he wasn't looking at him", well if you watch the footage Holloway did turn and look. Even if he didn't look all the way around, he was in a position to see exactly where the players head was. It was pretty clear cut, he made contact with the players head, red card. But I love that Fox Sports tried to drum up some controversy by questioning on Twitter whether people thought it deserved a red. The replies were unanimous – "YEP!"
And while we can't know for sure that the red card affected the outcome, making your team play a man down for 35 minute definitely isn't going to help them win.
Ugly – Just over 10,000 fans heading out west to watch the Tahs v Sharks. From what I've heard it isn't an easy place to get to, either that or some Sydneysiders just couldn't be bothered heading out of the city, but it isn't doing much for rugby in Sydney's west. With no teams based out there, it looks as though interest is rapidly declining. 
Report Card
Waratahs D-: What a dire game that was. There was really not much of note about it. Handling was better than last week, but discipline was worse with 2 cards undoubtedly having an impact on the outcome. There was no one who really took control of the game and there were patches which appeared to be outright amateurish. On paper it looked like it was a pretty even game, but watching it I never really got the sense that the Waratahs were in it and the score line is a bit flattering given one of their tries came after the siren. Unfortunately, Foley's missed conversion cost the Tahs a bonus point, something which could come back to bit them considering how close the conference is turning out to be.
Brumbies C-: Another tough defensive game for the Brumbies, and I wonder just how much last week's effort took out of them. They were in the game right until the end, but had patches of poor handling that let them down, as well as some questionable kicking. The maul isn't the weapon it once was for the Brumbies (no matter how much the commentators talk it up as being the most dangerous part of their game) and the Brumbies just weren't able to get through the Jaguares defence when it counted. But to walk away from a SA/Argentina road trip with a win and a bonus point loss is still commendable.
Looking ahead …
With 7 rounds to go in Super Rugby we could be in for some interesting games if you're willing to surf some time zones. The plus of RWC years is it throws up whacky results and as it gets closer to the end of the competion there could be some more interesting twists and turns as the RWC player "cotton wooling" process intensifies. It's not often we get to part way through a Super Rugby season and only have one real candidate for the spoon, one team just behind the bunch, two teams running away and the remaining 11 teams all within two games of each other purely on win points. Factor in the bonus points and 12 teams are all within two games reach of each other.
As for the Aussie conference, it's tight with only 6 points between them. But factor in the upcoming bye for the Brumbies and that they all still need to play off against each other there are some very influential games to be played.
The Rebels need to get their form back quick and bank some points before dealing with the Tahs, Crusaders and the unpredictable Chiefs to close out the season.
The Tahs have a challenging run home with a South Africa double away then home, the Jaguars and Rebels that will all be season defining.
The Reds can be the spoiler for any or all of the Aussie teams and certainly climb the table if they get a few results. If they can get past the Jaguars, Chiefs and double dose of the Sunwolves they will be looking to upset the Aussie conference.
Its critical the Brumbies bank points against the Blues before their bye as even having the double crack at the Sunwolves and the Bulls at home will still mean that the Tahs away and Reds at home are pretty much must win games.
Wallaby RDO's
This week once again saw Tevita Kuridrani playing the full 80 minutes. He is the only player to have done so, having not had a Wallaby requested rest yet and only the one bye so far. Tom Banks is close behind him, having played 80 for the majority of games. Then it starts to even out a bit (remember, Brumbies players can have played a maximum of 800 minutes, other teams 720), you can see that a bulk of the Wallaby players from last year's spring tour have played around the 550-600 minute mark. There is a clear difference forming between the minutes being played by forwards and backs, with the exception of Simmons (680), Hooper (640) and Rodda (621).
It will be very interesting to see how many minutes of rugby each of these players has played by the time the World Cup comes around.
How much form to form a team that's in form?
With reports Scott Johnston is suggesting a radical concept like using form (I had to Google this concept) as a selection criterion it raises the question of who is showing enough form to warrant selection, or at least making the right impressions. Granted it's a long way but we should have players appearing on the radar.
First up, let's get Genia dealt with. In my opinion if Genia is the benchmark we may only be sending one player!
We already know most of the candidates for the front row. Hooker is the position of most concern.  Folau Fiangaa is making the right impressions but who else? No else really has got hold of the Wallabies Hooker spot and claimed it. For my prop stocks I have already booked a seat for Harry Johnson-Holmes and if his form continues, he will be in my 23. Aside from Harry we have one or two other props that could be good options but need to show they are best option.
The ever-problematic unsettled locks. Well right now for me Coleman might be carrying bags at best. Philip, Jones, Rodda and Arnold are looking the goods but this one will be invariably complex as usual.
Will Pocock make it and if so, will he make it right through? I would suggest that we need to be hedging our bets for the 7, um, 8, um, back row sports.  Positions are irrelevant with this one, it's all about funky sounding combinations and compromise. Hooper, Samu, McCaffery? We see patches of form but we want someone to be that back row power house.
Genia' s understudies are pretty well known at this point and aren't really being consistently challenged. Cue entry stage left a persecuted big kicking boot.
Foley and Cooper are a must.
As for the rest of the backs Kerevi and Banks are making their presence known. Maddocks has shown he will find the try line. Who else is in the running is more about who they are willing to leave out.
So, if form is king and we go with the radical concept of picking by position (are you brave enough?) and thinking combinations who has the form right if you were to put your form 23 out there?
Oh, look. What's in this can of worms?
Last week I decided to make my life difficult and uncomfortable by saying in the comments that I would take on the challenge at attempting to answer why many All Black supporters would prefer to be playing the Wallabies with Foley at 10 rather than Cooper.  But hey, I also figured that if I was going to tackle that question then I might as well put myself fully in the firing line and also provide my take on Foley and QC and why I wrote last week that "Quade Cooper under pressure is not performing".
I considered a few ways to approach these questions and also how I could back up my claims. Do I lean on past history? Both have won Super Rugby titles and both have been Wallabies. I could try comparing performance stats but that's limited by Cooper not playing Super Rugby last season so I would only have a limited sample to compare, but I would also need to factor in that this is Coopers first season with the Rebels compared to the continuity that Foley has with a familiar Tahs side. But at the end of the day stats are only good as a guide and give us a method of comparison; how good, well that is subjective. To that exact point I always like to use the Kiwi team stats as a good guide to the indication of what's a good stat and what's a negative stat.  Errors are bad right, a negative? Yet if you have a look at the stats for Kiwi teams the error rate is usually higher than Aussie teams; yet they have better overall results. Risk does yield reward, and the Kiwis are willing to generally take educated risks.
But enough with my justifications, caveats and rationalisation. The best way I can do this is simply to give you my assessment on Foley compared to Cooper.
A few years ago, I posted in one of the forums that I believe the reason why Chieka has stuck with Foley is he provides that basic understood platform to operate from. He isn't too flashy or complicated so you can easily build a backline around him. Consistent, good skills and enough variety without confusing or surprising the backline. Foley is an enabler for talented creative backs. A backline will play off Foley as he provides that perfect platform for a good creative back to feed from. But to his detriment he is also the focal point of the defensive plan as he is the starting point or key for the majority of attacking play. He is a known quantity that has been keeping it simple for many years by design. His high-quality simplicity is needed to enable an immature, unsophisticated and unsettled Wallabies attack over the last few years.
With Foley you also get a good all-round set of skills, a decent physicality in defence and he has composure. The reality is with Foley when he runs out you petty much will get what you expect from him every single game. But all these assets are also offset by his predictability and stable operating platform. How often are we surprised by something he does? The Kiwi's and many of our opposition want him at 10 for that reason. Cheika's and the general Wallabies attacking philosophy also reinforces this by needing a second playmaker to supplement him. But that need for creativity comes at a cost usually with a selection that is more occasional "X" factor than real constant attacking threat.
As a player I rate him. I think as a Wallabies 10 he could be a real weapon if we arm him with a better and different backline and let him evolve.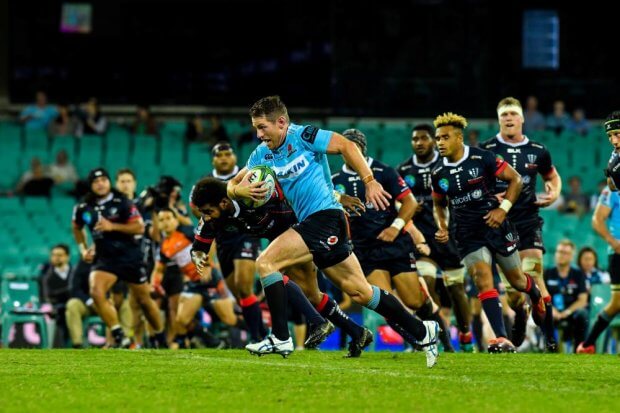 Now, about Mr Quade Cooper. For me Cooper is an interesting conundrum. First up my take on Quade the player. He is competitor and has a fantastic read on the game. I believe (and I have never met hm unfortunately) that he is a confidence player and also does get emotionally invested in the games and it can undo him at times.
One key difference that I believe differentiates Cooper from Foley is he needs that point of stability to work from where as Foley is that point of stability. The Genia-Coper combination works due to Genia providing that game control and platform that Cooper needs to set off. We have seen Cooper suffer from combination that didn't suit him. Nick Frisbee for example was a creative player like Cooper and in combination at 9 and 10 it was like two positive charges; it ended up as a negative. Just messy and too chaotic.
Cooper is now back and after having a tough few years where his confidence would have suffered undoubted and being out of top flight rugby he would still be building back in to Super Rugby. His combination with Genia again provides him with the platform to work from and we are seeing some of that past form and "QC brilliance" coming back. His composure at times under pressure is causing him to make errors; both in judgement and handling. But you expect this to a degree with a more emotional player like Cooper. There are some mitigating and even contributing factors. As a competitor, as your team is tanking you can tend to overplay your hand or try too hard which he appears to have done on occasions lately. But I also believe the Rebels are yet to provide him with all the right assets he needs in the backline and also the right game plan.
Now I am going to answer why I believe the Rebels don't have the right game plan for Cooper which also will give you a clue why the Kiwis fear him at 10.
A few weeks ago, we showed you this. The Rebels in the crunch moments of a game, needing to score to win and they default to all forwards pick and drives. It yielded nothing for them.
Let me recast this script. With a few minutes to go, you have a backline of Meakes, Maddocks, Koroibete and English to name a few who can break the line and have enough gas to find the try line. You need that one bit of magic to unlock the opportunity. It's time to gamble, take the chance. Who do you want at 10?
Foley or Cooper? If nothing else in most of our minds it most likely Cooper who can produce that bit of magic. In reality we have seen him do it so we know he is certainly capable. Cooper at full confidence with a strong backline would be a worry to any opposition. He could open up an All Black backline and if you watched the Reds game the previous week and witnessed Kerevi cutting back and straight through the line, or how Maddocks has found the ball from Co0per out wide so many times this season; it's why the Kiwis prefer Foley.
Cooper brings that unpredictability and the risk that he will pull the preverbal rabbit from the hat. But Cooper can also be a risk.  So, with Cooper you do need to make sure you have the right players around him to provide him the weapons he needs, but also to protect him from himself at times. This season we have seen Cooper showing he can play a far more understated controlled game. That's an even more ominous sign. The potential of an in-form Cooper able to control a game and unleash his creativity at the right time.
Personally, I want them both on the plane to the RWC and both given the opportunity at the right time. They both offer a lot but in different ways and they need to be played based on their form. But the key; it's all about the backline selections, and the backlines we currently have probably won't help either of then play at their full potential.
Have I got this wrong or am I right? Well, it's my opinion and as far as I am concerned that's right enough for me; until I get more evidence or a better perspective of course and I change my opinion!
Our Picks
Try of the week: I have gone for two this week. The try from the Crusaders against the Lions is there pretty much purely for the massive hit on Kwagga Smith by the ball carrier, while the Jaguares try was just really good play. I would have enjoyed it much more if it wasn't the Brumbies they scored it against! Honourable mention to Folau Fiangaa for his fantastic skill in diving and placing the ball in the corner.
Dumbass move of the week: Bit of a no brainer here, Holloway wins hands down.

"What the heck was that?" play of the week: I'm not sure that comedy of errors really sums up this movement of play. It started with a poor decision to take a quick line out, it never looked like it would come off, and ended when I think the ref gave up trying to work out who had held/lost/fumbled/passed/kicked the ball and called half time. The Sharks were responsible for as many fumbles as the Tahs, but it all looked a bit comedic.