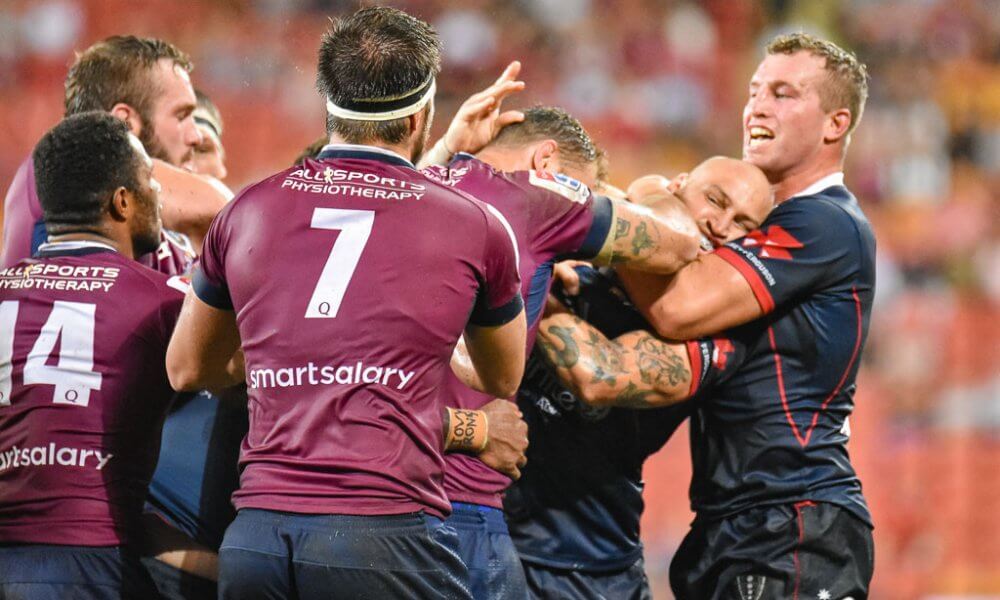 Tuesday again, so here we are with the Top 5. After an up and down weekend for our teams we give you our good, bad and ugly, team grades, talk conferences, refereeing and Europe.
The Good, The Bad and The Ugly
Good – This was a moment from the Brumbies v Sunwolves game that made me laugh. The more times I watched a replay, the funnier it got. Seeing two of the tallest men on the field chase the kick into the in-goal, both diving for the ball …. I imagine the player who put the kick through wasn't too pleased that it was a lock chasing his kick!
Bad – The discipline from the Reds on Friday night. Being a man down for 20 minutes is always going to make it hard to win, especially against a team like the Rebels. On top of that they gave away 14 penalties, giving the Rebels plenty of opportunities with ball in hand.
Ugly – Not the first time I've mentioned the declining crowds. Another 7,500 ish crown in Canberra and while I can't find the figure for the Rebels v Reds game, it didn't look like many. It's not just here though, South African crowds look almost non-existent, while even New Zealand games look to be drawing less interest. It's a worrying trend, not just for Super Rugby, but for rugby in general. Unfortunately between sides not winning, poor press in certain areas of the media, threats of player revolt and unrest and RA doing its best to shoot itself in the foot, the public appear to be losing patience and interest. 
Report Card
Reds D: The Reds had their chances in this match, but were unable to match it with their more experienced opposition. They weren't helped by the two yellow cards, as mentioned above, and the fact that Hamish Stewart went off injured after around 20 minutes, but their defence just wasn't good enough, with the Rebels able to easily break the line on a number of occasions. Lucas and McDermott were two of the stand outs, while players that really needed to stand up, such as Kerevi and Higginbotham, had a fairly quiet night.
Rebels B-: The Rebels took advantage of some weak defence to break through the Reds line. They didn't put in a completely convincing performance, and personally I question some of the decisions that were made, especially at the end of the match. With 79 minutes on the clock, leading by 6, the decision to kick for three points rather than go for the try was a little baffling. I understand they wanted to make sure of the win by putting the margin beyond 7, but if they had scored another try they would have got a bonus point. I know there is always a risk that they don't get the try and the Reds go the length of the field to score, but the way the final quarter of the match had played out I felt that was unlikely.
Waratahs C: Last week some readers said that a losing team shouldn't get a C as it is still considered a pass mark. Well I am giving the Waratahs a C again, even though they lost, as I really thought they were the better side than the Lions. They looked dangerous again with ball in hand, their tries came easily while the Lions had to work harder for theirs, and if not for a missed forward pass (allegedly) they would have won. The Waratahs are looking much more dangerous with Beale at fullback, they are being forced to use the ball differently as their "kick the ball to Folau" tactic is, obviously, no longer available to them.
Brumbies A: The Brumbies top the report card this week with a big win over the Sunwolves. They demonstrated some beautiful running in attack, the combination between Speight and Kuridrani was wonderful to watch. It was the best game I have seen from them both this season. Not only was the Brumbies attack on song, their defence was just as good. They spent a good period of time camped in their own 22 in the second half, and were able to repeatedly hold out the Sunwolves. One criticism from this game was the poor options in attack early in the first half, when they kicked away nearly every possession. Against another team it may have cost them dearly.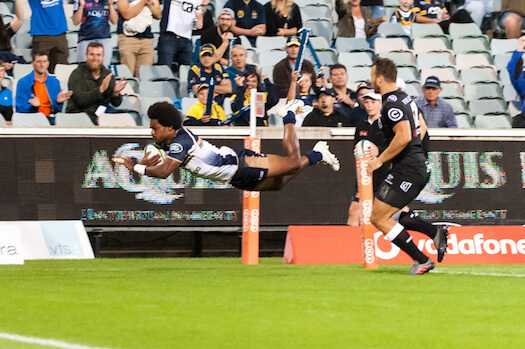 That Pesky Conference System
My interest was peaked when I saw a tweet last week regarding the Aussie teams and intra-conference wins.
We all know that the conference system favours some teams over others. For example Aussie teams get to play the Sunwolves twice, while Kiwi teams have to play the Crusaders or Hurricanes (or both) twice. I know which group I'd rather be in! Let's face it, to make the finals a big advantage is to beat the other teams in your conference, plus a couple of other teams. The Rebels have this figured out. Wessels even said they target conference games, because beating other Aussie teams (and the Sunwolves) not only gets them points, but deprives other conference teams of points in the process. It's a smart way of thinking.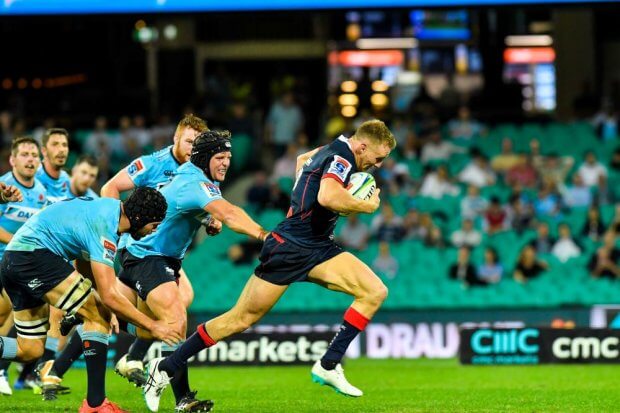 Let's just take a look at how the win/loss records stand in the Australian conference for intraconference matches.
| | | | |
| --- | --- | --- | --- |
| | Played | Won | Lost |
| Brumbies | 5 | 2 | 3 |
| Rebels | 6 | 5 | 1 |
| Reds | 6 | 3 | 3 |
| Waratahs | 5 | 4 | 1 |
Let's compare that to the interconference matches.
| | | | |
| --- | --- | --- | --- |
| | Played | Won | Lost |
| Brumbies | 7 | 4 | 3 |
| Rebels | 5 | 1 | 4 |
| Reds | 5 | 2 | 3 |
| Waratahs | 6 | 1 | 5 |
So right away we can see that the bulk of points for both the Waratahs and Rebels are coming from matches against other teams within the conference, while the Brumbies are faring better against teams from other conferences. The Reds are somewhere in the middle. That makes the final 5 rounds very interesting.
So what does that mean for the near future? Well let's look at what's coming up.
| | | | | | |
| --- | --- | --- | --- | --- | --- |
| | R14 | R15 | R16 | R17 | R18 |
| Brumbies | Bye | Bulls (H) | Sunwolves (A) | Tahs (A) | Reds (H) |
| Rebels | Bulls (H) | Sunwolves (A) | Tahs (H) | Saders (A) | Chiefs (H) |
| Tahs | Reds (A) | Jaguares (H) | Rebels (A) | Brumbies (H) | Landers (A) |
| Reds | Tahs (H) | Chiefs (A) | Jaguares (H) | Blues (H) | Brumbies (A) |
With three games against teams from other conferences, it looks like a tough finish to the season for the Rebels, given their results so far external to the Aussie conference. Likewise, it looks tough for the Brumbies who are not getting the results against teams from within the conference. Having said that, many of the losses for both those teams, in particular the Brumbies, have been close and they are definitely playing better rugby now. The Waratahs and Reds could go either way.
Looking further into the future – say 2021 after the Sunwolves are banished and the conferences are abolished, it will become more important that teams can beat any team as we won't be able to rely on just being better than the other teams in the conference. It will be interesting to see how it plays out.
Oh dear oh dear …
I try not to often get caught up in the whole "That ref was crap" "The ref cost us that match" talk, but this week I decided to have a bit of a rant.
Hands up who remembers Stuart Berry? If not, do a quick Google. You will come up with headlines such as "Stuart Berry's blunders put a blight on Super Rugby". He was renowned for giving visiting teams a high number of penalties and making game defining (incorrect) calls.
Sound familiar?
Let me introduce you to South African referee Egon Seconds. He is an ex-South African rugby player. He has played for the Stormers (Western Province) SA 7s and South Africa A. He is now a referee. On Saturday night he refereed his 3rd match of the year, all in South Africa. His first match between the Stormers and Lions was pretty run of the mill, an even game with even stats.
But the other two …. Well interesting isn't quite the right word. The other two games have been the Lions v Rebels and the Lions v Waratahs. Both games went to the home team by a narrow margin. Fans of both the away teams were left fuming at the refereeing in the games, which saw a combined penalty count of 30 to the Australian teams and 3 to the Lions. Yep, just 3 penalties awarded to the Lions across two games when the other team was heavily penalised. Doesn't look good, does it?
But on Saturday it was more than just a one-sided penalty count that has people up in arms. Twice Seconds was pushed by players, with no call. In other matches it has been an instant penalty, even a card for that type of contact. Neither push looked exactly accidental. Then there was the odd moment when Seconds appeared to interfere in a breakdown, moving one of the Waratahs players. It could be, as I have seen suggested, that he verbally warned Hooper to move, then simply touched his shoulder, as I have seen other referees do, and Hooper reacted by falling off the ruck. But it didn't look good.
The penalty count was 11-2 against the Waratahs and referee Egon Seconds featured in some truly bizarre moments. pic.twitter.com/4ZEACOEmDK

— FOX SPORTS Rugby (@FOXRUGBY) May 12, 2019
Lastly there was the try scored after what looked to be a clear and obvious forward pass. Even the South African commentators (and we know how impartial they are) called the pass forwards. They also stated there was some "odd" decisions made. When it gets to the point that the impartiality of referees is called into question, as it has been many times regarding matches in South Africa, it brings the integrity of the whole competition into question. Is this something SANZAAR really need to be dealing with, on top of falling crowds, poor ratings and general dissatisfaction with the competition? But then Berry went on to join the ranks of the PRO14 referees and last year refereed the final between Leinster and Scarlets. So perhaps there is some home for Seconds?
What is happening in Europe?
I believe there was some big game on over there early Sunday morning our time. Yep, the Champions Cup final was on, with Leinster and Saracens going head to head. In a tough match, featuring our own Will Skelton and Scott Fardy, Saracens took the cup 20-10. It's funny reading the reaction of fans over there, with many asking why Skelton and Fardy aren't part of the Wallabies set up.
Speaking of Wallabies, quite a number of them are heading overseas after the World Cup. In fact, many of them are even heading over to the same team. We found out a while ago that Nick Phipps and Curtis Rona had signed for London Irish. We can also add Kepu and Coleman to that list. I'm assuming someone handed Irish a blank cheque books, because they have also signed All Black Waisake Naholo, Scottish International Allan Dell, Irish International and British and Irish Lions player Seán O'Brien and former Irish International Paddy Jackson. Some fans aren't entirely happy with that last name, given the controversy he was involved in while he played for Ulster (which you can read about here) 
In signing Nick Phipps and Paddy Jackson for next season, London Irish have constructed the most unloveable half-back pairing since Slobodan Milosevic and Pharma Bro took to the field together for Creutzfeldt Jakob RFC.#rugbyunited @RugbyLI @bloodandmud

— #RUGBYSTIG (@rugbystig) February 1, 2019
London Irish will be promoted to the Championship next season after finishing on top of the ladder in the second tier, RFU Championship and judging by the signings they keep announcing they certainly mean business!