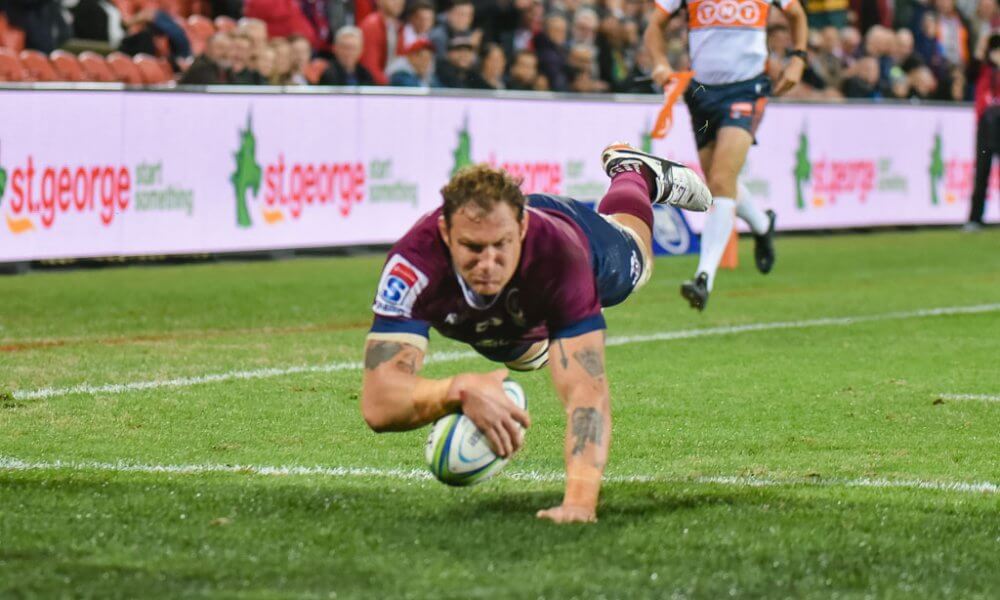 Family crisis now dealt with! Hi all and welcome to the late, late edition of the top 5.  But it's still Tuesday, so it still counts! This week we go through all the usual things, good, bad and ugly, hand out our dodgy grades, wonder how our Wallabies favourites are  going, ramble about a whole lot of stuff and pick our favourite moments from the weekend in rugby.
The Good, The Bad and The Ugly
Good – The Aussie Under 20's storming home to beat Ireland and take the lead in their Pool was a highlight of the weekend.
Bad – The warning bells have to be ringing off the back of the U20's performances. Have we got that emerging talent wrapped up and will they have the pathways they require to develop?
Ugly – The Rebels result was one of the ugliest of the season. It may not have been their best line-up, but those missing players still weren't worth 66 points. I have mentioned a few times about the team Wessel has down there in Melbourne, the playing roster should be capable of winning. In fact before the season began they were pretty much outright faves to take out not only the Aussie conference, but many were saying they could go the same way. Well based on recent performances, they are a heck of a long way from that! When you look at the team who took the field on Saturday, there were 7 players who have played for the Wallabies, plus at least two who had been Aussie U 20's. Add to that 2 Wallabies on the bench and they should have had the firepower to score at least 5 points.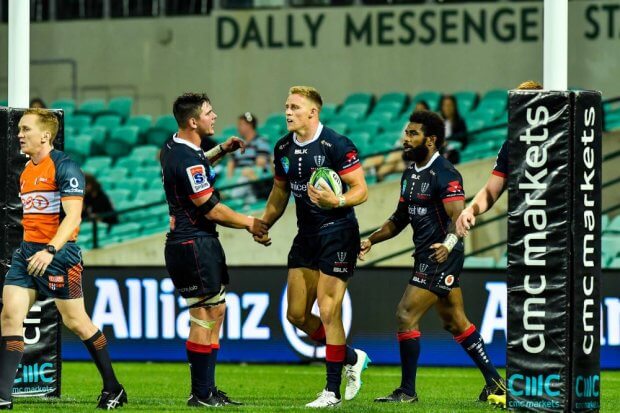 Report Card
Reds C+: Yes, the Reds finally beat a team from across the ditch. It was far from convincing, a 77th minute try was needed to get the win. But to their credit, they didn't drop their heads, instead chasing it all the way and getting over the line when it really counted.
Rebels F: It's funny, I have only given one F before. And that was to the Brumbies when they lost to the Reds earlier this year with an absolutely abysmal performance (when I also pretty much thought their season was a write off). But even then, they scored 2 tries. Yes, the Crusaders are a mighty team, but 66-0 is horrendous (and it could have been worse, the Crusaders botched 2 tries). Poor defence, no idea in attack and what is with Ruru kicking the ball away after the half time siren? All it achieved was another 7 points to the Crusaders.
Brumbies B-: The first half was great, if they had played that way for the entire match it would have been an A+. But in the second half they seemed to revert to the one up running at the defence, there was none of the creativity we had seen from the backs in the first half. If the game had been 10 minutes longer we might have seen a different result.
Waratahs D: If they had taken it to the Brumbies in the first half the way they did in the second it would have been a totally different result. In the first half there were missed tackled, poor kicks that either went nowhere or into the oppositions legs, knock ons in the act of scoring … they really didn't put up much of a fight as the Brumbies scored 4 unanswered tries. Thankfully they showed up in the second half and put a lot more pressure on the Brumbies, coming back hard towards the end of the match.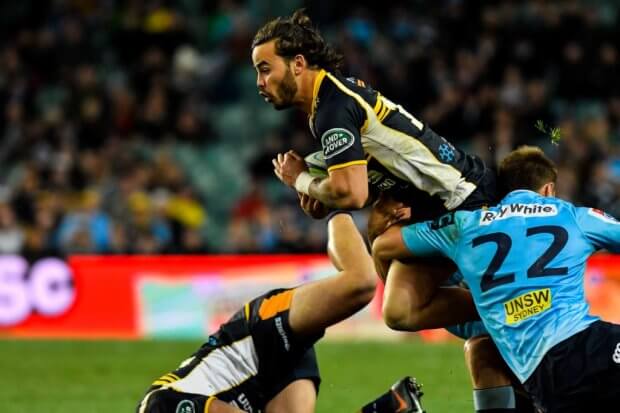 WALLABY RDO'S
Who stood out: This is a tough one this week. For the Reds, Rodda and Kerevi did well, putting in a huge amount of work. When we look at the Brumbies, Waratahs game, the standouts were the Brumbies forwards. Slipper, Alaalatoa and Fainga'a are becoming a very formidable front row. Rory Arnold had another very good game and surely has to be getting Cheika's attention.
Raised questions: Where is Adam Coleman's head at? Has he checked out or has his form genuinely dropped? This year he has been nothing like the Coleman we saw in 2017/18. Coming into this year he was pretty much a lock for one of the lock's positions having pushed Arnold out of the way last year. But now he looks a shadow of that player, he isn't having anywhere near the impact he had previously and at this rate would be lucky to make the bench for the Wallabies.
Blotted his copy book: DHP. He hasn't had a great run of games lately, some poor kicking and bad read in defence haven't helped his case. Actually, many of the Rebels Wallabies have been underperforming recently. I said a few weeks ago that Hodge isn't much more than a utility player with a big boot. Banks is proving his boot is handy too, so just how necessary is Hodge to the Wallabies set up? Maddocks showed early in the year that he knows how to run on to the ball and find the line, but lately he hasn't been presented with easy ball and has shown that unless a gap opens up for him, he isn't much trouble for the defence.
General observations: Once again we had a few players come up against each other in direct competition for Wallaby spots. So how did they go?
Kepu and Robertson v Alaalatoa and Slipper: The Brumbies duo definitely came out on top here. Cheika surely must be looking at Slipper's performances this year, he has been one of the stand outs for the brumbies – to the point where Wallaby Scott Sio has been coming off the bench in recent games because Slipper is starting.
Phipps v Powell: The race for the backup scrum half position in a close one. This match I give it to Powell. He and Phipps had very similar stats and were hard to separate, but some of Powell's involvements had a bigger impact on the match, such as a try saving tackle and helping Pulu hold up another potential over the line.
Ashley-Cooper v Kuridrani: AAC had a big night. He was pretty much on par with TK, so it's a tough one.
Beale v Banks: This is the one people were watching with interest. With no incumbent fullback right now, these two are high up on the list, especially with DHP fading in recent weeks. They both had their pros and cons, Beal looked to be more involved, but a lot of his running was sideways and didn't lead to much. Banks didn't break the line as easily he has been doing recently but his kicking for touch, as it was last week, was outstanding and gave the Brumbies a big advantage. I'd probably give it to Banks for that reason.
What do you make of it?
I love this time of the season. Coming in to the last week of the Super Rugby rounds and watching where all the teams ended up.  Speculating on who will make the Wallabies squad (yeah, I know, it's more of a wishful thinking thing). As an extra bonus we are getting a pretty active "silly season," transfers with lots of movement.
So, has your team met or exceeded your expectations or just disappointed (again)? I have to say that in reality the Aussie teams all still need to step up. Take the Brumbies. Even though they are now locked in to the finals they still have an issue with the second half of games. Do they just need to stop McKellar talking to them at half time? It's an issue that has plagued them most of the season and it's lurking in the background. The Tahs; they still look good at times but they are  just a bit lacking for the right cattle to help them finish the job. The Reds again will be judged with the "work in progress" standards.  But come next year unless they start banking some serious points it will be another QRU funded failed project. The Rebels; I am still sifting through the ashes on this one with a hope that something will be salvageable, and we may even get lucky that it might be something of value.
What do you think about the player movements thus far? What or who does your team need? Who needs to be ditched? Which team is looking best positioned for next year? It's not often we see so many key players move so its going to be interesting next year. If I could pick one current player to move in a team to make it click who would it be?
We are close as Wallabies selections are not far off so who are you putting your money on to get a run? Will it be a big squad with some experimenting or will it be the main 23 working on solidifying the game play and getting the combinations, right?
With Super Rugby over for at least 2 teams next week and just over 5 weeks until we see the Wallabies play it's time to start polishing up your arguments, excuses, justifications and predictions as it's that time of the year when game is played both on the field as well as off it. And for the latter you all get a jersey (I know, just like every player get an invite to Wallaby camp!).
Our picks
Our pick for try of the week this week comes from the Crusaders v Rebels match. Sevu Reece with a fantastic kick down the sideline that had the defence completely befuddled.
How's this for a try? Aussie Under 20's lock (and Brumbies recruit) Nick Frost scoring from the kickoff.
Straight from the restart @RugbyAU U20s lock, Nick Frost takes off on a thundering run down the line to score the third try in three minutes at #WorldRugbyU20s pic.twitter.com/fKXoPybI0T

— World Rugby (@WorldRugby) 8 June 2019
And to finish up, here are World Rugby's picks for the top five tries from the latest round in the under 20s.
Top 5 tries from match day two of the World Rugby U20 Championship#WorldRugbyU20s pic.twitter.com/yfGnMmZEC4 — World Rugby (@WorldRugby) 10 June 2019