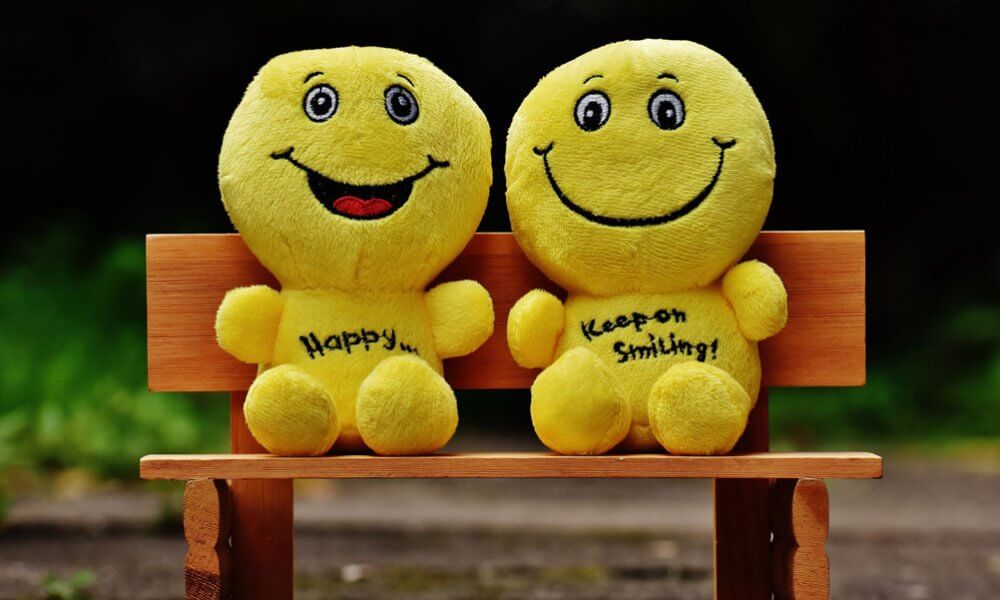 Welcome to the final Tuesday Top 5 of the regular season. And what a season it has been. highs, lows, unmitigated failures …. we had it all. This week we look at the good, bad and ugly from the weekend, grade the teams, give our take on the season that was/could have been for our three non-finals bound teams, talk about the future of the game and throw some videos at you.
The Good, The Bad and The Ugly
Good – From the Top 5 Report Card, Tuesday March 26 – "Yep. An F. I can't actually recall if I have given out an F before, it is the lowest grade possible and an absolute failure. I don't think I can think of anything good to say about the *this team* from the weekend. Their set piece was a mess, they had no defence to speak of, were completely ineffective in attack, couldn't hold on to the ball and managed to totally screw up their own maul at least twice through dropped balls. The writing was on the wall when they went 27 or so phases in the opening minutes with nothing to show for it, and the game was summed up by Player X passing the ball directly into Player Y's head during one of their few attacking chances. I don't know where they will go from here, where they can go from here – there is so much for them to work on."
I know what you're thinking … that doesn't sound like a good. And it wasn't. So where does the good come in? Well that team that I pretty much wrote off on the 26th of March was the Brumbies. I wrote that report card after their loss to the Reds. And it seems I'm not he only one who thought it deserved an F. Sam Carter put that match down as the turning point of the season. And it was. That was round 6. The Brumbies had won 2 and lost 4. They were sitting on 11 points. Things looked pretty dire and they were written off by many. They then lost the Crusaders and had a bye, so after round 8 were still sitting on 11 points and it looked even less likely that they would finish anywhere near the top of the conference.
But then they went from 2 wins, 5 losses and 11 points after round 8, to 10 wins, 6 losses and 48 points by the end of the season. They gained 37 points in 9 matches. That is the kind of run going into the finals that most teams would dream about.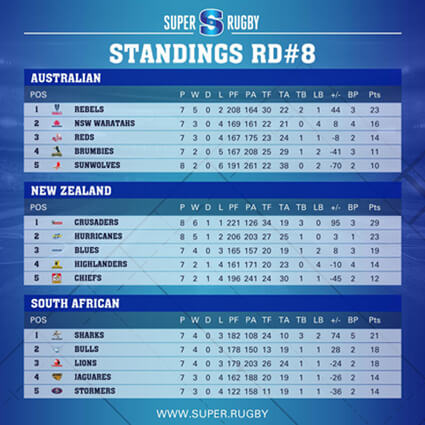 Bad – Conversely, The Rebels after round 8 looked to be clear favourites for the Aussie conference and everyone was getting ready to book their finals tickets. They were sitting on top of the conference with 5 wins, 2 losses and 23 points. 3 wins clear of the Brumbies. Jump ahead to the end of the season and they finished with 7 wins, 9 losses and 34 points. Yes, in their final 9 matches of the season, the Rebels gained just 11 points.
Ugly – There isn't really much more I can add that hasn't already been said. So I'll just leave these numbers here.
125 – 8. Combined score line in the Rebels last two matches.
108 – 20. Kiwi teams v Aussie teams in the final round.
And just when we thought we were improving this season ……
Report Card
Reds C-: The Reds weren't totally outclassed on Saturday night. They fought hard and made the Brumbies really fight for that win. They showed some real spark in patches, I was particularly impressed with Jock Campbell (despite my personal gripe that he sticks his tongue out a lot while he is running). He put on some real bursts of speed that made the brumbies back three work their butts off in defence. I as going to give them a C, but Matt McGahan lost them that half a grade for that really pointless drop goal. Granted, it was a good kick, but when your team is down by 23 points, perhaps a drop goal is not the preferred method of closing the gap.
Rebels F: For the second week in a row I'm giving the Rebels a big, fat fail. This time they had Genia and Cooper back, but it didn't help. They had no answers to the Chiefs, their defence was shaky at best and they didn't look like they knew what to do with the ball when they had it. For the second week in a row they handed the opposition a huge advantage after the half time siren. Instead of putting the ball out and going into the sheds 11 points down, for some inexplicable reason they kept the ball in play – running from their own half – and Hodge went for a low percentage no look pass which gifted the Chiefs 7 points.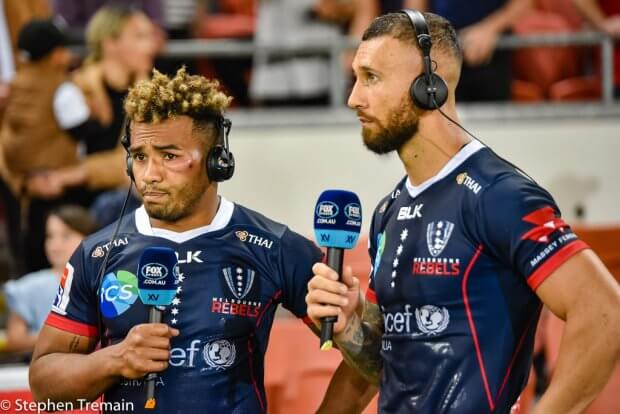 Brumbies B+: It wasn't what I'd call a great win, but they were clearly the better team on the night. The Brumbies ran in 5 tries, using both forwards and backs. One of the biggest points of difference in this match was the tackle rate. The Brumbies made a huge 91% of their tackles, and they did a lot of tackling in the match. There are still things they need to work on going into the finals, but really I think they are only minor things. It's good to be able to say that because, as it says above, I really didn't think I could say that after round 6.
Waratahs D-: They were a more inexperienced team up against a team desperate for a finals berth. And it showed. The team, particularly the backs, lacked cohesion for the first half, but started to look a lot better in the second 40, which was reflected on the scoreboard (holding the highlanders to just 7 points in the second half). Mason had a better match, setting up a try and getting one of his own. It was always going to be a tough ask for him being thrown in the deep end again, but he did ok.
THE MST TAKE ON IT
With the post mortems well under way it's not hard to feel a mixed sense of predictability as well as déjà vu. So how do we summarise the season that was for the three Aussie teams who were simply not good enough? Here is my take on the season that was and beyond.
The Reds season started with promise and it's undeniable that they have unearthed some good talent. Similar to the previous year they had some really good patches where they were really competitive. But I believe it was a combination of a few factors, most avoidable, which essentially has led 2019 to be a rinse & repeat of 2018. The bad habits, moments of ill-discipline and lack of cohesion continues to haunt them. Settling the key position of flyhalf and full back has to be at the top of their agenda. Bryce Hegarty's performance at the Reds has, I believe, been one of the standout players this year. His versatility and talent has been pivotal in the success they have had this year. Matt McGahan is showing some good promise as the next Reds flyhalf. But the big questions are obviously around how to replace Kerevi and the likes of Paia'aua in the centres. Their loss is significant and adds to the challenge Thorn has around combinations. Overall the level of improvement that we all hoped for and expected just didn't eventuate. For 2020 the Reds have a good platform but I am unconvinced that Thorn can avoid another "building" year unless he can settle his line-up and sort out the game plan.
The Tahs really ended up where we suspected they would. The resources at the disposal of the Tahs, by choice, was always going to see them spread thin when the depth question was asked.  Even Gibson was trying to avoid that reality by dodging the rest requirements until he got lucky. But he didn't get lucky and it came back to bite him. The lightweight pack philosophy is worth continuing, it seemed to work for them during the season. Off field players issues (x2) during the season would be less than desirable for any team but when you are already light on cattle it would have compounded the selection issues. For those who watched the final Tahs game it was evident that in the second half, by simply having the previous 40 minutes playing, together the players were starting to gel and were performing better. It's fairly evident that a change in approach from Gibson around squad management will need to introduced and I believe that next seasons results for the Tahs is heavily dependent on the off-season recruitment.
For the Rebels in some respects I will be repeating parts of what I wrote above for the Reds: Similar to the previous year they had some really good patches where they were really competitive. But I believe it was a combination of a few factors, most avoidable, which essentially has led 2019 to be a rinse & repeat of 2018. The bad habits, moments of ill-discipline and lack of cohesions continues to haunt them. The biggest difference is that this Is not a squad of fresh-faced emerging talent. Wessels might want to claim that the buck stops with him and in many ways, I agree with him. But I don't believe that all those Wallabies players, especially DHP and Genia should not shoulder some blame. Genia himself suggested in a post-match interview in week 4 the opposition had worked them out. Personally, am a little lost as to why an influential World Class player would then keep playing the same flawed game plan for the remaining 16 weeks of the season. The list of players leaving the Rebels is significant and for a team that needs to perform to remain viable it must be worrying times. Can we afford for the Rebels to have a re-building year?
Reading the tea leaves out of these three I think the "man with a game plan" Gibson looks best place to get his mess sorted out and get some decent results next year. There is hope for the Reds if Thorn can get rid of the immaturity in the Reds game and sort out a backline. I think he has the cattle so it's more about his ability as a coach. I don't see the Rebels really doing much next year and I fear they will default to the old Force like team of the past.
CUT AND PASTE REVIEW TIME
So here we are again! Insert all the same questions as the last few years here. Then right on queue comes the "let cut a team" suggestion. Thank you, Mr Hoiles. Kudos to Phil Kerns for something original to cut at least; cut the opposition teams! (Phil; it's a flawed plan as the Tahs can't beat all the other Aussie teams!)
We don't need to cut a team! We have depth and talent but one of the few things that Australian Rugby does excel at is squandering the precious resources it has. For a game that has minimal development pathways and such a little footprint it's pretty impressive that we have a bunch of young guys running around paddocks in Argentina doing us proud against far bigger rugby nations. If we can't get the hint from that that we can produce decent players what else will it take?
But we won't. Aussie rugby is destined to continue doing what it does. Have lots of out of touch advocates all lobbying for personal or political reason so we go nowhere. Most of the views are outdated and have little value. Now I will acknowledge upfront that the discussion around what's best for the game is complex. It can also be confused by people pushing "chicken and egg" arguments. But at the end of the day money rules. To support and equip the grass roots to produce the talent we need to be competitive at the tier 1 and 2 levels where the money is generated. Right now, the Wallabies and intrinsically linked Super Rugby TV deals are what pays the bills. There is nothing else at any other level that is producing the income to support the game nationally.
In the Rebels post game, we had Jack Debreczeni tell us what we all already know; the Mitre 10 provides that high level development ground that our NRC should eventually do to boost the development of players. It's ok because I am sure we can undermine the value of what the NRC can do for the game in the future or even just cut it and go back to the lower the standard club rugby. Why raise the bar right? It's not like the NRC was starting to be a pathway and provide opportunity for new talent that gives us something akin to a national domestic competition, or dare I say a product like the Mitre 10. If we keep compromising it to keep everyone happy it won't hurt the game, right? We desperately need to lift the standard of our players to keep increasing our income so unless we start inventing in it, we continue to risk the income that supports the game.
I believe Drew Mitchell brought up about how our coaches were being renewed without showing any performance improvements? It's a good question. There comes a point with Wessels where the question needs to be asked if there is just too much Force DNA in the squad, set up and all aspects of his coaching that is inhibiting the team? He had a stacked Wallabies backline that was struggling to fire a shot and in clutch moments it was all forwards pick and drive; we did highlight this a few times during the season. The irony of the backline was the non-Wallaby combination that started the year looked better than the capped players. I forgive Wessels over this one as both Gibson and McKellar have the same Wallaby cap obsession. Gibson is choosing to recruit from a small local pond. Good on him but it's not providing him with the depth he needs, nor the talent and I would ask if it's actually validating the argument of the lower standard of competition where he is recruiting from is of adequate standard. Thorn seems to have hit the wall with his Reds and is running on the spot unable to get them to take another step up. McKellar finally after two seasons has worked out how to use the talent. 2020 will mean it's back to a blank canvas with a new fly half so we can only hope he can work it out in less time but with an unknown quantity.
So apparently, we don't have the talent or depth. That being the case maybe we should shut shop now? The numbers of players leaving is significant so how are we going to deal with that.  Over the last few years we have seen the Reds, Brumbies and Tahs bring in a fair amount of new talent. Some talent good, some a bit average, but then again, we all know our development pathways and opportunities are substandard so what do we expect. The lack of opportunity is another big issue. Again, 40 minutes of opportunity on the big stage and you could see improvement from the Tahs side on the weekend. They simply need game time.
Come next season there will be four full squads with some fresh faces. We will magically find players from our alleged empty reserves all while we again top up foreign teams. We will continue to disagree with the direction rugby needs to take at nearly every level and hear the rinse & repeat arguments about club, state and other competitions being important more for historical reasons than for the visibility of the game.
You will find me watching the Mitre 10, as I usually do, to see if I can pick the future All Blacks, who to watch in their debut year in Super Rugby and fantasise that one day rugby in Australia might yet want to change to increase the standard and competitiveness of Aussie Rugby. I really hope we can so we can finally start to strengthen our revenue earning capacity which will help secure the future of the game.
Our Picks
Try of the week: Sorry Rebels fans, but this try from the Chiefs is my pick.
Hit of the week: Friendly fire!
Dumbass move 1: Behind by 23, let's try and close the gap with a field goal!
Dumbass move 2: We're behind by 11, in our own half and the siren has gone. But hey, let's go for the no look pass and hope for the best!
I think someone needs glasses … I think this one speaks for itself. Oh, but I should let you know that the player wasn't deemed to have gone into touch, it was play on.
But maybe the AR just wasn't in the right position to see it? Yeah, nup! Couldn't have got a better look at it if he tried!