Welcome to the Tuesday Top 5 – Post Super Rugby season edition. Yep, it's all done and dusted with, I hate to say it, but a fairly predictable ending. We all wanted the Jaguares to do it, but knew it was going to be tough. This week we look at the good, bad and ugly, check out some stats, see what the different nations are up to in the lead up to the World Cup, say some sad farewells and I'll give you two of my many many favourite tries from the year.
The Top 5 will be taking a very little break (really it's only one week, I honestly thought we'd have longer off than that!) until after the first round of the Rugby Championship. With not as much rugby on, it gets hard to find stuff to write about! So we'll be back on Tuesday 23rd of july
The Good, The Bad and The Ugly
Good – The final on Saturday, while not the flashiest game, was a close and entertaining match. The Crusaders were the better team on the day, the Jaguares kicking game wasn't as strong as it was in the semi and they game the Crusaders some easy return ball.  It felt like it was a real arm wrestle and it was good to see the Jaguares really push the Crusaders.
Bad – It would have been interesting to see how the game would have gone if both teams had managed to hold on to the ball. I don't know if it was the conditions, but there was so much dropped ball it really stopped a lot of the running.
Ugly – What do we watch this weekend on TV? There's really only one game of Rugby to watch this weekend. The Wallaroos are playing Japan this Saturday (2:30pm on Foxtel) but apart from that … what will we do with ourselves???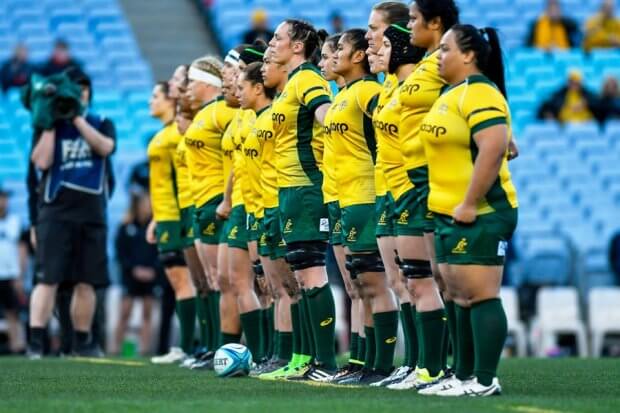 Do the numbers tell us anything?
It's really hard to compare the way the teams played in their respective Semi-finals to the way they played in the final. They were hugely different games, different conditions and being a final can have an impact on the game itself. But I will still give it a go.
Both teams ran less in the final than they did the previous week. That can come down to solid defence from the other team, dropped ball and lack of continuity. The Crusaders actually turned the ball over less than they did against the hurricanes, while the Jaguares turned it over more often. That clearly had an impact on their game.
The Jaguares kicked marginally more than they did against the Brumbies, but their kicking was way less effective. They were unable to put the Crusaders under the same pressure that they did to the Brumbies. The Crusaders on the other hand, kicked a lot less and their kicking did put the Jaguares under pressure.
Looking Forward
So now we all look to the Wallabies and the Rugby Championship/Bledisloe Cup and on to the World Cup. Interestingly, the last time we won the Rugby Championship was in 2015, the year of the last WC. We also won the Tri Nations in 2011 – notice a pattern here? So can we look at that and think that maybe we will lift this year too? After all, no one gave us much hope then either. In 2015 we had a favourable draw, playing NZ and SA at home, this year we have NZ and Argentina at home, with the trip in week 1 to South Africa being the only away game. NZ and SA both have to travel twice, so perhaps that gives us a slight edge.
After the RC we have the second Bledisloe match at Eden Park.
Before we get to the World Cup there are also a series of test matches featuring teams from around the globe. Here are who some of our major competitors are playing, as well as the teams in our WC pool. The ones to really keep an eye on are the England/Wales/Ireland matches. It's always hard to tell from these matches what will happen at the WC, but we may be able to get some idea of how the teams are travelling in the lead up.
England

Wales (2 test series)
Ireland
Italy

Argentina

South Africa
Russia
Western Force

Wales

England (2 test series)
Ireland (2 test series)

New Zealand

Australia (Bledisloe Cup)
Tonga

Ireland

Italy
England
Wales (2 test series)

South Africa
France

Scotland (2 test series)
Italy

Fiji

Maori All Blacks (2 test series)
Tonga

Scotland

France (2 test series)
Georgia (2 test series)

Georgia

Russia
Scotland (2 test series)

Australia

New Zealand (Bledisloe cup)
Samoa

Uruguay

Saying Goodbye
This year, being a World Cup year, sees a high number of players leaving our shores. So just who are we saying goodbye to? This isn't a complete list and there may be more to be announced, but here are some that we do know of so far.
BrumbiesSam Carter (Ulster)

Christian Lealiifano (Japan)

Rory Arnold (Toulouse)

Jordan Jackson Hope (Japan)

David Pocock (Japan)

Wharenui Hawera (Japan)

Leslie Leulua'iali'i Makin (Japan)

Henry Speight (Reds)

Chance Peni (released)

Ben Hyne (released)

Josh Mann-Rae (retired)

RebelsSam Talakai (Japan)

Sam Jeffries (Japan)

Adam Coleman (London Irish)

Michael Ruru (Bayonne)

Sione Tuipuluto (Japan)

Tom English (Japan)

Ben Daley (Retired)

* Unconfirmed

Will Genia

Quade Cooper

Marika Koroibete

WaratahsSekope Kepu (London Irish)

Nick Phipps (London Irish)

Curtis Rona (London Irish)

John Folau (Released)

Will Miller (Brumbies)

Le Roux Roets (Released)

Israel Folau

 

RedsDuncan Paia'aua (Toulon)

Sefa Naivalu (Stade Francais)

Scott Higginbotham (Bordeaux)

Samu Kerevi (Japan)

Caleb Timu (Montpellier)

Aidan Toua (Japan)
It's interesting to note, that from what I could find there are still a lot of players who are unsigned. The Brumbies look to have the most players leaving, but there are only around 6 players who are as yet unsigned. The Waratahs don't have a huge list of players leaving, but still have quite a few who are unsigned, and some big names too, like Beale, Hunt and Foley. It will be interesting to see what announcements are made in the coming weeks/months.
Our Picks
I'll be honest here, I was going to see if I could find what were, in my opinion, the best few tries from 2019. But there were so many, where do I start looking? So I did look around a bit and came across two that stuck out. I know there are LOTS more that I missed, but these two are still pretty good. Plus, they are both from Aussie teams!
Though to be completely honest, I think the Reds were a little lucky, the hit that started it all looked a little dubious and I think Hegarty may have been on the ground when he played the ball back … but it still looked spectacular.
Feel free to let me know any other tries you thought were outstanding.