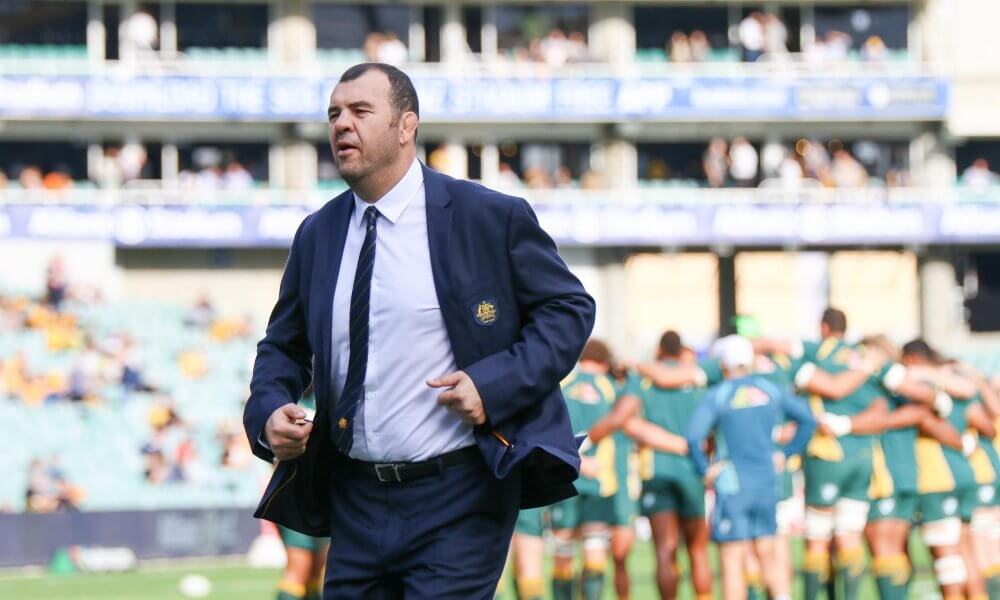 Hands up who regrets getting (or staying in this case) up for the Wallabies match. Sleep deprived, disappointed, pissed off – just what the Wallabies want in their fans! So this week in the Top 5, we give you the top 5 things that we are talking about after that match. Well four things. And one about where we are going next.
Another One Bites The Dust
So, what did we make of that performance? We could have a look at the game stats but they really don't represent much of the story in this one. The issue we had was it really didn't tell us anything new which maybe the most concerning part of all.
First up; we are still struggling to score tries. It has been an issue for the last few years and is still an ongoing problem. I can't see anything new in attack. Even if we celebrate our ability to defend if we can't score, we simply can't win.
Yes, there was White at halfback and he did bring something to the game. His performance was good, but did it provide the Wallabies with anything really? He provided us with some good kicking, especially his box kicks. But is that what we need?
But with such a short lead up and combinations being critical, especially when you are still scratching around for some attack, is it wise to be bringing in and starting players who have not played or spent much match time with the rest of the players and are still adapting to the culture change?
The Kerevi/Kuridrani combination is fantastic; on paper. One has to sit down, which presents a whole new issue with who stays and who do they bring in. It might be controversial but Kerevi just brings a lot more to the team and I believe that Kuridrani should be considered a backup option.
I have to say, as harsh as it sounds, that looking at the Wallabies team sheet, I was an opposition coach I don't think I would be overly worried about the backline threat. Wingers usually represent a threat but Haylett-Petty and Hodge just don't. There is a case to mount some defence about them playing out of position. However, if that was the case, I would have expected Hodge to be drifting in to the centres at times and irrespective of position, DHP's issue are basic ball handling skill deficiencies. The Kerevi/Kuridrani combination is, like I said above, threatening on paper but it really hasn't shown much in reality; it's all about Kerevi's individual efforts. Banks at full back looked ok but like any player needs time.
Selections; I am all for giving players an opportunity but Uelese really is the poster boy for why you don't pick on "potential". With limited time in Super Rugby and even less with the Wallabies he has shown very little that warrants selection. He may have been exceptionally unlucky on Saturday night but at the same time I could say the same thing about either of the two Reds hookers who on form are probably more deserving of the same opportunity.
Injuries
Injuries are just one of those aspects of the game you need to be able to manage around. Sometimes teams are lucky with injuries and other times not. But I do wonder if there is something more when it comes to the number of injuries that are happening to Wallabies players outside of games? It is becoming a bit of recurring theme with the Wallabies squad and it's a trend they need to change urgently.
Is this a case of pushing players who are coming off the back of a Super Rugby season too hard too early? It's a question worth asking as the list of training injury outs is significant.
Looking for the silver lining it's forcing the Wallabies to find some squad depth. That really good for the future but right now its really making solidifying combinations increasingly difficult.
One concerning thought I have had is come the Rugby World Cup the pressure will be increased with a tournament format that demands reduced recovery times and a need to maintain peak performance for many weeks. Based on the current rate of injuries I can't help but be a little concerned if this could have an impact on our RWC squad? Should we be concerned at the rate of training injuries the Wallabies are experiencing? Should RA be looking at the current regime around training, conditioning, player management and recovery to make sure we don't have it wrong?
A picture
It's fairly commonplace to hear players, coaches and commentators refer to the "picture" they are trying to present to the referees.
Captains will work hard on engaging with the referee to try and impart their view to help him formulate this picture in an attempt to help influence his perception of events. We hear it often when it comes to the scrum. The right picture tends to show the referee it's not your team causing the issues. The same when it comes to the breakdown. The referees will also form this picture independently based on the actions of a team.
Take Saturday night. The rush up defence of the Springboks had the referee questioning if they were on-side. At one point early on in the game you could hear him talking with his assistant referees during play, checking on the Springbok defensive line. The picture that was formulated was the Springboks were cutting it fine, but the majority of the time they had their timing right. As the game progressed the question around the timing seemed to dissipate. The Springbok picture had helped him be reassured about their timing.
The game itself was pretty physical and the breakdown was fairly heavily contested. The forwards were going at it and there were some brutal hits about, all in all it was just hard rugby. That was the picture I was seeing and it looked like the referee had the same "picture".
But when it comes to these "pictures" you need to decide what picture you are painting. One painting you tend to want to avoid in rugby is the self-portrait where those who see it look at it with wonder; and not in a good way. Even worse is when it appears, the artist decides to do a series of pictures that just reemphasis the questions about the "picture".
Sadly, the aspiring artist, Mr Tupou decided he would present a series of pictures to the referee right from the moment he came on the field.
When the referee blew the whistle and reviewed Tupou's cleanout the picture that had been painted was an individual piece, not seen previously in the game, and it was ugly to the eye of the beholder and most likely influential.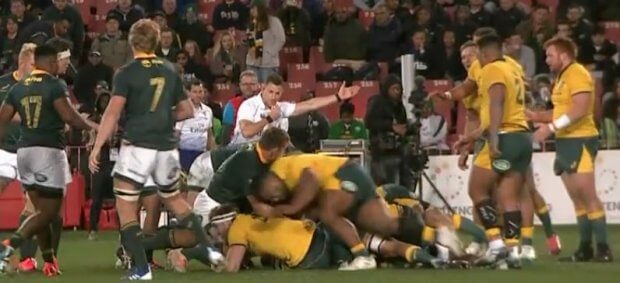 What probably made it worse was the painting by numbers of his teammates. While they all doing the same painting by numbers "stacks-on, the balls trapped in the maul" picture Tupou's was freestyling; attempting to clean out what his teammates wanted to keep in and then proceeded to colour outside the lines, on the far edge of the breakdown, via the side gate and beyond where ball was trapped.
Irrespective if the call was right or wrong, I think Tupou had painted an ugly picture and that was how many would view it, especially the referees. It's not a picture the game wants to present so technicalities were going to be a hard sell.
It's not a hard fix but it's a lesson that needs to be learned very quickly. Come RWC, this is World Rugby's, (the games) show piece and they (we) will want it to present a good picture. The right picture. Technically right won't be good enough as it will be all superficial. All about the look.
Abstract Expressionism Existentialism
Talking about pictures I, like many of you, would like Cheika to paint me a new picture or at least something different.
With the Wallabies now on the series of shows before the RWC, they need to be attracting supporters on to the Wallabies bandwagon with some hope or optimism. Yes, Bernard Foley's comments in the news articles saying the same pessimism was around before the previous RWC and they were reasonably successful. But I can't help but respond to that comment with the simple age-old question of if a tree falls in a forest; or rather if the Wallabies win and nobody watching…….?
Maybe if I had seen some attacking plays that didn't quite work, some "oh so close chances", or a few more "that was close" I would have been happier as it would have showed me signs of life, risk taking and a willingness to chance their hand and see what they can get to work in the led up to the RWC I would have waked way with a different impression.
But as much as I stare at it, tilt my head, squint, I just can see it any other way at the moment.
The reality is that this is a long way from a masterpiece and between the continuing unattractive and uninspiring picture the Wallabies present, the sales pitch of excuses, work in progress and reproductions it's a hard sell even to the Wallabies junkies.
To add to my depression was the realisation that somewhere between post 2015 RWC and now South Africa had worked out how to develop new talent and add depth while it appears Australia hasn't.
Rugby like any sport is a strange beast so who knows, it might all fall into place and the Wallabies will be successful.
I can only hope that RA work out that the masses, especially the Australian sporting public, know what a Bradbury is, like an underdog and will usually watch any sport where there is a chance for any of our national teams to have success.
Maybe it's time to take the brushes and pallet away from Cheika and let him paint the Wallabies picture a better way. Finger painting is always just simple fun!
Run forward
As Michael Cheika recently said "I know that's a bit cliched but one thing I think is going to be big this year is building momentum. It's no secret we're coming from way back and to come from way back you've got to build momentum and belief in yourself on the way, it's really important".
1 game down, 4 to go before the World Cup – and so far momentum isn't looking so good. But we could still turn it around, right? Let's have a look at what the Wallabies have coming up over the next few weeks.
This coming weekend we take on the Pumas in Brisbane. Not long ago, this would have been a given win for the Wallabies, especially at home. But now? Last year the Pumas beat the Wallabies in Australia. This year the Jaguares have been on fire and as Phil Kearnes pointed out last weekend, no international team has had as much time playing together as the Pumas. Last weekend the Pumas came within 4 points of beating the All Blacks, holding them scoreless in the second half and coming so close to scoring the winning try. So will the Wallabies romp it in? Or will it be a tough one that could go either way?
After that things get easier – NOT! A home game against the All Blacks in Perth to finish off the Rugby Championship followed by the second Bledisloe match. At Eden Park. A place where history is most definitely against us.
I'm not saying that the run into the World Cup is going to be 3 more losses followed by a match against Samoa, we know the Wallabies can be unpredictable. They may well go into the World Cup with a run of 4 wins, the Rugby Championship and Bledisloe Cup back in the trophy cabinet, riding high on the wave of momentum Cheika mentioned.
It is possible, but won't be easy.