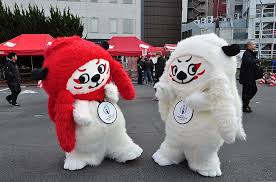 Here we are, knee deep in rugby and more topics than you can poke a stick at! How good!! In this week's edition of the Top 5 we take a quick look at the NRC, watch in awe at what the Japanese have pulled out of the bag for this World Cup, including some creative arts for those so inclined, talk refereeing and protocols, discuss the implications for playing so many games in such a short period of time and browse through the Twitter feed to bring you the best of Social Media so far.
AUSSIE RUGBY ROUND UP
Call it luck, a good team performance or unconvincing the reality is there are no points for artistic expression or a degree of difficulty. Good, bad or ugly it's the RWC and you get the points any way you can and move on. Personally, I can't say it was a polished or convincing performance but the job got done so on to the next one. A personal highlight of the Mst's is the return of "that" blight on the game that can be primarily blamed on the Brumbies; the maul! However, I still am not a fan of it in its current form and watching the way the Wallabies are using it (especially the set up), I will be interested to see how some of the other whistle blowers view it. The critic in me still worries the Wallabies are yet to put together a winning performance against a team that has the full complement of players on for a whole game. Moving on to the next game Wales will certainly be more of a tester and probably give us a better understanding of where we are at.
Locally the NRC continues on with the Force looking like the favourites to take out the Championship this year. Consistency seems to be a big issue for all the other teams. The Rising finally got their act together getting a much-needed win, the Drua had their way with Sydney, City and the Eagles fought out a close one with the points going north and the Vikings are slipping back even with the blessed roster they have.
Highlights of the round have to go the Drua who went on an absolute try scoring frenzy
With 3 rounds to go its still pretty open with finals spots still far from decided.
LOVIN' THE CUP
With Rugby's showpiece underway I have to say so far its been a pretty damn good show. With any big event there is always the opening ceremony and necessary formalities. I was pretty impressed with what Japan came up with. It was good mix of spectacular while keeping it Rugby centric and very identifiable. I also liked that it was a fairly short affair and the formalities weren't too arduous. The venues look great and thus far and it's been a pretty good showcase for the game.
The host seem to have appeased the weather gods nicely with predicted mid 20's temperatures over the next few weeks with a sprinkling of rain here and there but no major weather events are forecast.
I also have to say the RWC website also pretty good along with most of the social media offerings. For those that like some of extra offerings that come with big events you need to check out the Creative Park for those that are willing to give their home printer a workout to make some cheap RWC merchandise.
I also love some of the high-tech offerings. It might not feature the Wallabies unless they get to the finals but it is still pretty good stuff to watch and gives you a pretty impressive view of the game: https://global.canon/en/event/rwc2019/special/viewpoint.html#01
For those that miss out on the RWC opening ceremony have a look here: https://youtu.be/GLTza7PVQs0
MINOR DETAILS AND A REFEREEING JUNKET?
Less than a week in to the RWC and the referees are central to much of the post-game discussion. It's disappointing but not surprising. I have always maintained that my unrequited love of Rugby has always been tainted by the failings of Rugby's Laws. Now being the RWC and knowing that refereeing can turn a game and RWC history you would think the World Rugby would have had a little sit down and contemplate if they had it all covered pre-RWC.
But alas, again my love is tainted by the simplicity of Rugby officiating stupidity. I am going to avoid why the TMO's seem to be on a junket and had a few too many Sake's to watch the replays, or why the breakdown laws and maul laws appear to be subject to individual interpretation; if laws should apply in this game, and what Laws that believe exist and should be used, if any. I will stop there before I get too wound up.
But I do need to touch on my two favourite ones thus far. Looking at some of the RWC venues they are pretty impressive multi-use venues. Looking at some of them the players have to navigate stairs and a few other obstacles and travel a fair distance to get on and off the field. This was all highlighted with the mystery of why Sam Cane passed his HIA but was unable to return to the field.  The Laws mandate you have 10 minutes to complete the HIA; but that includes the time it takes you to get on and off the field. This time starts as soon as the player heads to the rooms.  Yep, so if it's a long way back to the rooms that time counts (and all players with a head knock should run off the field quickly to get checked, right?), which means the longer the distance to the rooms the more time pressed the HIA is. It is what happened in the Cane scenario. By the time he had navigated his way back to the rooms, completed the assessment and returned to the side lines the 10 minutes had elapsed.  After the Kiwi's protested post-game World Rugby has decided to change when the timer starts to when the HIA starts.
But wait, there's more. The HIA protocols state that if you fail you have to go through the minimum 6-day regime. So, Fiji has a second dilemma with Yato not showing any post-game symptoms but is effectively ruled out simply by the combination of the draw and the protocols. All of a sudden, a few other teams have realised that are also in trouble due to the same draw/ protocol combination. Ireland for example look like they will be without Peter O'Mahony and Bundee Aki. Both are showing no post-game signs but with 6 days until the next game they are out.
Speaking of quick turn-arounds …
There was some talk after the Wallabies v Fiji match about the inequity between the two teams when it came to the time between matches. Fiji have already named their team for their next match, which they play tomorrow. 4 Days after the game against the Wallabies, while the Wallabies have a comfortable 8-day break before taking on Wales. Wales, meanwhile played last night and have a shorter 6-day break.
As mentioned above, the HIA protocols dictate a 6 day return to play policy in the event that a player fails the initial HIA. So in the case of Yato, with a 4-day turnaround before Fiji play again, he is unable to play. In fact, this is something that could affect nearly every team at the World Cup.
Out of the 20 teams, 13 have a 4-day turnaround at some point in the tournament. Of the remaining 7 teams, 3 have a 5-day turn around at some point. 3 out of the 4 teams remaining have a 6-day turnaround. The only team which would not be affected by the 6 day protocol is, funnily enough, Japan.
So as you can see, most teams have a short turnaround at some point in the tournament. Japan has arguably the best draw, with breaks of 8, 7 and 8 days. Namibia does pretty well with 6, 7 and 8 days, while Tonga has 6,8 and 7-day breaks. The Wallabies also do ok with gaps of 8, 6 and 6 days. Canada, on the other hand, do not have a break longer than 6 days.
These tables show the number of days between matches for each team, broken down by pool. It doesn't exactly provide evidence for those claiming the tournament draw was set up to bias tier 1 teams, with most having very short turnarounds.
| | | | |
| --- | --- | --- | --- |
| POOL A | Days between rounds 1 and 2 | Days between rounds 2 and 3 | Days between rounds 3 and 4 |
| Japan | 8 | 7 | 8 |
| Ireland | 6 | 5 | 8 |
| Russia | 4 | 9 | 6 |
| Scotland | 8 | 9 | 4 |
| Samoa | 6 | 5 | 7 |
| | | | |
| --- | --- | --- | --- |
| POOL B | Days between rounds 1 and 2 | Days between rounds 2 and 3 | Days between rounds 3 and 4 |
| New Zealand | 11 | 4 | 6 |
| South Africa | 7 | 6 | 4 |
| Italy | 4 | 8 | 8 |
| Canada | 6 | 6 | 5 |
| Namibia | 6 | 8 | 7 |
| | | | |
| --- | --- | --- | --- |
| POOL C | Days between rounds 1 and 2 | Days between rounds 2 and 3 | Days between rounds 3 and 4 |
| England | 4 | 8 | 7 |
| France | 11 | 4 | 6 |
| Argentina | 7 | 7 | 4 |
| Tonga | 6 | 8 | 7 |
| USA | 6 | 7 | 4 |
| | | | |
| --- | --- | --- | --- |
| POOL D | Days between rounds 1 and 2 | Days between rounds 2 and 3 | Days between rounds 3 and 4 |
| Australia | 8 | 6 | 6 |
| Wales | 6 | 10 | 4 |
| Fiji | 4 | 8 | 6 |
| Georgia | 6 | 4 | 8 |
| Uruguay | 4 | 6 | 8 |
As a final note, I feel a little sorry for Canada. Not only do they have shorter breaks than many teams, their second game of the World Cup is against the All Blacks after they have a 6 day break, and the All Blacks have 11.
Social Media
So far there have been so many interesting social media posts about this World Cup, we thought it might be fun to round up the nest of them and post them here for you.
It all started before the Cup began, with the Japanese showing just how into the World Cup they are, with thousands upon thousands showing their support for the various nations.
Watch: Japanese kids perform impressive haka to welcome All Blacks to Rugby World Cuphttps://t.co/JpkmNydwwW pic.twitter.com/FKoQ1ypktL

— 1 NEWS – Sport (@1NewsSportNZ) September 9, 2019
Volume on for the next one
Beautiful Man, just Beautiful #Japan #StrongerTogether #Springboks #ILoveThis pic.twitter.com/vNioRhrtka

— Sikhumbuzo Ntshekisa (@Skhura101) September 16, 2019
THIS is how to arrive for a training session!! @Springboks in Kagoshima @SuperSportTV @SuperSportBlitz pic.twitter.com/HLu56yM7fA

— Matt Pearce (@MattP555) September 12, 2019
I know a few rugby fans who would love a stadium like this!
The Sapporo Dome in Japan will host England's opening #RWC19 game!

It's a purpose-built baseball stadium, which keeps a football/rugby pitch outside

WOW. pic.twitter.com/kFZGbs6g2G

— Coral (@Coral) September 16, 2019
Just because.
Big fan of the use of animals on Japanese TV as a way to describe the positions in rugby!

Think the wild boar at hooker is probably my favourite!#RWC2019 pic.twitter.com/eyDHIUvduL

— Paul Eddison (@pauleddison) September 23, 2019
For the ladies out there.
The skin tight shirt checklist:

1. Baby oil
2. A friend to help
3. Yoga classes to wriggle into it #RWC2019 pic.twitter.com/nE0ueXto8t

— Rugby World Cup (@rugbyworldcup) September 23, 2019

Siya who?
Lighter moment before training as @Springboks captain Siya Kolisi gets stopped and asked for accreditation. #RWC2019 pic.twitter.com/dReS5YNdDT

— SA Rugby magazine (@SARugbymag) September 23, 2019
Everyone loves Canadians, and Canadians love the Japanese.
The @RugbyCanada team are really embracing the Japanese culture and the locals are loving it #RWC2019 pic.twitter.com/2jgIL10yBz

— Rugby World Cup (@rugbyworldcup) September 23, 2019

Japanese fans are the best! They clean up the stadium before they leave.
CLEAN NATION

You have to admire and love the people of Japan. They have great culture that we can learn from.

We go around throwing litter out our car windows where as we could keep it until we get home.

LESSON TO ALL.#RWC2019 #RWCFINAL #Springboks #StrongerTogether pic.twitter.com/MpOMjuY8T1

— Thabang Mantutle (@ThabangMantutle) September 20, 2019
And the team is pretty cool too. I think this is right up there with the best awards for any sport that I have ever seen.
#RWC2019: @JRFURugby Captain @g_leitch presents Kirill Golosnitsky a Katana samurai sword post-match after our try scorer was voted opposition man-of-the-match by #JPN management #JPNvRUS pic.twitter.com/VESZsBbcwc

— Rugby Union Russia (@russiarugby) September 20, 2019